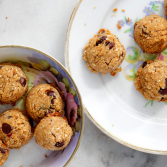 Vegan Nutty Chocolate Chip Cookies (Kosher-for-Passover)
Introducing: the ultimate Passover cookie from
Jewish Food Hero
. During Passover, it feels nice to enjoy nourishing homemade treats that are good for us. I've adapted a traditional chocolate chip cookie recipe to use all plant-based, healthy ingredients that are Kosher for Passover. If you eat Kitni, no-one – from your kids to your husband to your mother and mother-in-law – will be able to keep their hands off these.
Chocolate Chip cookies are an American Classic snack with zero health benefits. This recipe offers a version which hits the taste points without leaving us feeling sluggish.
Passover-friendly
These cookies are Pesach friendly* and you can make them with either white beans or sweet potatoes (trust me on this) depending on your dietary preference. Sweet potatoes might sound like a pretty out-there cookie ingredient, but nobody blinks at potato starch, right? The bonus is that sweet potatoes are naturally caramel-flavoured and intensely sweet. Best of all, sweet potatoes are absolutely full of natural fibre, which is exactly what our digestion is calling out for during this time.
Gluten-Free Version
To make a gluten-free version of this recipe, swap out the matzo meal for almond flour or gluten-free matzo meal. I prefer using the almond flour because I think too much matzo leaves most of us constipated (we can discuss another day).
If you do not eat Kitniyot during Passover (I started eating it a few years ago and here is why), you can swap out the white beans in this recipe for puree sweet potato.
The recipe yields a dozen cookies, which I can tell you from experience will go quickly. Make two or three batches for the holiday, depending on how many guests you'll be hosting.
Special ingredients needed for this recipe 
Almond butter:  This no sugar and no salt
Matzo meal: I use this version for fuss-free Matzo ball soup.
Almond flour: This is very close in consistency to flour, rather than grainy ground almonds.
White beans: It's important to use beans with no salt added.
Vegan chocolate chips:  These low-calorie, sugar-free vegan chocolate chips work nicely for these cookies.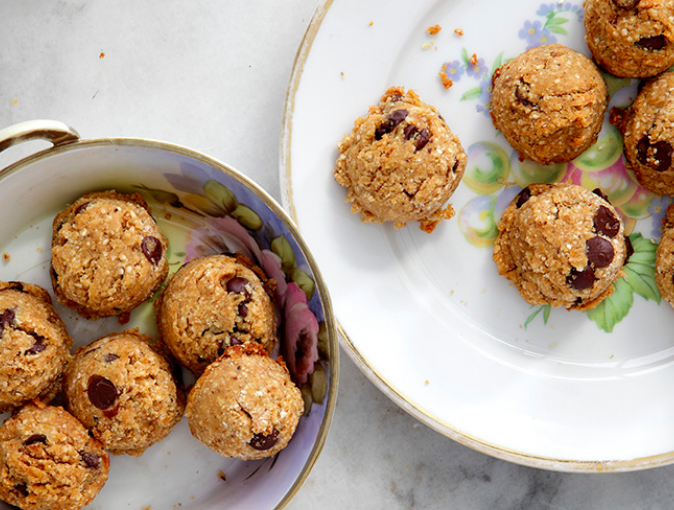 Ingredients
1 ¼ cup cooked white beans or cooked sweet potato puree (depending on which you eat during the holiday)
¼ cup natural almond butter
1 tsp vanilla extract
2 tablespoons sugar
1 tsp baking powder
¼ tsp salt
0.5 cup matzo meal (can use almond flour)
3 tbsp chocolate chips (use a dairy, nut, and soy-free version)
Instructions
1
Preheat the oven to 350 F
2
Line two baking sheets with parchment paper
3
If using, make the sweet potato puree by steaming (don't boil!) peeled, chunked sweet potato and mashing until smooth.
4
Alternatively, rinse the white beans multiple times in the colander and mash smooth.
5
Put white beans or sweet potato puree, almond butter, vanilla, sugar, baking powder, and salt into a food processor.
6
Mix until very smooth, scraping down the sides of the container when necessary
7
Transfer the dough into a mixing bowl and fold in the matzo meal or almond flour and chocolate chips
8
Place rounded tablespoons of the dough evenly spaced 2" apart on the baking sheets.
9
Bake for approximately 20–24 minutes, or until they turn golden brown
10
Remove the cookies from the baking sheet and allow them to cool before serving or storing
Lara Balsam