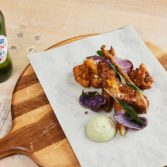 Vegetable fritto misto with watercress mayo
We are excited to share this series of five vegan Michelin star quality dishes that you can recreate at home. Recipes by Francesco Mazzei – prepared for Peroni Nastro Azzurro:
Amaretto tiramisu and this vegetable frisso misto with watercress mayo: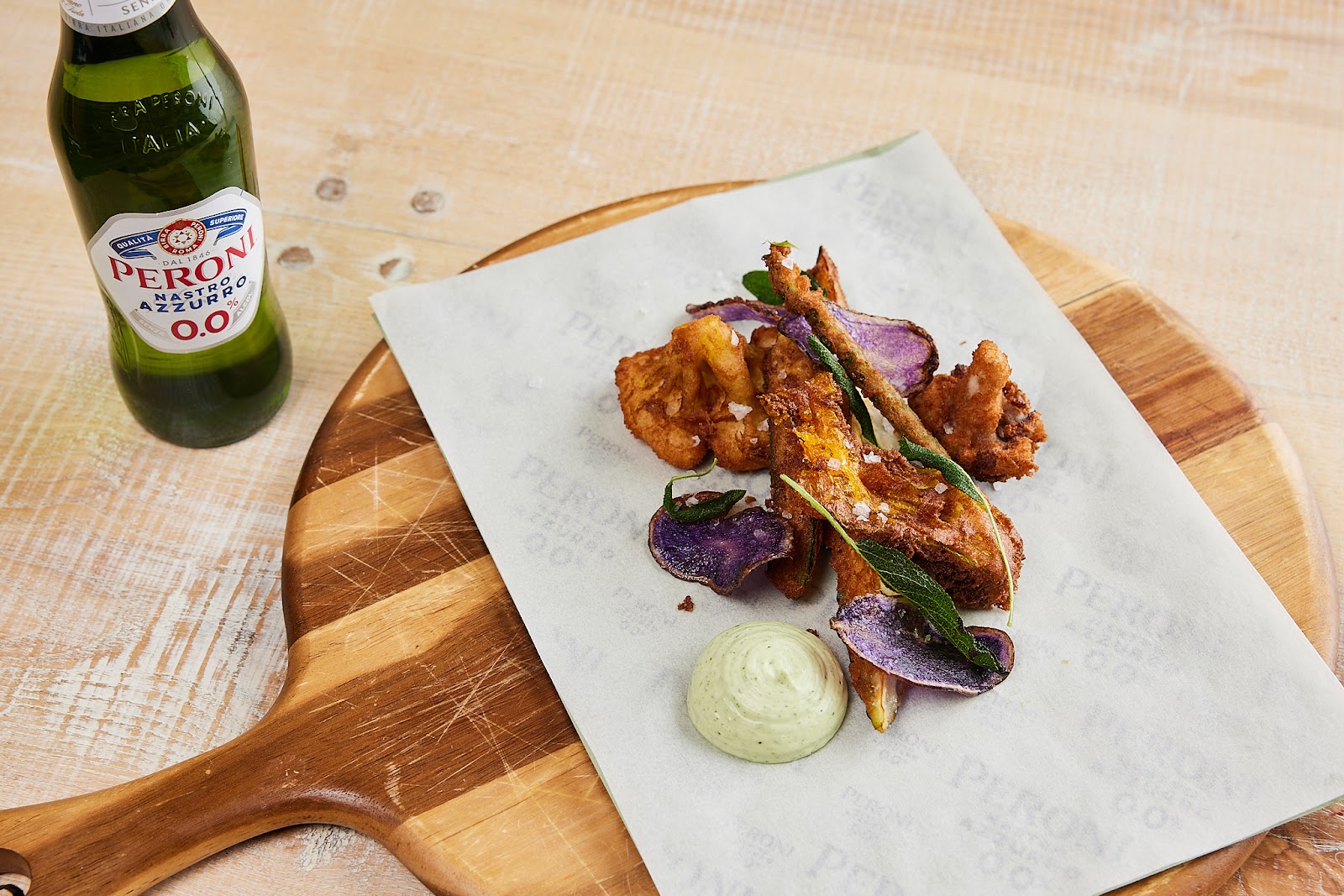 Ingredients
8 green asparagus
300 g aubergine
8 courgette flowers
150 g yellow cauliflower
150 g purple cauliflower
16 large leaves of sage
200 g purple potato
8 leaves of wild garlic
Frying oil
For the batter:
350 g rice flour
400 ml tonic water
4 ice cubes (85 g)
1 pinch of salt
For the watercress mayo:
120 ml soy milk
250 ml vegetable or seeds oil
10 ml white vinegar
1 coffee spoon English mustard
10 ml lemon juice
Salt and pepper
50 g watercress
Half a clove of garlic
Instructions
1
Bring a pot of water to boil, blanche the watercress for 30 seconds and cool down immediately in iced water. Drain well and blend with the garlic.
2
In a food processor add the soy milk and process for about one minute or until the liquid begins to thicken.
3
Add the vinegar, salt, mustard, and lemon juice to the bowl, and then process for another 30 seconds so that everything is well blended. Scrape the sides and bottom of the bowl. Then, with the food processor running, slowly add the oil in tiny drops until about a quarter has been added. Continue to add the oil slowly, increasing to a thin stream instead of drops of oil. Adjust with salt if needed.
4
Mix the mayo with the watercress and leave in the fridge to set.
5
In a bowl, mix flour, tonic water and salt. Whisk until no lumps remain, add the ice cubes and leave in the fridge for later.
6
Thinly slice the purple potatoes and leave under running water for about half an hour, then drain and leave to dry out on a kitchen towel.
7
Cut the cauliflower into florets. Cut off the tough part at the bottom of the asparagus and remove the little leaves along the stalk. Blanche both in salted boiling water for about 40 seconds, then cool down in iced water. Drain and dry on a kitchen towel.
8
Preheat the oil at 180°C.
9
Start frying the potatoes until crisp and transfer onto kitchen paper. Season with salt. Fry the sage leaves and leave on the side.
10
Slice the aubergines in discs and halve them. Deep fry the wild garlic leaves, add the rest of the vegetables into the batter and deep fry until nice and crispy. Season with salt and serve next to the watercress mayo.
Lara Balsam