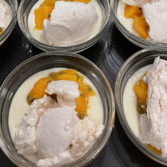 Monsoon mess
Alice Feavers recipe, made for FND at JVS, 10th March 2023
Equipment; electric whisk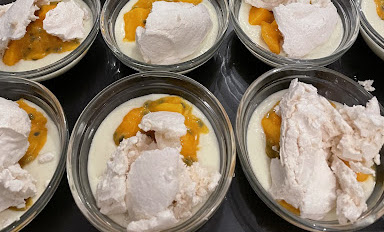 Ingredients
¾ cup aqua faba
½ tsp cream of tartar
1 cup caster sugar
1 tsp vanilla extract
¼ tsp xanthan gum
1 Pakistani mango, peeled and chopped chunky
3 passion fruit, the pulp scooped out
1 tin of coconut whipping cream or any plant-based cream or yogurt
½ tsp ground turmeric
A pinch of sugar
Instructions
1
For the meringues; preheat your oven to 200F and line two baking trays with greaseproof paper. 
Add the aquafaba to a large mixing bowl and whisk until you have soft peaks; this takes about 5 minutes.
2
Add the cream of tartar and continue to whisk until the peaks become glossy and thick. Slowly start to incorporate the sugar into the bowl, whisking in intervals until you've used all the sugar. Then add the xanthan gum and the vanilla and whisk until you have very stiff, glossy beautiful peaks that hold their shape. 
3
Spoon the meringue onto your baking sheets in large dollops and cook them for 2 and a half hours. Once done, without opening the oven door, turn off the oven and leave them to cool completely for a few hours (overnight is best). The baked meringues can be stored in Tupperware. 
4
To serve the mess; whip the cream, with a little sugar and the turmeric. Assemble in pretty glasses with the broken meringue, fruit and cream in layers…
Dan Jacobs