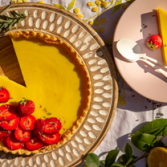 Strawberry and lemon tart
This recipe is from
Violife
and is perfect for wowing your guests at a dinner party.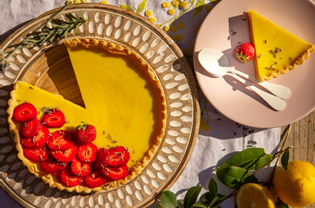 Ingredients
1 pack Violife Creamy Original
1 vegan pastry crust
175ml lemon juice
Lemon zest
50ml coconut cream
4 tbsp caster sugar
2 tbsp corn starch
1½ tsp agar agar powder
1 tbsp turmeric powder
½ pack strawberries
50g coconut sugar
Instructions
1
Place pastry in a tart tin with removable bottom and blind bake for 15-20 minutes. Once baked, set aside to cool.
2
For the lemon curd, mix the Violife Creamy Original, lemon juice, lemon zest, coconut cream, caster sugar, cornstarch and turmeric powder until no lumps remain.
3
Place the mixture in a small pot and bring to a slow boil then whisk until mixture starts thickening.
4
When the curd starts to boil, add the agar agar powder and whisk for an extra minute before removing from heat. Directly pour the curd into the blind-baked pastry and place the tart in the fridge to set for 2 hours.
5
Cut up strawberries into slices and mix with coconut sugar and decorate the tart with them to serve.
Lara Balsam