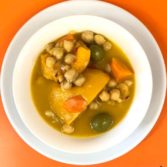 Butternut, green olive & apricot tagine
This recipe was created by
Alice Feaver
and prepared for our Friday night dinner in Jan 2023.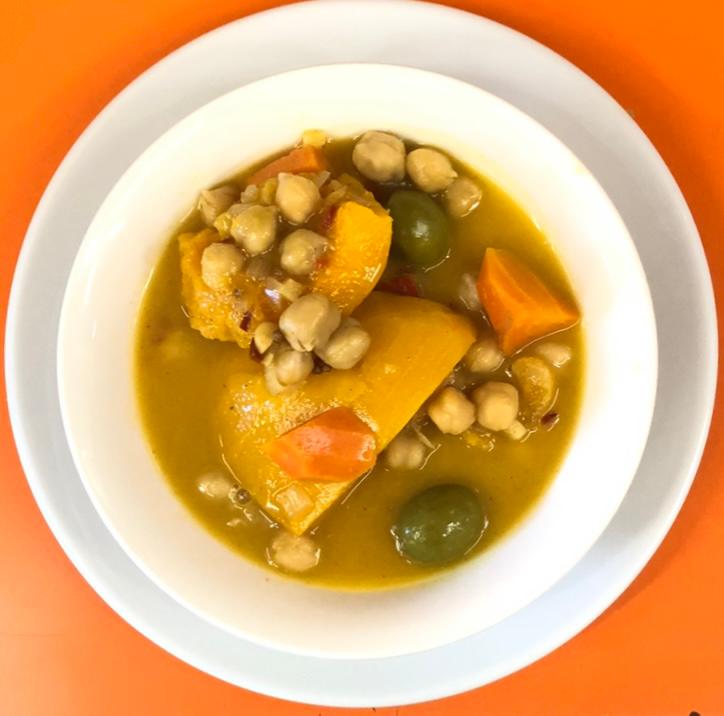 Ingredients
Small butternut squash, peeled and cut into large chunks 
1 onion, peeled and finely sliced
3 fat garlic cloves, peeled and grated 
1 big thumb fresh ginger, peeled and grated 
2 tbsp ras el hanout 
200ml vegetable bouillon stock
1 cup orange juice 
5 tomatoes, quartered
2 carrots, peeled and cut into a large dice 
30g dried apricots, roughly chopped 
30g green olives 
1 tin of butter beans or chickpeas 
salt, black pepper, olive oil & veg or rapeseed oil 
Instructions
1
Add the onion to a large, heavy-based pan with a generous glug of olive oil and a large pinch of salt and cook over medium-high heat for a few minutes
2
Reduce the heat to low and continue to cook for 15-20 minutes until they are nice and caramelised.
3
Add the garlic, ginger and ras el hanout and cook for about 5-10 minutes further until fragrant.
4
Once fragrant, add the vegetable bouillon, orange juice, tomatoes, carrots, apricots and olives. Bring to the boil, then reduce and simmer for 30 minutes. 
5
Meanwhile, steam or boil the squash until it's tender, then gently add it to the tagine with the drained butterbeans. Taste for seasoning, adjust if needed and serve with couscous or rice…
Dan Jacobs