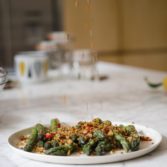 Asparagus with zesty breadcrumbs
Recipe by Hanna Geller of
Building Feasts.
'I have so much to say about my love of asparagus, but on my 9000th attempt to write an intro to this recipe, I seem to be falling short in the eloquence department (some days/weeks are like that).
So, without the usual pre-amble, please, just make this dish ASAP.  It will make your heart sing and is a delicious welcome to the height of asparagus season, which brings with it blossom, my favourite flowers and a glimpse of sunshine letting us know that summer is on its way.
PS this recipe also fulfils my zero waste desires as it uses up those treasured ends of sourdough that might otherwise be woefully discarded. Use all of your leftovers always for breadcrumbs, croutons, freeze them, whatever works for you, just don't chuck them out.  They  become golden nuggets of crunchy joy not only here but basically on anything you desire.'
–
A note on asparagus:
I always gravitate towards medium asparagus as it cooks more evenly and is easier to pick up with your fingers – essential asparagus inhaling etiquette.
I also never worry about all of them being even in length.  I take off the ends where they break naturally (method below).
The breadcrumbs can be made in advance (upto a day ahead) and once completely cooled, stored in an airtight container until ready to use.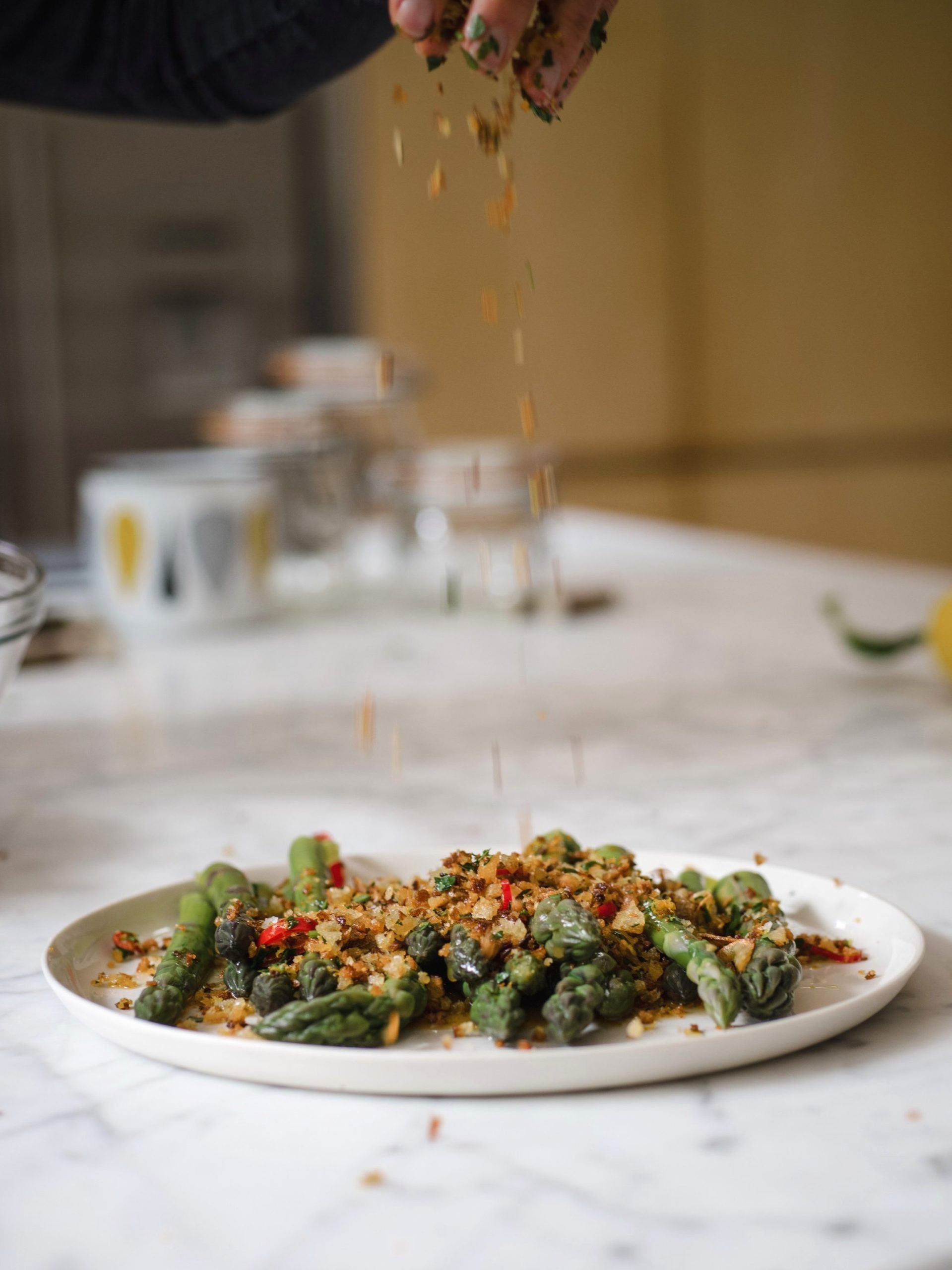 Ingredients
150 g breadcrumbs from 2 slices of stale sourdough with crusts removed
2 tbsp olive oil or butter
1 clove garlic, thinly sliced
1 red chilli, thinly sliced
Zest of one lemon
small bunch of parsley (and or tarragon, chives), finely chopped
good pinch of salt (and a little more for sprinkling)
1 kg medium asparagus spears (approximately 2 bunches)
At least one tablespoon of salted vegan butter (optional)
Instructions
1
First make the breadcrumbs.:
Heat a large frying pan on a medium to hight heat.  Pour in a good tablespoon of olive oil or butter (or a mixture of the two) and when hot, add the breadcrumbs and a pinch of salt.
Toast in the oil until crispy and transfer to a bowl and toss through the lemon zest.
Heat the remaining tablespoon of olive in the same frying pan, add the sliced garlic and chilli and toast until the garlic is slightly browned and the chilli fragrant.  Add these to the lemony breadcrumbs and stir in the chopped parsley (or herb mixture of choice).  Season with a pinch of salt and put aside until ready to serve.
2
For the asparagus:
Bring a large shallow pan of water to a rapid boil and salt generously (a "3 finger pinch").
Trim the asparagus spears by holding each end of the spear and gently bending until the tough end breaks off naturally.
Blanche for 2-3 minutes until vibrant bright green and tender but still with some crunch.
Drain immediately and run under cold water or refresh in an  ice bath (bowl filled with ice and cold water).
Once cool, allow to drain and gently pat dry with a clean tea towel.
3
This dish can be served at room temperature or if you want, just before serving, quickly warm the asparagus in a frying pan or sauté pan that you are happy to serve in, tossing in a healthy knob of vegan butter and a good pinch of salt.
When ready to serve (either straight out of the pan or on your plate of choice) sprinkle with a generous couple of handfuls of breadcrumbs.
Lara Balsam