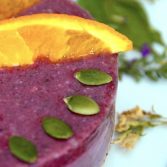 Raw Pomegranate & Maqui Cheesecake
Pomegranates are one of those special foods that just make everything they're incorporated into come alive. Something about their vibrant ruby color, and that perfect combination of sweet, tart and astringent (not to mention all of those flavonoids and antioxidants!) This gorgeous cheesecake is very easy to make, and involves another antioxidant all-star – maqui berry – for a seriously glow-inducing dessert!
Recipe by Kelly Fielding from bellaandbhakti.com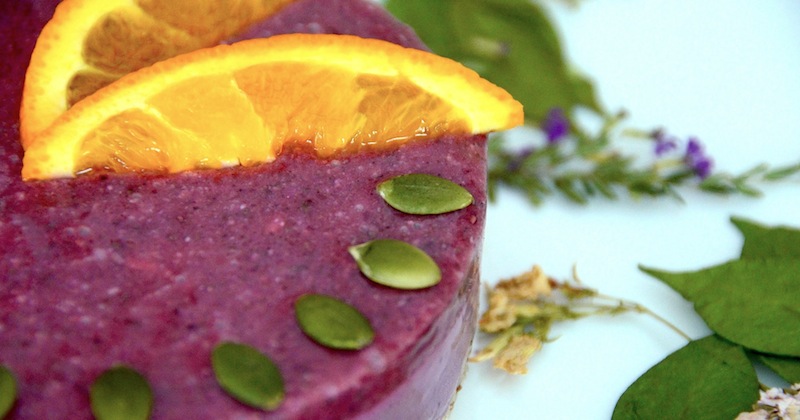 Ingredients
FOR THE BASE:
¼ cup coconut
¼ cup soaked dates
2 tablespoons of almonds
For the filling: 1 cup of soaked cashews
1 small ripe banana
For the topping: ¼ cup of chia seed gel
¼ cup of pomegranate seeds
1 teaspoon of coconut nectar
1 teaspoon of coconut oil
3 tablespoons of coconut nectar
4 tablespoons of coconut oil
¼ cup of almond milk
1 teaspoon of maqui powder
Instructions
1
Base: Process all ingredient sin your food processor until they are broken down and everything comes together. The mixture should be sticky and hold its form but still have texture.
2
Filling: Blend all ingredients in a high-speed blender until smooth and creamy. This may take a couple of minutes to get to the perfect consistency. Pour the filling over the base and place in the freezer while you make the topping.
3
Pomegranate Topping: Blend all ingredients in a high speed blender until smooth. Pour over the cheesecake layer and return the cake to the freezer to set for 2-3 hours. Remove from the freezer to soften slightly before serving.
Lara Balsam