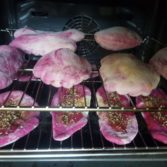 Pitta and man'oushe recipe
We used this recipe for pitta at our Friday night dinner in January 2023 – with a marbled mix of regular dough and dough made with beetroot. Kevin Sefton has written this up based on a recipe included in Emmanuel Hadjiandreou's "How to Make Bread".
It can also be used to make man'oushe which has za'atar topping.
Notes
The recipe has lots of steps because I've broken them down. It's much easier than it looks. Have a go
While pitta would often be made with plain flour (which has lower protein/gluten and less stretchiness and elasticity), I find this works well and gives a nice soft pitta when I use strong flour. Not a big deal so use whichever is more at hand
The dough feels very dry to begin with. Don't stress. You'll be pleasantly surprised as it gets moister partly because the reactions that occur are in several stages – early on water is needed, while later on it is released
Rolling the pitta more thinly makes it more like the Greek style
The recipe scales up nicely; timings are approximate so if you get distracted for a few minutes here or there that's fine
The fridge is your friend and slows things down, so you can make the dough, refrigerate and come back later (depending on the temperature it may not have changed much or may have become a gas giant)
Keep your dough covered – with a smaller bowl, shower cap, cling film etc – to stop it forming a dry layer on top
Variations
Swapping beetroot juice for the water gives it colour, and makes it healthier and adds flavour. I then then gently combine the doughs to create a marble effect (no need for 1:1 ratio – I tend to make the beetroot with about 20% less than the plain dough – mainly down to the size of bottles!). You can also experiment with turmeric and charcoal (edible – I've got mine from Holland & Barrett I think)
Before putting the pitta in the oven you could baste with some olive oil, and sprinkle with topping (I like za'atar) – cook the same way but don't expect them to rise as much. This dish is called man'oushe. To see this being made with full theatre, visit Abouelafia in Jaffa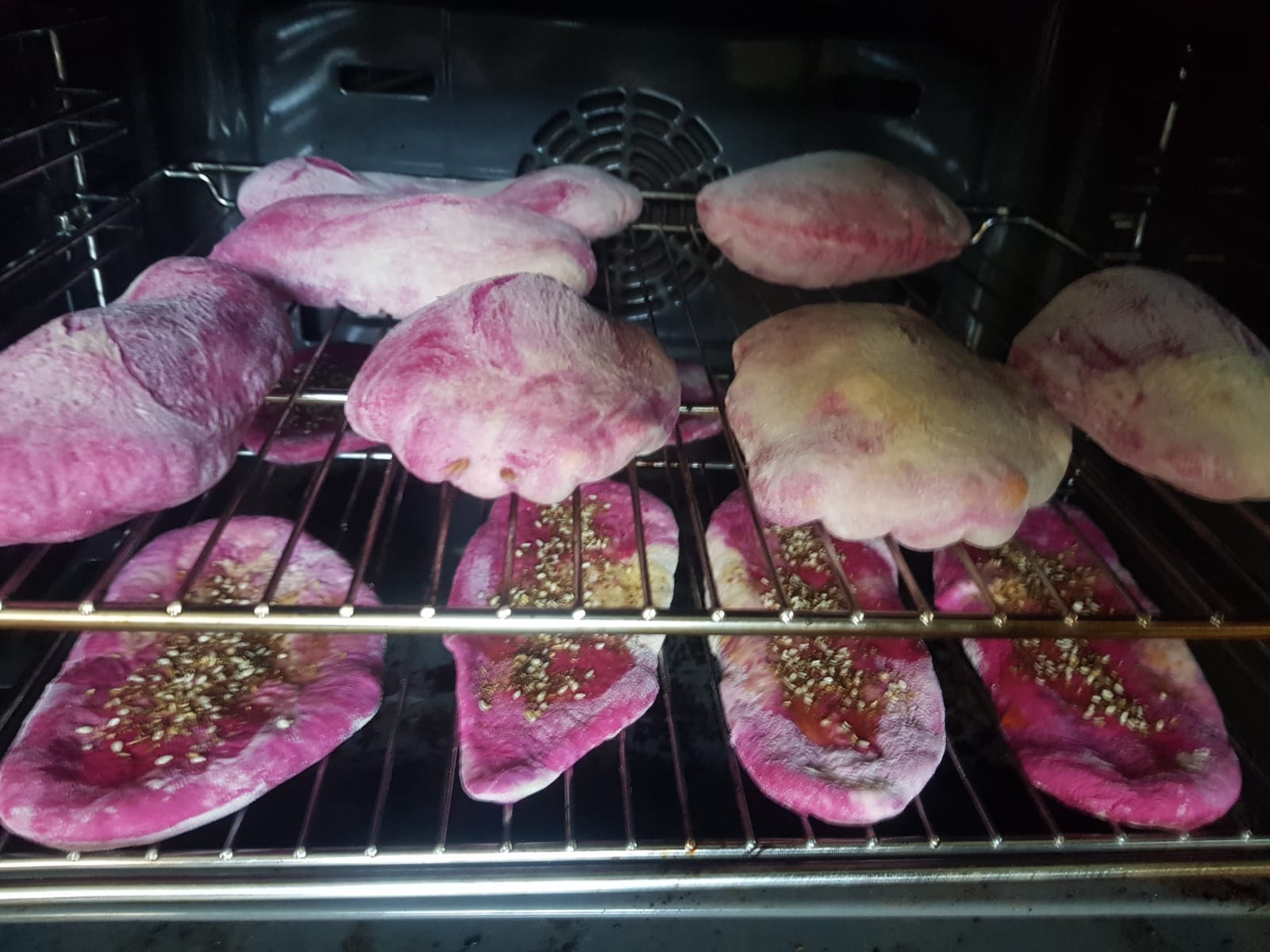 Ingredients
500g strong white flour (can be plain)
10g salt
5g dry yeast (active dry yeast / instant (quick) yeast) or 5g fresh yeast
300g water, lukewarm
Instructions
1
Mixing the dough
In a smaller bowl mix the flour and salt
In a large bowl add the yeast to the water and swish (Dissolving/activating the yeast is the specified method for active dry yeast. For simplicity I've kept the same method for all types of yeast)
Tip the flour and salt mix into the water/yeast combo and combine with your hands. It will be dry. Use a scraper to remove from the outside of the bowl
Cover the dough with the smaller bowl/something else. Leave for ten minutes
2
Stretching and folding
to develop the gluten while the bread ferments
Punch down, and stretch and fold it in, working around the centre … this will take around ten seconds or so
Leave it another ten minutes
Punch, stretch and fold again
Leave it for ten minutes
Punch stretch and fold for a third time
Leave it for ten minutes
And punch, stretch and fold for a fourth time
Leave it for an hour
3
Shaping
Put the oven on to pre-heat at 240°C with a baking tray in it (when we made them we didn't have a spare baking tray, so we just put them on the wire rack and it still worked)
Pour the dough onto a floured surface
Divide into six
Flatten each piece, and pull up the sides to the middle
Turn over to form a small ball – you'll notice it will have a bit of a "skin" on top
Leave for about five minutes
Squash down and use a rolling pin to roll about 15 cm diameter (will be around 4mm thick) … I find that flouring the pitta gently as I'm rolling is more effective than flouring the pin
Put on floured baking sheet, leave for five to ten minutes or so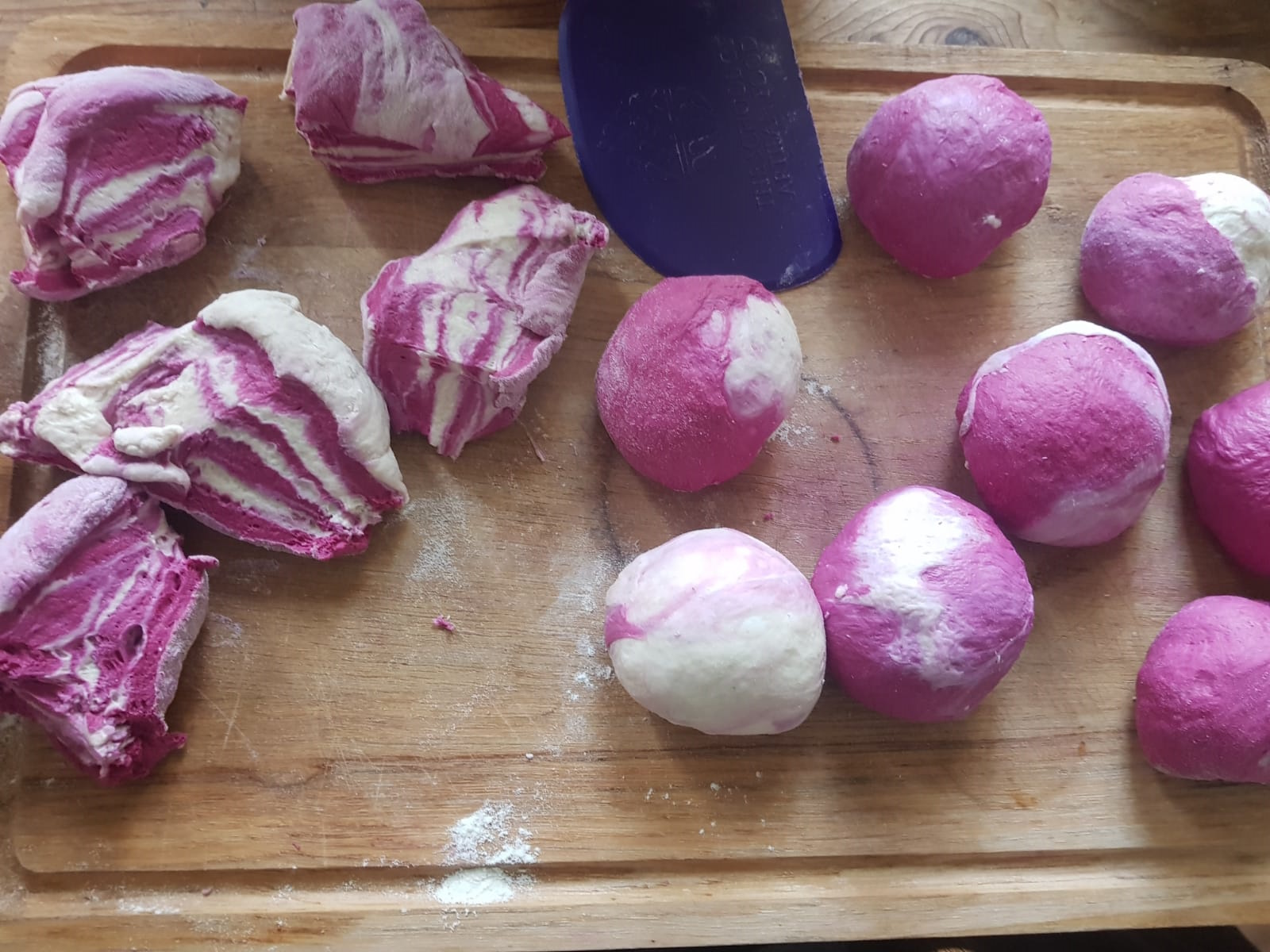 4
Baking
Bake on the pre-heated tray at 240°C for about 15 minutes (keep an eye on it – it will puff up after about 7 minutes, then brown gradually … if it looks like it's burning then you've definitely left it too long)
Once out and cooled a little put in a paper bag if you want it to stay soft for the next day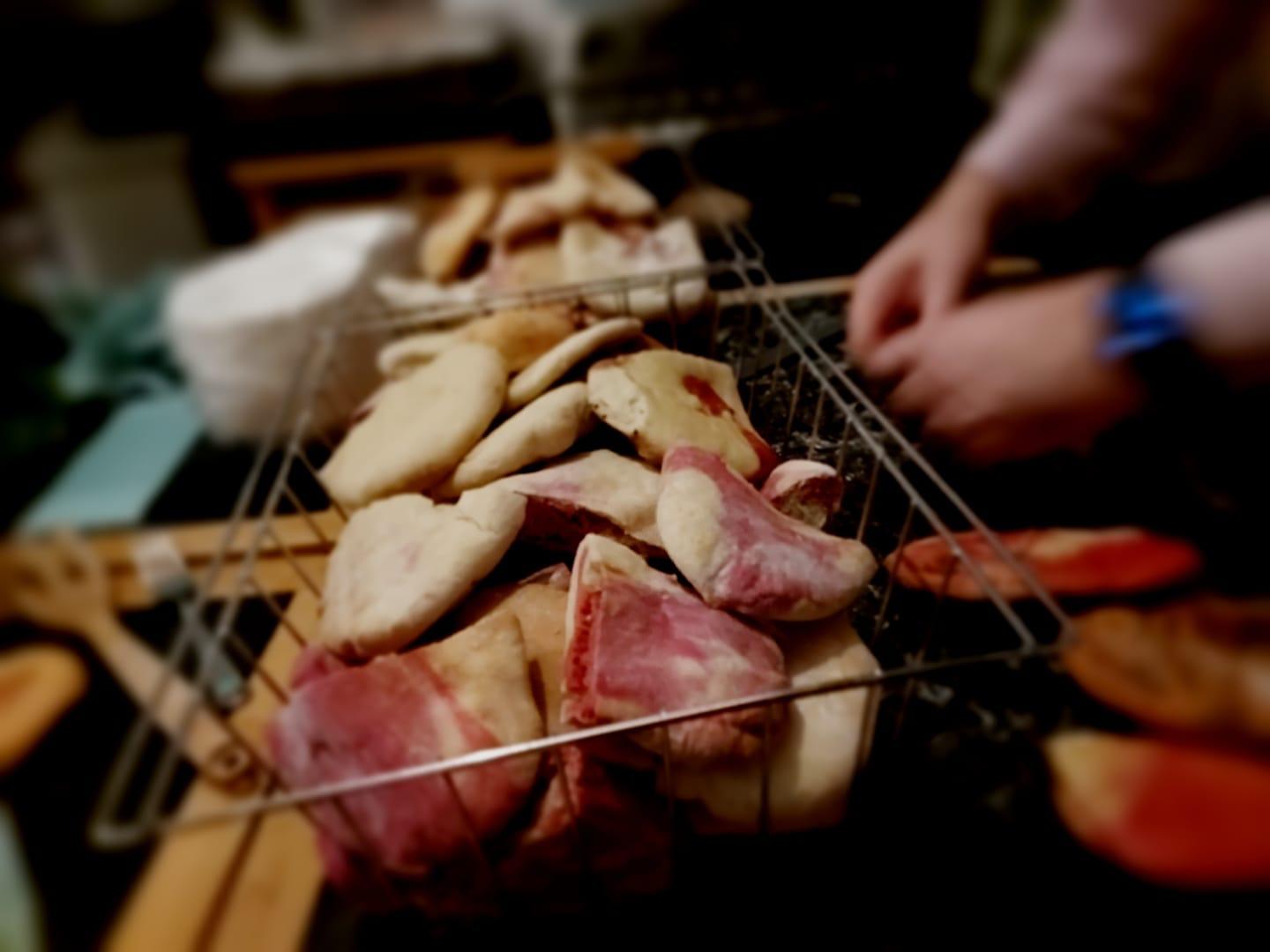 Kevin Sefton