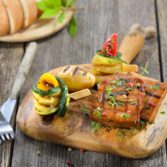 Grilled seitan with a ginger beer BBQ sauce
Seitan has food lovers rushing to the kitchen to try this chicken-textured vegan alternative. Made primarily with flour and water, and knotted for texture, seitan is packed full of flavour and high in protein.
This recipe from Fentimans is perfect for the BBQ, pairing the grilled seitan with a homemade BBQ sauce that uses ginger beer as a base for a sweet and tangy flavour.
Ingredients
500 g seitan flour also known as wheat gluten flour
300 ml water
Pinch of paprika
Pinch of garlic powder
Pinch of thyme
Pinch of salt
Pinch of black pepper
Instructions
1
For the seitan: Combine the flour and water in a large bowl and knead well. Cover and leave to rest for one hour.
2
Continually rinse the dough in cold water until the water in the bowl is clear.
3
Season the seitan dough with paprika powder, garlic powder, thyme, salt, and pepper. Allow the seitan to marinate for 45 minutes.
4
Pull the seitan dough into a long rope and tie multiple knots. This allows the dough to have a stringy, chicken-like texture.
5
Simmer the seitan dough in a pan with vegetable broth for about 2 hours.
6
Glaze the seitan in your homemade BBQ sauce and grill over a flame for about 10 minutes.
7
For the ginger beer BBQ sauce, in a pan combine:
· 1 small onion, finely chopped
· 3 tbsp balsamic vinegar
· 3 tbsp soft dark brown sugar
· 3 tbsp soy sauce
· 3 tbsp Worcester sauce
· 3 tbsp tomato ketchup
· 750 ml of Fentimans Ginger Beer
Bring to a simmer and cook uncovered for about 30 minutes until reduced by half, thickened, and sticky.
Glaze your seitan with the sauce before and after cooking on the BBQ.
Lara Balsam