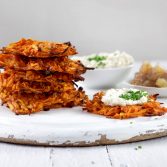 Sweet and savoury latkes – Chanukah
These sweet and savoury latkes are mini-sized and baked, making them cute and crispy. They are oil-free so they are healthier for our bodies. Serve with apple sauce for a sweet latke and/or with the sour "cream" for a savoury latke. Make 2 batches of this recipe so you do not run out! Extras can be re-heated or eaten cold the next day. These latkes are: light, crunchy, not at all greasy, and are a delicious and healthier plant-based version of a traditional Jewish recipe.
Recipe by jewishfoodhero.com creator Kenden Alfond.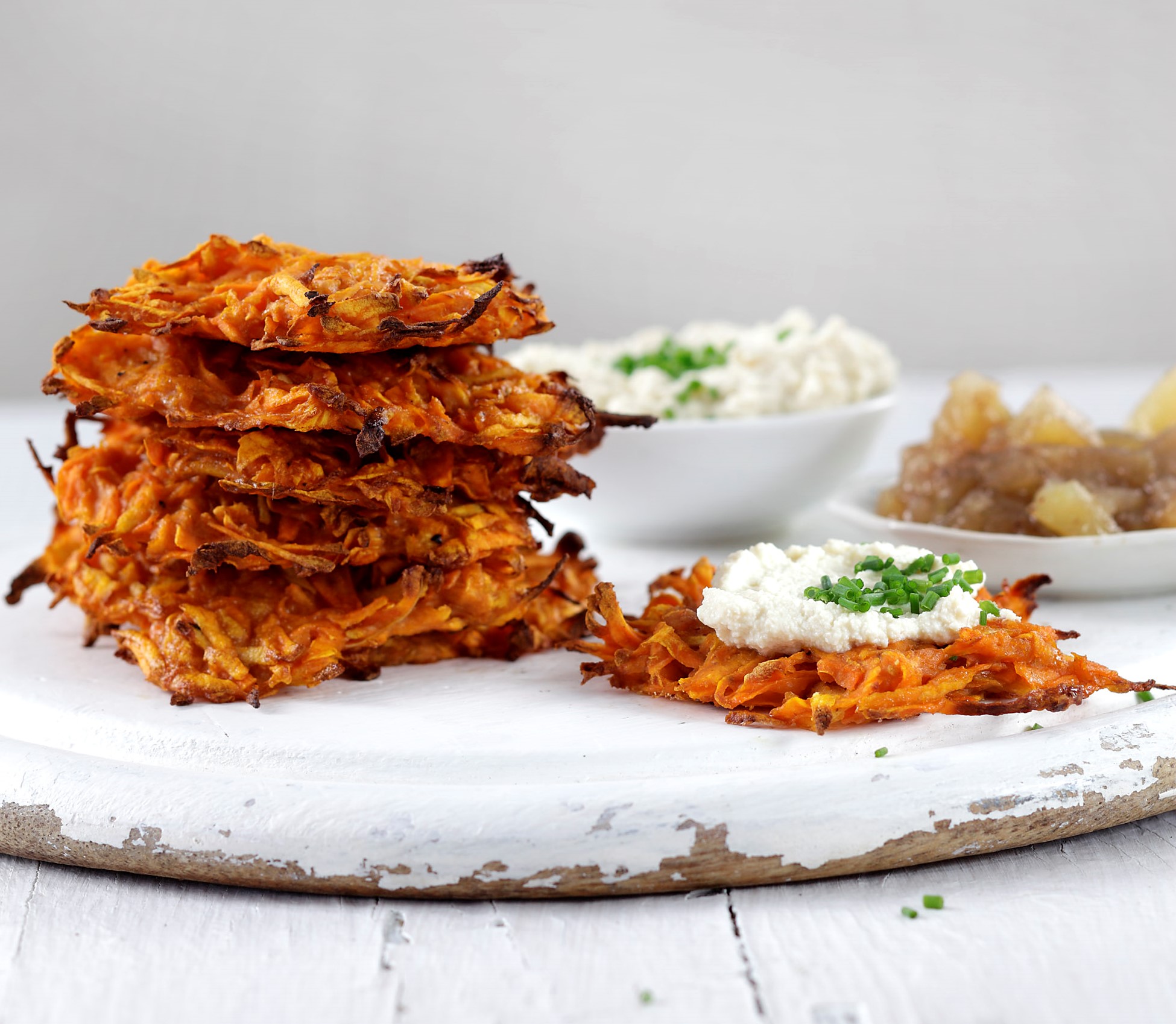 Ingredients
1 large sweet potato (or yam), coarsely grated
1 parsnip, peeled and coarsely grated
¼ cup all-purpose flour or gluten free all-purpose flour
¼ tsp baking soda
0.5 tsp sea salt
0.25 tsp black pepper
2 tbsp cooked sweet potato (or yam), mashed
1 tbsp low fat non-dairy milk or water
Cooking oil spray
Instructions
1
In a large mixing bowl, place grated raw sweet potato and parsnip.
2
Add flour, baking soda, sea salt, and black pepper and three tablespoons of the mashed sweet potato.
4
Add the non-dairy milk or water.
5
Line the baking sheet with parchment paper, and spray it lightly with cooking oil spray (so the latkes do not stick).
6
Scoop up a rounded tablespoon of the latke mixture and form it into a ball with your hands.
7
Flatten slightly to create a little patty. Place on a baking sheet lined with parchment paper. Repeat with remaining mixture.
8
Bake for 25 minutes, or until golden on one side.
9
Flip the latkes gently, and bake for another 15 minutes, or until golden brown.
10
Serve warm, topped with either tofu sour cream and chives or apple sauce.
jvs