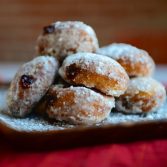 Mayim Bialik's sufganiyot (jam doughnuts)
A lovely, easy and fun to make treat for Chanukah!
These doughnuts are best when served immediately, but they can be stored in airtight containers overnight.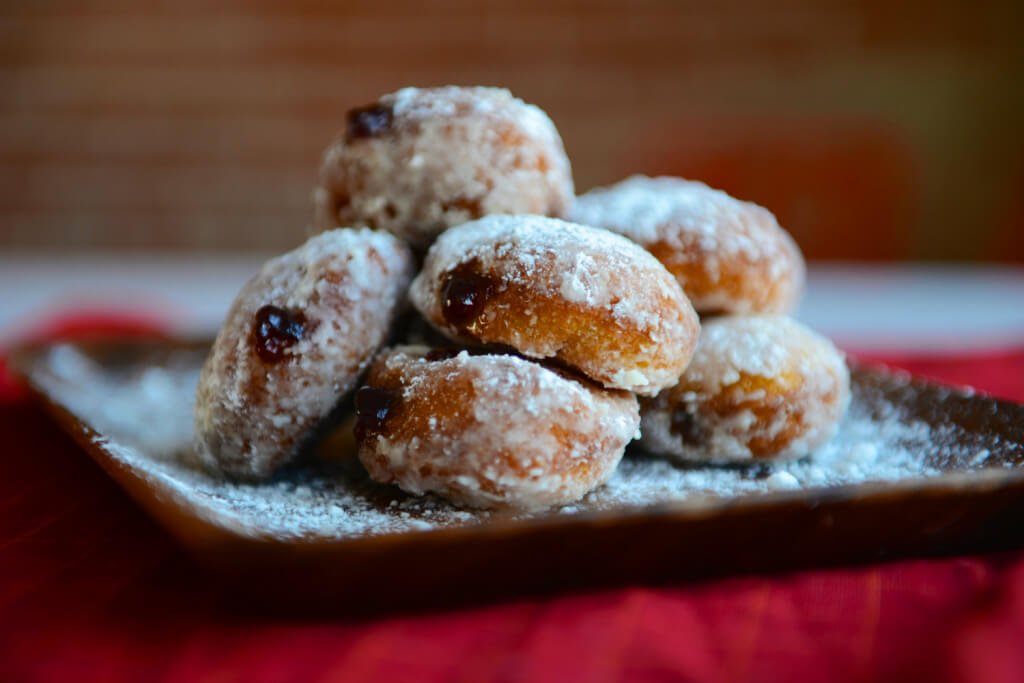 Ingredients
1 0.25-oz. envelope active dry yeast
1/2 cup sugar
1 cup plus 2 Tbsp. warm (about 110°F) soy, rice, or almond milk
3 1/2 cups all-purpose flour, plus more for dusting
1 1/4 tsp. coarse salt
Egg replacer equivalent of 2 eggs
3 tbsp. unsalted vegan margarine, melted and cooled
Nonstick cooking spray
6 cups vegetable oil, for frying
Icing sugar, for sprinkling
About 2 cups raspberry jam (optional)
Instructions
1
Combine the yeast, sugar, and 1 cup of the warm nondairy milk in a small bowl and let stand until foamy, about 8 minutes.
2
Whisk together the flour and salt in a bowl. Add the yeast mixture, egg replacer, and margarine, and beat until the dough is soft but not sticky, about 3 minutes.
3
On a lightly floured surface, knead the dough until smooth and elastic, 3 to 4 minutes. Transfer the dough to a medium bowl coated with nonstick cooking spray, and cover loosely with plastic wrap. Let rise in a warm, draft-free place until doubled in size, about 1 1/2 hours.
4
Punch down the dough. On a lightly floured surface, knead the dough a few times, and roll out to 1/4-inch thick. Cover with a clean dish towel, and let rest for 5 minutes.
5
Using a 2-inch-diameter cookie cutter, cut out rounds and transfer to a lightly floured baking sheet. Re-roll the scraps, and cut out the remaining dough. Cover the rounds with a clean dish towel and let rise in a warm, draft-free place for 20 minutes.
6
Meanwhile, heat the oil in a large, heavy-bottomed pot until it reaches 375°F.
7
Place a wire rack on top of parchment paper or on a baking sheet, and line with paper towels or brown paper bags. Working in batches of four or five, add the doughnuts to the hot oil and fry, turning once, until golden and puffed, about 1 minute per side. Using a slotted spoon, place the doughnuts on the paper towels to cool.
8
Sprinkle with icing sugar. *Variation: For jam-filled doughnuts, spoon jam into a pastry bag fitted with a plain 3/8-inch tip. Pierce a hole in the side of a doughnut with the tip, and squeeze in jam to fill (the filled doughnut will feel heavy). Note: Be sure to drain well before serving.
jvs