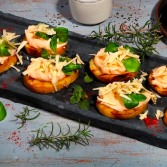 Cheesy potato rounds – for Shavuot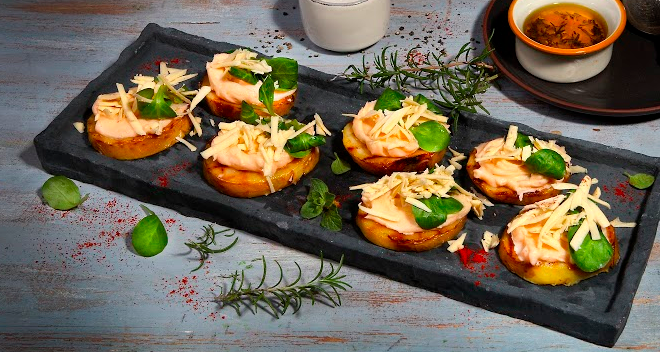 Ingredients
1 pack Violife EPIC Mature Cheddar Flavour Grated
100g Violife Creamy Original
4 large potatoes, baked whole with their skin on for about 40 minutes
1 rosemary sprig, chopped
1 garlic clove, minced
50g lamb's lettuce
2 tbsp olive oil
Salt & Pepper
1 tbsp smoked paprika
Fresh oregano
Instructions
1
Trim the ends of the potatoes and slice them into 1cm thick rounds.
2
Brush with oil and sprinkle with salt, pepper, garlic and rosemary.
3
Place the potatoes on a grill rack, olive oil side down and grill for 5-7 minutes on each side.
4
In a bowl, mix together the Violife Creamy with paprika and chopped oregano.
5
Spread the mixture on top of the cooked potatoes, top with lamb's lettuce and sprinkle with Violife EPIC Grated.
Yael Tischler