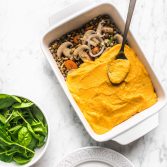 Mushroom and walnut gardener's pie with butternut squash topping for Pesach
A hearty main course for your Passover meal!
This dish contains kitniyot.
Recipe from JewishFoodHero.com, with a few tweaks to make it Kosher for Passover.
Ingredients
1 small butternut squash, sliced lengthwise and de-seeded
3 tbsp olive oil, divided
2 medium leeks, thinly sliced
3 medium carrots, chopped
450 g mushrooms, chopped
1 red chili pepper, de-seeded and finely chopped
2 garlic cloves, minced
1 tsp dried thyme
1 ½ tbsp white miso paste
225 g cooked lentils
½ cup vegetable broth
2 tbsp tamari
90 g walnuts, chopped
½ cup unsweetened non-dairy milk (for Passover, some good options are rice, soy or nut-based milks)
salt and pepper to taste
Instructions
2
Line a rimmed baking sheet with a piece of parchment paper and lay the two butternut squash halves, cut-side-down, onto the baking sheet. Place the squash into the oven to roast until fork tender, around 30-40 minutes.
3
While the butternut squash is roasting, heat a tablespoon of olive oil in a large frying pan over medium heat. Add the leeks and carrots; season with a fat pinch of salt and pepper. Cook, stirring occasionally, until the vegetables become slightly soft, around 3-4 minutes.
4
Add in the mushrooms and season with another small pinch of salt to draw out the water from the mushrooms. Cook, stirring occasionally, until most of the water from the mushrooms cooks down, around 5-7 minutes.
5
Add in the chili pepper, garlic, and thyme; cook for another minute or until the garlic becomes really fragrant.
6
Add in the miso, lentils, broth, tamari and and walnuts; season with another pinch of salt and pepper. Let the mixture bubble away until everything is nicely warmed through and slightly thickened, around 6-8 minutes.
7
Once the butternut squash is fork-tender, discard the peel and transfer the warm flesh into a medium mixing bowl. Add in the remaining two tablespoons of olive oil and the warm non-dairy milk; mash with a potato masher until a smooth puree forms.
8
Transfer the mushroom and lentil mixture into a large casserole pan and top with the butternut squash puree. Place in the oven to bake until the pie becomes bubbly around the edges and the puree topping turns lightly golden-brown around the edges, around 10-15 minutes.
9
Leave to cool for a few minutes before serving.
Lara Balsam