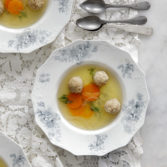 Pesach: Matzoh ball soup
It just wouldn't be Pesach without matzo ball soup. This modern version includes a mineral rich broth and light vegan matzo balls.
Complete this recipe in three easy steps: – Preparing the broth – Making the baked matzo balls – Composing the soup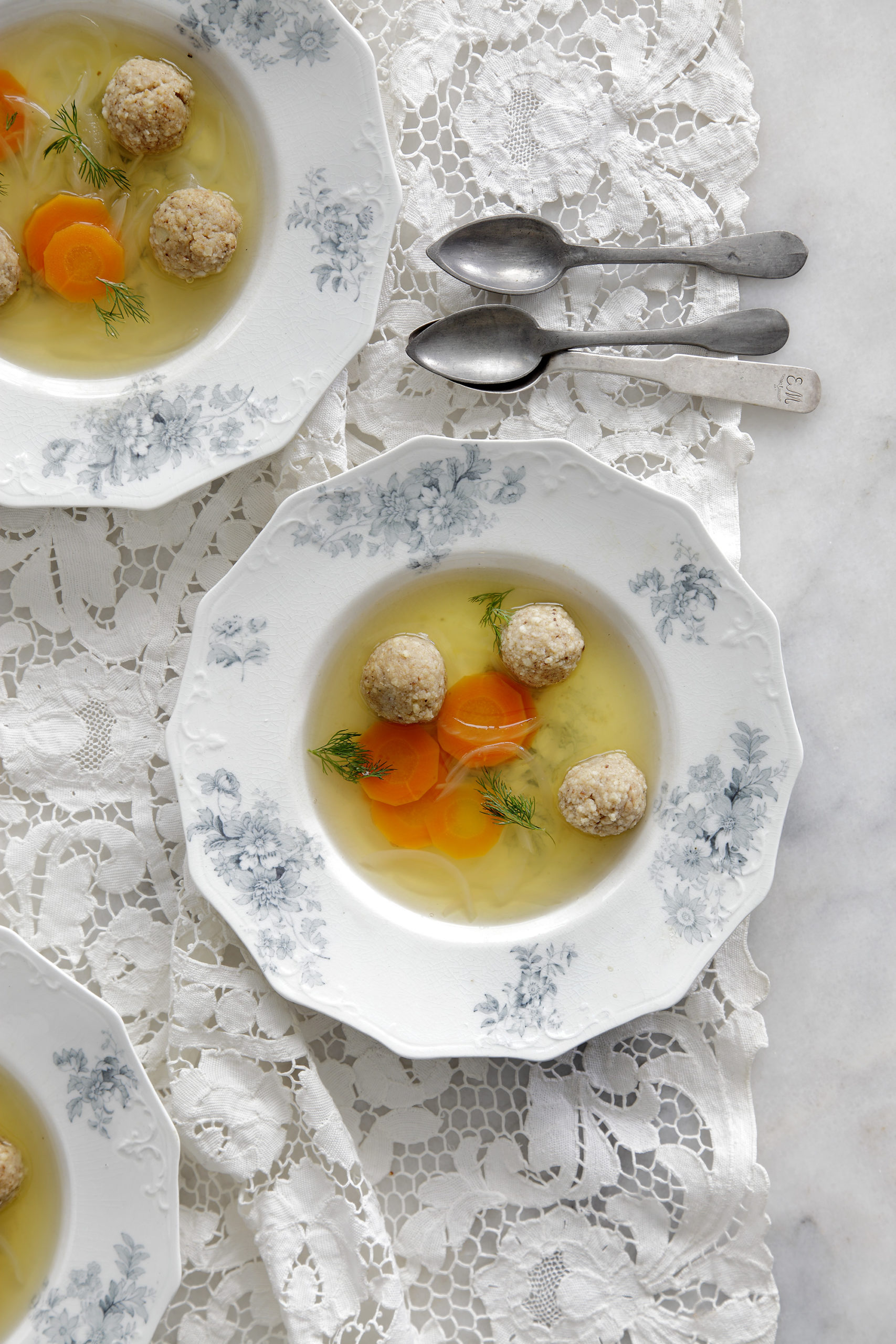 Ingredients
FOR THE RICH LEEK-ONION-SHALLOT-BROTH: 2 cups vegetable broth (or water)
1½ cups chopped onion
2 cloves garlic, sliced
2 shallots, chopped
6 cups sliced leeks
2 cups sliced carrots
1 cup parsley
1 cup fresh dill
10 cups water
For the matzo balls: 1½ cups boiling water
1½ cups matzo meal (or quinoa flakes to make gluten free)
½ teaspoon sea salt, or more to taste
¼ teaspoon black pepper
½ teaspoon onion powder
2 tablespoons cooked potato puree
Baking oil spray
FOR THE SOUP: 6 cups rich leek-onion-shallot broth (above)
½ cup diced onion
1 cup sliced carrot
1 teaspoon sea salt
2 tablespoons minced fresh dill
GARNISH: Fresh dill sprigs
Instructions
1
FOR THE BROTH:
Heat vegetable broth (or water) over medium heat
Add the onion, garlic, shallots and leeks.
Add a few pinches of sea salt.
Cook and stir for 15 minutes, or until the vegetables have softened
Add the water, carrots, parsley to the soup pot and bring to a boil
Reduce heat to low, and simmer, covered, for 1 hour
Strain the broth through the strainer, pressing the vegetables with the back of a spoon to extract all of the liquid from them
Place broth in large soup pot
Set this rich leek-onion-shallot broth aside for later use
2
FOR THE MATZO BALLS:
Boil small potato and mash well with fork and set aside
Bring ½ cup water to boil over medium high heat
In a large glass bowl:
mix together the matzo meal (or quinoa flakes), sea salt, black pepper and onion powder
Add the boiling water and potato puree
Mix well
Cover and refrigerate for 15 minutes
Preheat the oven to 300 degrees Fahrenheit (150 degrees Celsius) while the matzo mixture are in the refrigerator
Line a baking sheet with parchment paper
Form walnut-size balls of the matzo mixture and place them on the prepared baking sheet
Lightly spray the matzo balls with baking oil spray
Bake for 10 minutes
Carefully turn the matzo balls
Bake for another 10 minutes.
3
FOR THE SOUP:
Heat Rich Leek-Onion-Shallot Broth broth (or water) over medium heat
Add the onion, carrot and a pinch of the sea salt
Cook and stir for 10 minutes, adding a little more broth as needed, to prevent sticking
Add the remaining vegetable broth and sea salt, along with the dill
Bring to boil over medium high heat, then lower to simmer for 5 to 10 minutes or until the carrots are soft
TO SERVE:
Place 3 matzo balls in each soup bowl
Add the hot soup broth
Garnish with dill sprigs
jvs