Challah Bread – from Oy Vey Vegan by Estee Raviv
Oy Vey Vegan: 
Vegan Cuisine with a Mediterranean Flair 
is a journey into the wide world of plant-based foods. Estee Raviv has created recipes for vegan meals with a curiosity for new flavours combined with old ones–further perfected with a Mediterranean flair and enhanced by her Jewish Eastern European heritage. Estee has a fresh take on all the usual standards. 
Oy Vey Vegan
 contains a multitude of options for breakfasts, entrees, snacks, salads, veggie burgers, soups, side dishes, and delicious, but guilt-free, desserts–all taste-tested by her kids. Not only is Jewish vegan cooking possible, but it's simple. Estee provides recipes for essential Jewish comfort foods such as Tshulent, Challah, and Matzo ball soup. This cookbook is perfect for both beginner vegans and expert chefs looking to expand their vegan menu.
Oy Vey can be translated to "Oh no!" Too many people shy away from vegan foods because they think of them as bland or difficult to make. Estee's passion for plant-based nutrition changes minds. The book was written to address the need for people who want to make a positive change in their life and diet and do not know how. Preventative medicine through whole foods is the future and Estee Raviv will show you the way. Little snippets of Estee's childhood and travel adventures accompany tips and tricks in this invaluable guide for a flourishing vegan lifestyle. Most recipes are gluten free (GF) or can be easily transformed into GF. Oy Vey Vegan illustrates the art of health and wellness with beautiful, mouth-watering photographs, taken by Estee herself. Each recipe is written in a clear and easy to follow manner so anyone can cook.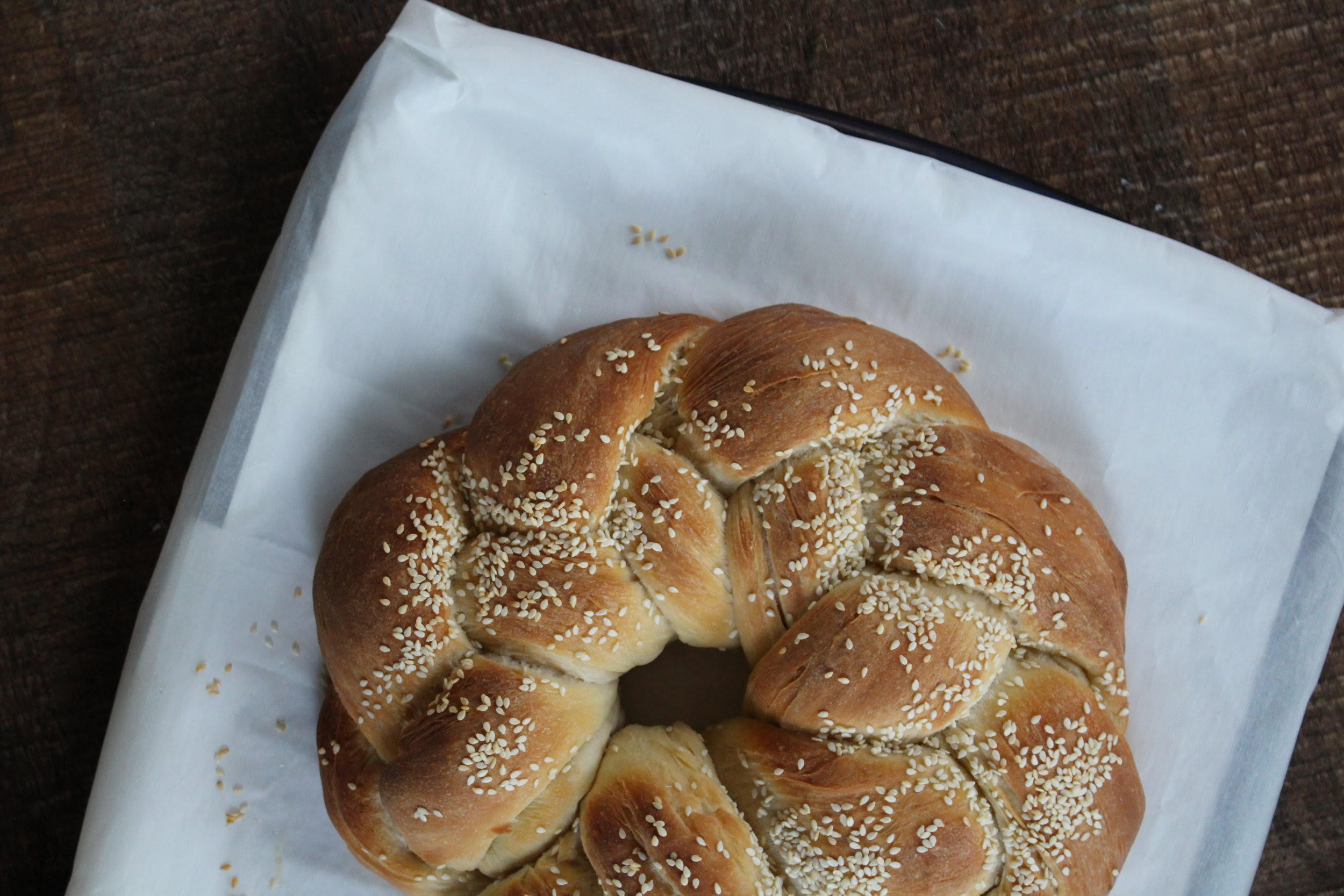 Ingredients
1 pack of dry yeast 1/4 oz or 7 grams
1 cup lukewarm water
2 tablespoons agave
1/4 cup olive oil
1.5 tsp kosher salt
4 cups unbleached all purpose organic flour
Instructions
1
In a mixing bowl add yeast and water. Let it bubble for about 10-15 minutes.
2
Then add agave, olive oil and salt.
3
Start adding the flour one cup at a time until the dough is formed. If it's too sticky add more flour.
4
Next step, dust flour the mixing bowl, and place the dough in it. Cover with a clean towel and let it rise for a couple of hours, until it doubled in size.
5
Heat the oven to 375° F
6
Take the dough and knead it to remove the air. Divide the dough into 3 equal balls.
7
Braid the dough and shape it in a circle, just like I did in the picture.
8
Let it rise for about half an hour to an hour.
9
Brush the top with olive oil and sprinkle with sesame seeds. Bake in the oven for about 30-40 minutes.
jvs