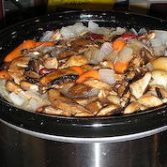 Vegan cholent – serves 25 people
Designed by Dan Jacobs for our Shabbat Lunch – 23rd Feb 2019
There are many ways to prepare a cholent, this is a very simple method with minimal prep, and lots of flavour!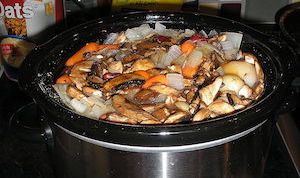 Ingredients
800g dried kidney beans
400g dried Cannellini beans
400g barley
8 large potatos, washed and cubed
5 large sweet potatos, washed and cubed
4 large onons, chopped roughly
8 cloves of garlic, chopped roughtly
400 ml of chopped tomatoes
1 tube of tomatoe paste (concentrate)
100ml BBQ suace
100ml soy sauce
20g paprika
20g pepper
50g salt
30g cumin powder
30g ground corriander
4l water (top up if required)
Instructions
1
Prepare all the ingredients and then mix them together well. leave in the slow cooker for at least 12-15 hours.
Dan Jacobs