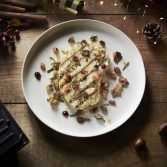 Cauliflower steak with a warm chestnut, cranberry and sage dressing
A great winter recipe from George Foreman.
Ingredients
For the cauliflower 'steak'
1 large cauliflower, cut into 2 steaks, approx. 1 ½ cm thick
Salt and pepper to taste
For the dressing:
50 g chestnuts, chopped
40 g cranberries, soaked in 1 tbsp brandy or water
50 g dried apricots, chopped
2 banana shallots, finely chopped
½ bunch sage, chopped
1 clove garlic, minced
3 tbsp olive oil
1 ½ tbsp sherry vinegar
Salt to taste
Instructions
1
Pre-heat grill. Brush the cauliflower steaks with olive oil and season. Place the steaks on the grill and cook for 8 – 12 minutes until golden brown.
2
In the meantime, prepare the dressing. Heat 1 tbsp of the olive oil over a high heat. Add the shallots and garlic and reduce the heat to medium. Stir and cook for 2 minutes until soft and golden brown.
3
Reduce the heat to low and stir in the chestnuts, cranberries and apricots. 
4
Add the sherry vinegar and remaining olive oil and warm for 1-2 minutes.
5
Add the sage, salt, and spoon over the cooked golden brown cauliflower steaks to serve.
Lara Balsam