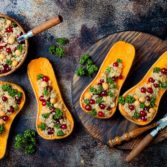 Roasted butternut squash with quinoa and chickpeas
A delicious diabetes-friendly dish for world diabetes day from
Flora ProActiv
.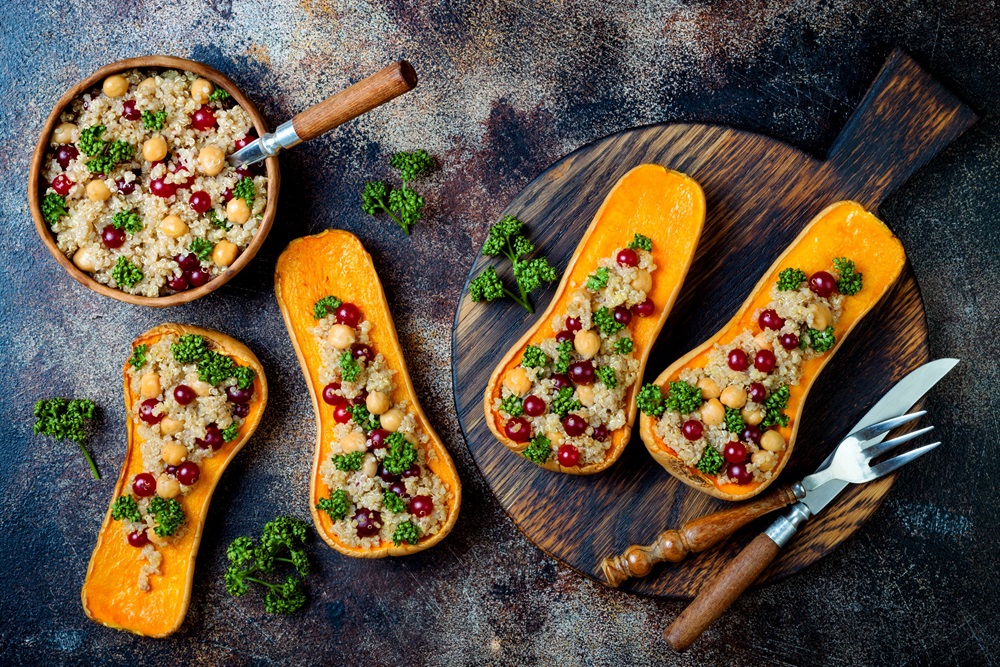 Ingredients
1 butternut squash
2 tbsp olive oil
125 g quinoa
20 g Flora ProActiv Light
100 g cranberries
120 g chickpeas drained
1 handful fresh parsley
1/2 lime, juiced
Ground black pepper
Instructions
1
Preheat the oven to 200ºC / 180ºC fan / gas mark 6. Cut the butternut squash in half lengthways. Scoop out the seeds with a spoon. Carefully cut the flesh out, to about 1.5 cm from the skin. Cut the pulp into cubes. Cover a baking tray with baking paper and place the two squash halves and the cubes on it. Drizzle with 2 tablespoons of olive oil. Place in the oven for 30-35 minutes until the squash is soft.
2
Meanwhile, bring the quinoa to the boil in double the amount of water. Simmer for 12-15 minutes until the water is absorbed. Take off the heat. Add the Flora ProActiv Light and mix with a fork.
3
Mix the cranberries, rinsed chickpeas and parsley with the quinoa. Add the juice of the lime and season with some black pepper.
4
Remove the butternut squash from the oven. Gently mix the squash cubes into the quinoa. Spoon the mixture into the hollowed-out squash halves and serve.
Lara Balsam