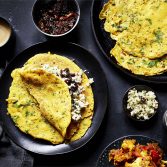 Spiced crepes with coconut chutney & sweet onion chutney
This delicious recipe is from Rebel Recipes by Niki Webster is published December 26th (Bloomsbury, RRP £26). Photos: Kris Kirkham.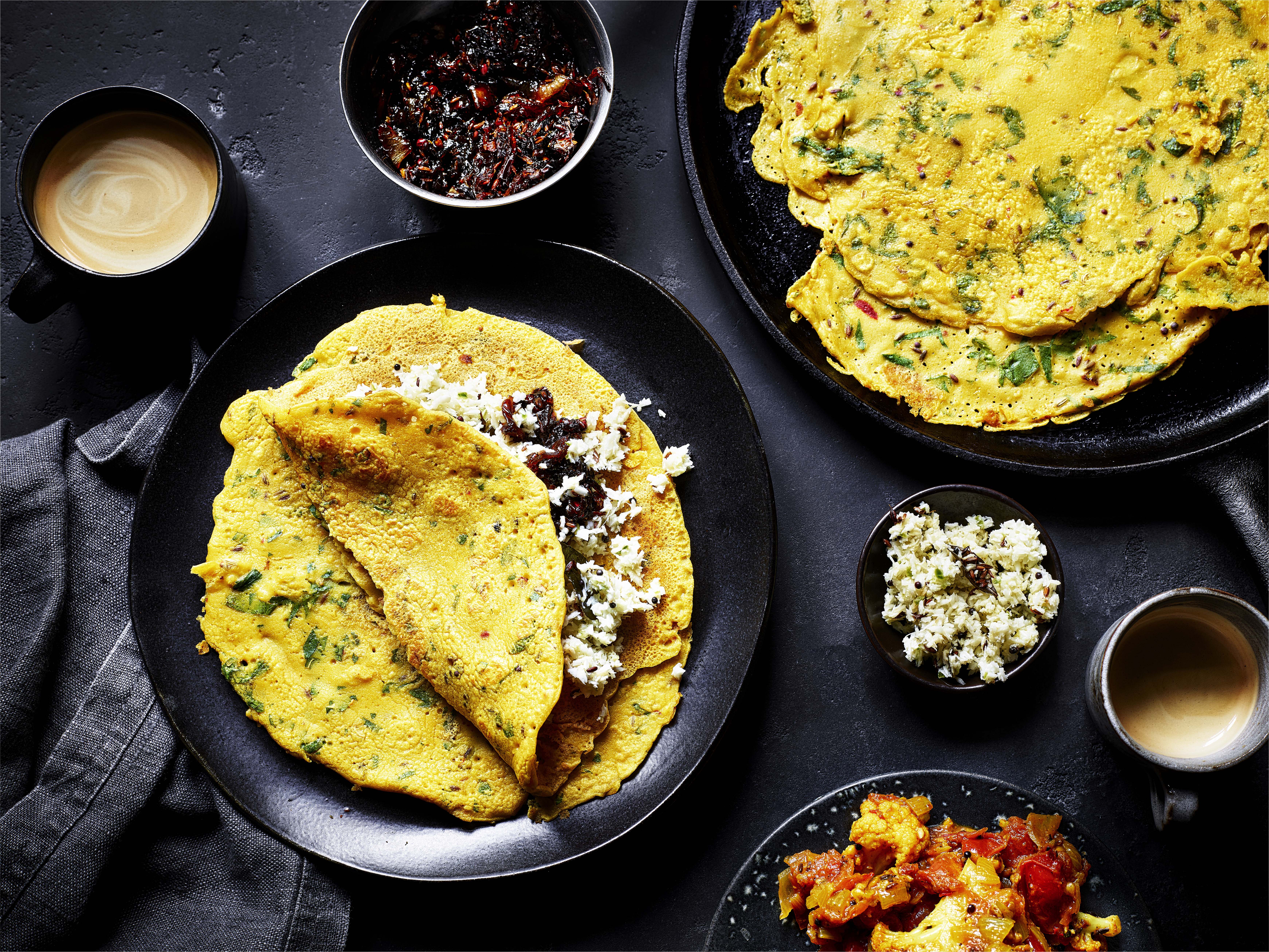 Ingredients
120 g gram flour, aka chickpea flour
1⁄2 tsp sea salt flakes

1⁄2 tsp garlic powder

1⁄2 tsp ground turmeric
1⁄2 tsp cumin seeds
1⁄2 tsp fennel seeds
1⁄2 tsp black mustard seeds

a pinch of dried chilli flakes
a handful of fresh coriander, plus extra to serve

a few curry leaves, optional
310 ml lukewarm water
2 tbsp olive oil
For the coconut chutney: 50 g unsweetened desiccated coconut
1 tsp grated ginger

1⁄2 small green chilli, deseeded
1⁄2 tsp sea salt flakes
juice of 1⁄2 lime
2 tsp rapeseed or flaxseed oil

1 tsp black mustard seeds
1⁄2 tsp cumin seeds

6 curry leaves
For the sweet onion chutney:
3 tbsp olive oil

2 large onions, sliced into thin rings

1⁄2 tsp dried chilli flakes

1 tsp pink peppercorns

1 tsp cumin seeds

1 1⁄2 tbsp maple syrup

3 tbsp balsamic vinegar
Instructions
1
To make the coconut chutney, add the dessicated coconut to a small bowl and cover with boiling water. Leave to rehydrate and soften, approximately 15 minutes.
2
Drain the soakened coconut (reserving a few tablespoons of the soaking water) and add to a mini food processor or spice grinder with the ginger and chilli. Blend until smooth, adding some of the coconut soaking water to loosen if needed. Transfer to a bowl and stir through the salt and lime juice.
3
In a small frying pan over a medium-high heat, pour in the rapeseed oil. Once hot, add the mustard seeds and fry gently until the seeds start to pop. Immediately add in the cumin seeds and, if using, the curry leaves. Sauté for a few seconds. Tip the tempered spices and oil into the bowl with the coconut chutney and mix well. Set aside until required.
4
To make the onion chutney, heat the olive oil in a frying pan over a low heat. Add the onions, chilli, peppercorns and cumin seeds, and fry gently for about 20 minutes until the onions are dark brown and sticky. Add in the maple syrup and the balsamic vinegar and simmer for 30 minutes or so, until the chutney is thickened and darkened.
5
Pour the chutney into a sterilised jar if making in advance and allow to cool.
When you're ready to make the crepes, mix the dry ingredients in a large bowl. Add in the lukewarm water and olive oil, and whisk thoroughly until you get a thick batter. Stir in the coriander and curry leaves. Set aside for 15 minutes.
6
Heat a little oil in a small non-stick frying pan over a medium heat. Add 1⁄3 cup of the batter to the pan and swirl around the bottom so you get an even crepe. Cook for 1–2 minutes, until there are bubbles on the surface of the crepe and the edges come away slightly from the pan. Flip and cook on the other side for 30 seconds to a minute. Remove from the pan, place on a plate and cover with a clean tea towel to keep warm. Repeat the process with the rest of the batter.
7
Serve the crepe topped with the chutneys, and add a few coriander leaves. Roll up and eat straight away.
Lara Balsam