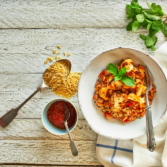 Roasted harissa cauliflower with orzo
If you have never tried roasted cauliflower before, you are in for a treat! Roasting really does take this humble vegetable to another level. It goes brilliantly with the harissa topping and the orzo pasta to make an easy to prepare delicious and light vegan feast, which provides 389 calories per serving.
Recipe from Flora
Nutrition information per serving: Energy 1634kJ/ 389kcal, Fat 11.3g, of which Saturated Fat 2.0g, Carbohydrates 51.2g, of which Sugars 13.3g, Fibre 8.9g, Protein 16.2g, Salt 0.46g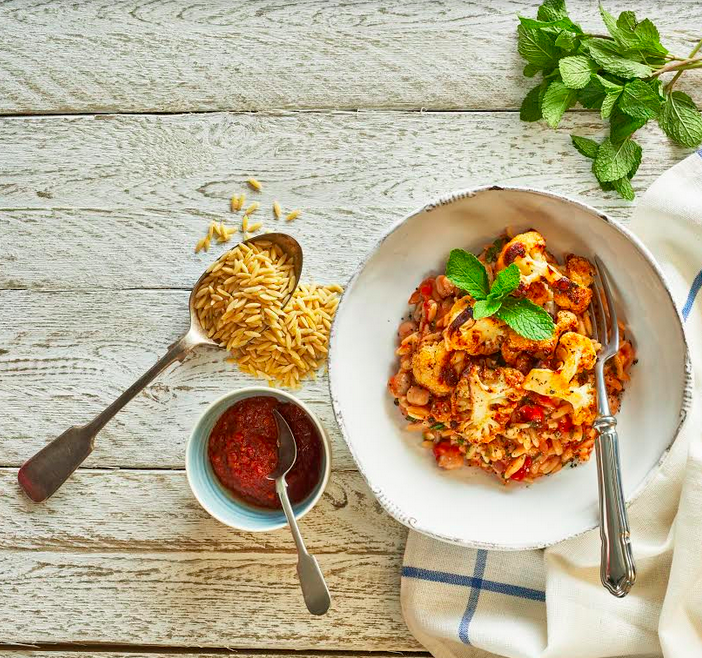 Ingredients
1 medium cauliflower (approximately 800g)
1 tbsp olive oil plus another 1 tsp
1 red onion
1 can chopped tomatoes
1 can chickpeas, drained
2 cloves garlic, crushed
300 g orzo pasta
Freshly ground black pepper
60 g Flora Light
1 tbsp harissa paste
Instructions
1
Preheat oven to 220°C / 200°C Fan / Gas mark 7
2
Remove the leaves from the cauliflower and chop it into medium-sized florets. Transfer the cauliflower to a large roasting dish. Mix it with 1 tbsp olive oil, making sure to coat it all over. Put it into the oven and set a timer for 30 minutes.
3
While the cauliflower is roasting, prepare the orzo and sauce. Peel and chop the red onion and add to a large frying pan along with 1 tsp olive oil. Fry for approximately 3 minutes until starting to soften.
4
Add the can of tomatoes, drained chickpeas, crushed garlic, the orzo and an extra half can of water. Season with plenty of black pepper. Allow to simmer over a low heat, stirring regularly. Add another half to a full can of water bit by bit when the liquid has been absorbed, until the pasta has cooked through, in approximately 25-30 minutes.
5
As the orzo is cooking, turn the cauliflower in the roasting dish and put back into the oven.
6
Mix the Flora Light and the harissa. When the cauliflower is cooked through and browned, take it out of the oven and dot the harissa mix on top of the roasted cauliflower. Stir thoroughly in the dish to coat the cauliflower all over.
7
Check the pasta is cooked and serve with the cauliflower on top of the or
Lara Balsam