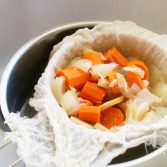 Miso dashi broth
This broth, from the wonderful Isa Chandra Moskowitz whose website 
Post Punk Kitchen
 is full of mouth-watering vegan recipes, forms the base of her exquisite 
Grilled Ramen
 recipe.
Dashi, if you're not familiar, is the deeply umami Japanese broth used to make ramen. Traditionally, it's made with some fishy ingredients. Literally. Here, we're simply making a veggie broth, with a healthy dose of kombu, for a slight taste of the sea, and miso, for that fermented deliciousness. I'm going to be posting a whole ramen recipe in just a bit, but I wanted to get the party started and get this broth up first. And you should totally read up more on dashi, its history and technique is definitely worthy of reading about in more than the few sentences I can afford to do here. Please note that this recipe is in American measures.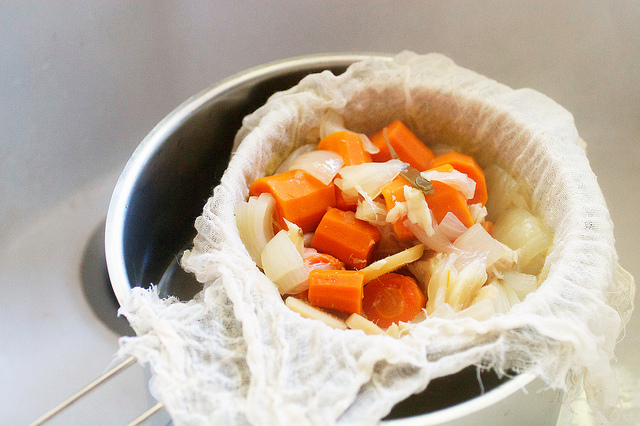 Ingredients
1 tbsp oil (peanut, sesame or canola are all good choices)
1 large yellow onion, diced large
3 cloves garlic, smashed
2 large carrots, cut into 1 inch chunks
1 inch piece of ginger, sliced
12 cups cold water
2 sheets kombu, cut into 3 inch strips
2 tbsp mirin (optional, see note)
3 tbsp mellow white miso
2 tsp salt
Instructions
1
Preheat a large pot over medium-high heat. Saute the onion and garlic in oil with a pinch of salt for about 5 minutes, just to get a little caramelisation going.
2
Add the carrots, ginger and water. Cover and bring to a boil. Once boiling, leave the lid slightly ajar so that steam can escape, and lower heat a bit, simmering to reduce by about 1/3rd. After about 30 minutes, add the kombu. Let cook an additional 30 minutes or so, removing the kombu at this point so that it doesn't get slimy. All said, it should simmer for a little over an hour, and reduce to 8 cups.
3
Add the mirin, miso and salt and stir. Let simmer for an additional 2 minutes, then turn off the heat.
4
Place a separate pot, large enough to manage 8 cups of broth, in the sink. Place a handled strainer so that it sits securely on top of the pot (as pictured). Line with a few layers of cheesecloth with plenty of overhang. Pour in the vegetables and broth and let strain for about 20 minutes.
5
Once cool enough to handle, bunch up the cheesecloth and squeeze, so that the vegetables release as much moisture and flavor as possible.
Taste for salt again, and now your broth is ready to use!
6
Freeze in tightly sealed plastic or glass containers for up to 3 months, if not using within the week.
jvs