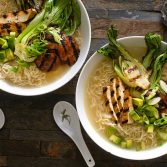 Grilled Ramen
This recipe is courtesy of celebrated author Isa Chandra Moskowitz, whose website 
Post Punk Kitchen
 is full of mouth-watering vegan recipes. The base of this recipe, Miso Dashi Broth can be found by clicking 
here
.
Curly noodles in a homemade dashi broth, topped with grilled hoisin tofu, shiitake mushrooms, bok choy and some diced avocado. OMG it's Grilled Ramen. And it is beyond sublime. The kind of food that brings the room to a hush as you take your first slurpy bites. Please note that this recipe is in American measures.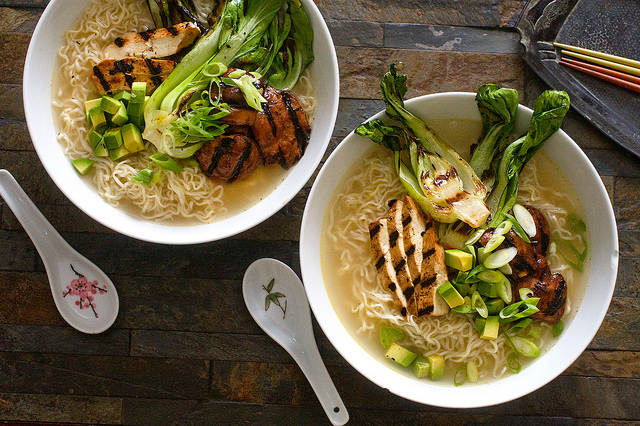 Ingredients
8 oz plain ramen noodles
1 recipe Miso Dashi Broth (jvs.org.uk/miso-dashi-broth/)
FOR THE MARINADE:
1/2 cup hoisin sauce
1 tbsp soy sauce / tamari (gluten free soy sauce)
3 tbsp rice wine vinegar
1 tbsp brown sugar
1 tbsp fresh lime juice
For marinating:
12 to 14 oz block extra firm tofu, pressed
1/4 lb shiitake mushroom, rough stems trimmed
FOR THE BOK CHOY:
4 baby bok choy sliced in half
2 tbsp toasted sesame oil
1/2 tsp salt
FOR GARNISH:
1 ripe avocado, diced small
1 cup thinly sliced scallion
Instructions
1
In a wide shallow bowl, mix together all of the marinade ingredients.
2
Slice tofu into 8 even slabs widthwise. Place in marinade for at least 2 hours and up to overnight, flipping occasionally.
3
Keep the shiitake mushrooms on standby, as they will be dredged in the marinade prior to grilling.
4
When the tofu has marinated, cook the noodles according to package directions, then immediately cool them under cold running water, and set aside. Also, make sure your broth is piping hot and ready to go, since everything else will happen rather quickly.
5
Heat up a grill to about 450 F.
6
We're going to put the bok choy on the grill first. Brush each half with sesame oil, and sprinkle with a little salt. Place face down on the grill for about 5 minutes, until grill marks appear. Keep the leaves away from the direct flame, if possible, since they will burn if too close to the fire. As you can see, I keep one half of the grill off, so that the leaves don't burn.
7
Brush the grill with a little sesame oil, and place the tofu on the grill as well, cooking along with the bok choy for about 5 minutes. Once the tofu is on the grill, dredge the mushrooms in the marinade.
8
When you remove the bok choy, flip the tofu, to grill for another 5 minutes. Use a thin metal spatula to flip, so that you can really get under the tofu and it doesn't stick. In the meantime, place the dredged mushrooms on the grill, and let them grill for 5 minutes as well.
9
Now remove the tofu and mushrooms from the grill. It's time to assemble your ramen!
10
Place the cooked noodles in the hot broth to heat through, just for about 30 seconds. Divide into big bowls.
11
Slice tofu slabs on a bias, and divide amongst the bowls. Add bok choy, mushrooms and and avocado in little piles. Scatter scallion across the top, and serve immediately!
jvs