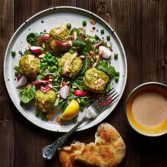 Peri Peri pea falafel with tahini dressing
This recipe, perfect for summer, is from
Yes Peas!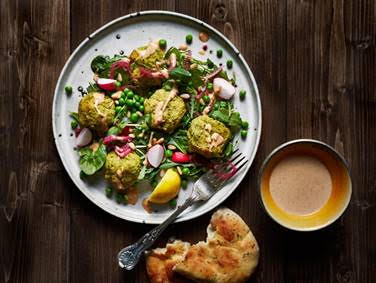 Ingredients
3 tbsp olive oil
1 onion, finely chopped
3 garlic cloves, crushed
2 tsp cumin seeds
2 tsp peri peri seasoning
2 cans of chickpeas, drained and rinsed
200g frozen peas
a small handful fresh coriander & mint, chopped
zest of 1 lemon
juice of ½ lemon
3 tbsp plain flour, plus a little extra for dusting
sea salt flakes & freshly ground black pepper
1 tbsp tahini
For the dressing
2 tbsp tahini
1 garlic clove, crushed
juice of ½ a lemon
½ tsp peri peri seasoning
1tbsp water
Instructions
1
Preheat the oven to 180°C/350°F/Gas mark 4
2
Line a baking tray with greaseproof paper.
3
Heat a non-stick frying pan over a medium heat. Add 1 tbsp of olive oil and add the onion, garlic and spices. Sauté for 2-3 minutes, stirring often. Once the onions are soft, put them into a food blender along with the well-drained peas and remaining ingredients and season with salt and pepper.
4
Blend until the mixture comes together. If your mixture is still crumbly and not combining, add a little more flour and oil and blend a little more.
5
Roll the falafel mixture into balls, put them on the lined baking tray and bake in the preheated oven for around 15 minutes.
6
To make the dressing, combine all the ingredients in a bowl along with 5 tbsp cold water and season with salt and pepper. Whisk until smooth.
7
Drizzle the falafel with the dressing and serve with grilled flatbreads.
Yael Tischler