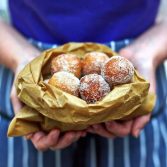 Mini doughnuts & quick raspberry sauce
Hot, crisp and sweet, these doughnuts are a fantastic naughty snack that everyone will love.
Recipe by Jamie Oliver, who website has over 50 vegan recipes to choose from, enjoy!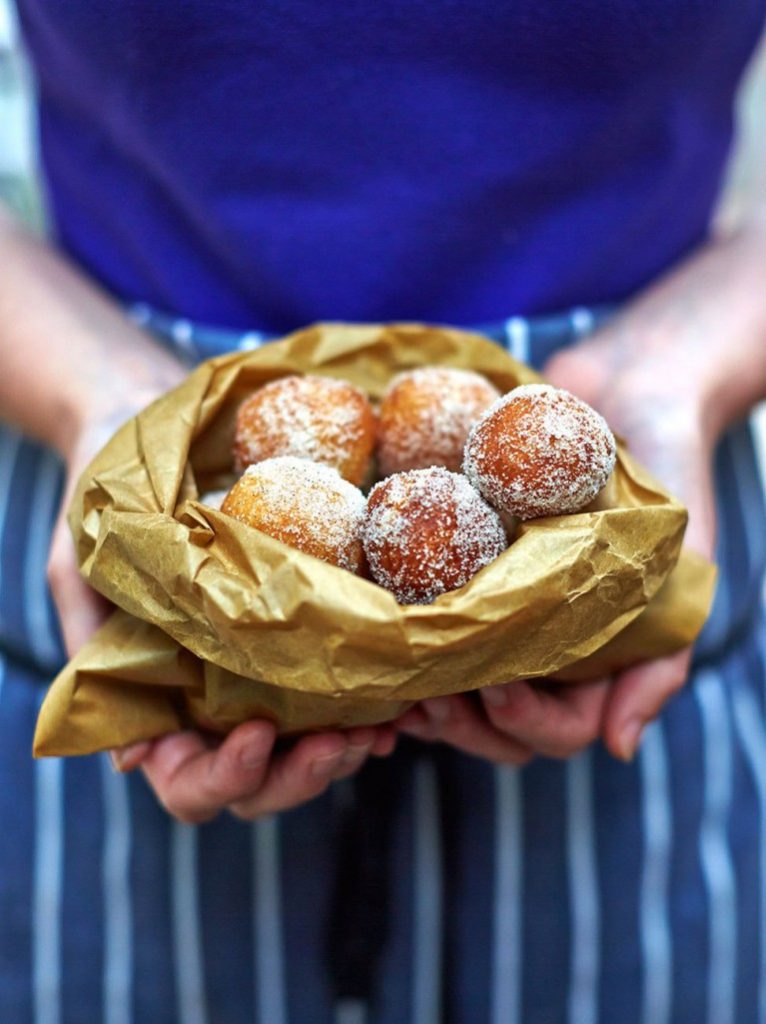 Ingredients
50 g dairy-free margarine
120 ml organic soya milk
1.5 litres sunflower oil
250 g plain flour
1½ teaspoons baking powder
½ teaspoon sea salt
50 g golden caster sugar
200 g ripe raspberries
1 heaped tablespoon icing sugar
½ orange
1 vanilla pod (for the vanilla sugar)
50 g caster sugar (for the vanilla sugar)
Instructions
1
Melt the margarine, soya milk and 2 tablespoons of the sunflower oil in a small pan over a medium heat. Meanwhile, combine the flour, baking powder, salt and sugar in a large bowl. Make a well in the middle, then tip in the melted mixture.
2
Gradually bring the mixture together with a fork until it forms a wet, thick dough, then divide and roll into 24 golf-ball sized balls.
3
Heat the remaining sunflower oil in a medium-sized deep pan over a high heat. To test if the oil is hot enough, drop a piece of bread into the pan – if the bread floats to the surface, sizzles and turns golden, it's about right. Reduce the heat to medium, then use a slotted spoon to carefully lower six dough balls into the hot oil. Cook for 3 to 5 minutes, or until golden, cooked through and they've floated to the surface, turning occasionally.
4
Meanwhile, make the vanilla sugar. Halve the vanilla pod lengthways and scrape out the seeds. Bash the seeds and half the sugar in a pestle and mortar, then place into a large bowl with the remaining sugar.
5
Transfer the cooked doughnuts to a double layer of kitchen paper to drain. Allow to cool for a few minutes, roll in the vanilla sugar to coat, then place on a tray. Repeat with the remaining dough balls.
6
Meanwhile, make the raspberry dip. Place the raspberries, icing sugar and a squeeze of orange juice into a bowl, then crush well with the back of a fork. Serve the mini doughnuts with the raspberry dip, then tuck in!
jvs