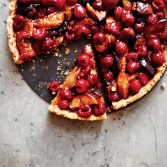 Roasted fig & raspberry tart with toasted almond crust
This is a quick, fuss-free, easily adaptable dessert, perfect to serve at a summer dinner party. The toasted almond and salt-kissed crust, maple roasted figs and fresh raspberries topped is an all-round hit. When figs are not available, try making it with roasted pears /nectarines / peaches / apricots.
Recipe by Amy Chaplin, taken from 'At Home in the Wholefood Kitchen' by Amy Chaplin, published by Jacqui Small, RRP £25.00.
Equipment: 23cm springform tin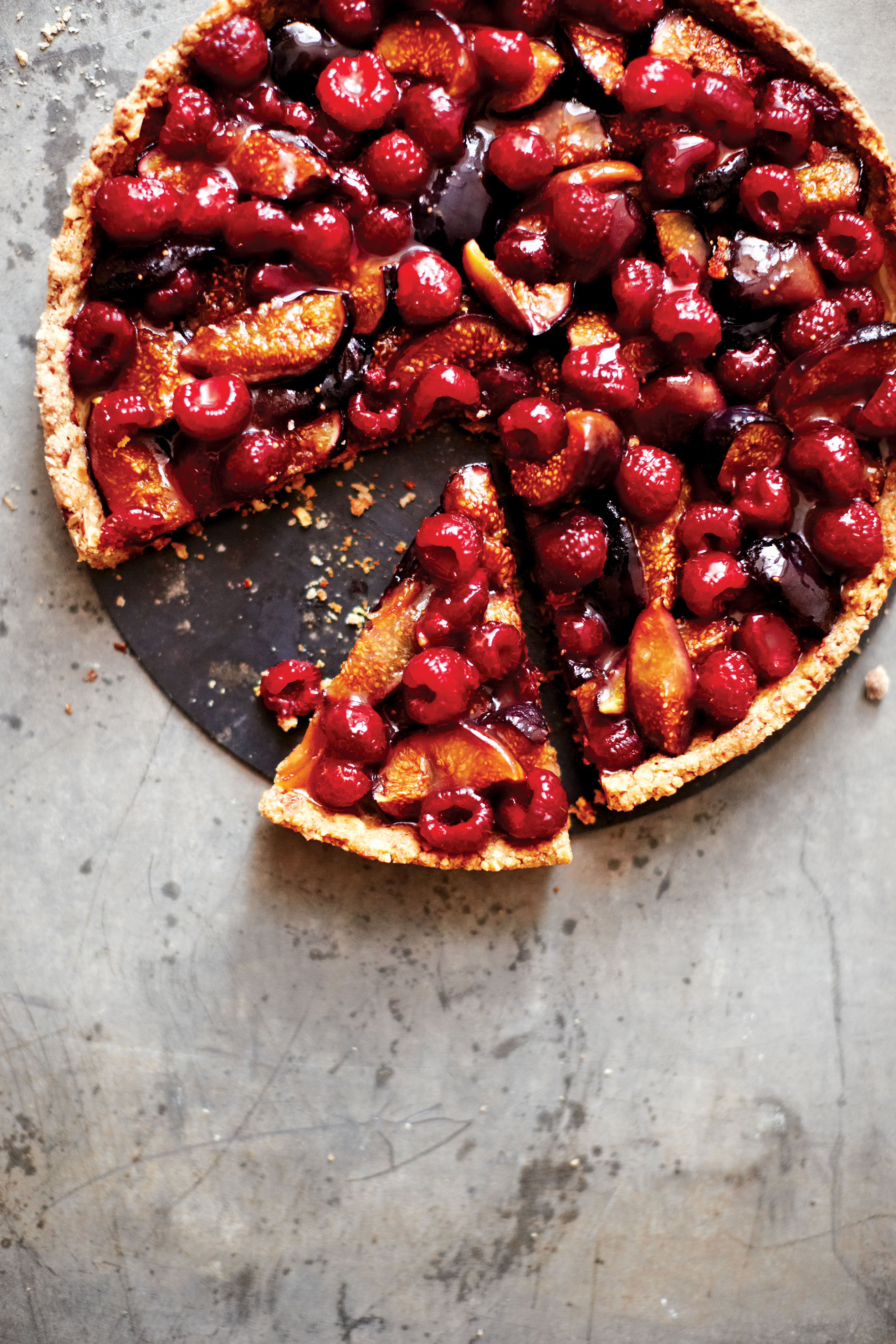 Ingredients
3 tbsp extra virgin olive oil, plus more for oiling tin
90 g toasted almonds
25 g regular rolled oats
1/2 tsp sea salt
70 g whole spelt flour
3 tbsp maple syrup
1 tsp vanilla extract
1/2 tsp almond extract
For the filling:
450 g fresh ripe figs, cut in half
2 tsp extra virgin olive oil
2 tbsp maple syrup
180 ml plus 1 tbsp apple juice
1/2 tsp agar agar flakes
1 tsp arrowroot powder
1/2 tsp vanilla extract
250 g fresh raspberries
Instructions
1
To make the pastry: Preheat oven to 180c / 350F /gas mark 4. Line the bottom of a springform tin with baking parchment and lightly oil the sides. Grind 45 g of the almonds, the oats and salt in a food processor until coarsely ground, about 20 seconds. Transfer to a bowl and stir in spelt flour.
2
Roughly handchop remaining almonds, add to bowl and mix well. Drizzle in olive oil and mix with a fork or your fingertips until all flour is moistened. Add maple syrup, vanilla and almond extract; mix until evenly incorporated. Pastry should be moist but not sticky. Wash and dry your hands, then press pastry evenly into prepared tin.
3
Press pastry only 1.2 cm (1/2 inch) up sides, leaving top edge uneven; you may end up having a little pastry left over, which you can make into a biscuit. Prick bottom of tart several times with a fork and bake for 18 minutes or until golden brown and fragrant. Remove from oven and set aside to cool.
4
To make the filling:
Raise oven temperature to 200c / 400F / gas mark 6. Line a baking tray with baking parchment. Add figs and drizzle with olive oil and 1 tablespoon of the maple syrup; toss gently to coat. Spread figs out evenly over tray and arrange cut-side up; roast for 25 minutes or until they begin to caramelize and soften. Remove from oven and set aside to cool.
5
Combine 180 ml of the apple juice and agar flakes in a small heavy bottomed pan and bring to the boil over high heat. Whisk, cover pan, reduce heat to low and simmer for 5 minutes or until agar has completely dissolved. In a small bowl, dissolve arrowroot in remaining tablespoon of apple juice and slowly drizzle into hot agar mixture, whisking constantly until mixture returns to a simmer and has thickened slightly.
6
Remove from heat and whisk in remaining tablespoon maple syrup and vanilla. Set aside, uncovered, for about 5 minutes or until mixture has thickened a little but not begun to set. Place roasted figs in a bowl and pour in warm agar agar mixture.
7
Stir gently with a rubber spatula or with your hands to combine. Add raspberries and toss gently until evenly distributed. Working quickly, transfer mixture to baked tart shell and carefully spread out filling in an even layer.
Refrigerate for 20-30 minutes or until filling is completely set.
Lara Balsam