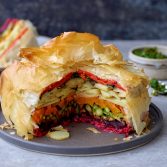 Jersey royal rainbow pie
Spring welcomes back the much-loved
Jersey Royal
new potato, a culinary staple and a must-have on every kitchen table.  The perfect all-rounder and essential ingredient is available each year from April to July.
Top tip: Vary the layering in this pie with different vegetables according to what is seasonal. Try 500 g steamed and chopped spinach, squeezed of excess liquid and seasoned with a little nutmeg, or 500 g cooked and roughly crushed peas.
With Britain's newfound passion for home cooking and experimenting with recipes, Jersey Royals are set to feature on every kitchen table this spring. It has never been more important to find comfort in quick, easy and delicious recipes at home and with households eating together more than ever, the versatile Jersey Royals are the perfect springtime ingredient. Whether it is roast potatoes for the Easter lunch, served 'simply minted' as a side, mixed into a spring salad or even used to make delicious gooey chocolate brownies, Jersey Royals complete any seasonal dish.
Unmistakable in their creamy texture, nutty flavour and flaky skin, the Jersey Royal's uniqueness is due to their exclusive origin, soil and sea air and the skilled practices of generations of Jersey farmers since the first harvests in 1879. They are hand-planted at the start of each year and warmed by temperate sea winds on the steep côtils and with the benefit of vraic (Jersey seaweed, used as a natural fertiliser) giving them a truly distinctive and renowned flavour. Jersey Royals are packed with vitamins, fibre and as a complex carbohydrate, are perfect as part of a balanced diet.
Jersey Royals will be available in spring 2021 across the UK in all major supermarkets, independent grocers, food markets and restaurants (see stockists here).
The Jersey Royal originated when the farmer Hugh de la Haye planted two potatoes in Jersey in 1878. When he harvested them the following spring, the majority of the crop were round but one was kidney-shaped which was nicknamed the Jersey Royal Fluke. This potato later became known as the Jersey Royal, and has retained the characteristic kidney bean shape.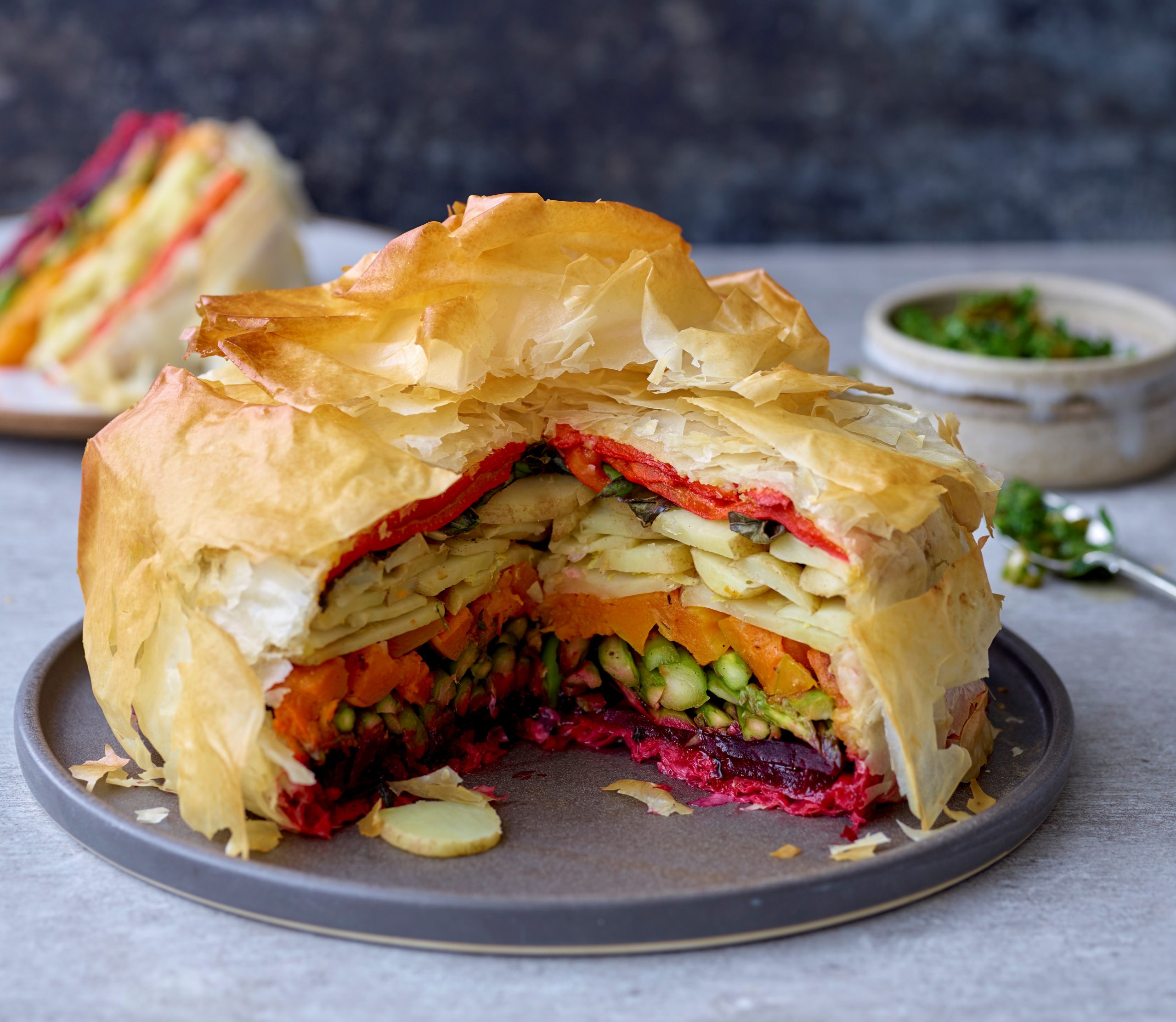 Ingredients
For the pie:
500 g Jersey Royal potatoes, slices to the thickness of a £1 coin
500 g butternut squash, peeled and chopped into 2 cm cubes
4 tbsp olive oil
Pinch of chilli flakes
300 ml vegetable stock
Finely grated zest of 1 lemon
250 g filo pastry, defrosted if frozen
1 tbsp dry semolina or polenta
225 g ready cooked beetroot (not in vinegar), sliced to the thickness of a £1 coin
400 g asparagus, sliced lengthways
300 g roasted peppers from a jar, drained
20 basil leaves
20 mint leaves
1/2 tsp sumac (optional)
Salt and pepper
For the salsa verde:
25 g flat leaf parsley, chopped
15 g chives, snipped
1 tbsp capers, roughly chopped
1 gherkin, diced
1 clove garlic, finely chopped
Juice of 1 lemon
6 tbsp olive oil
Salad leaves, to serve
Instructions
1
Preheat the oven to 220C / fan oven 200C / gas mark 7. Line a baking tray, add the butternut squash and 1 tbsp olive oil. Sprinkle with chilli flakes, some salt and pepper and toss to mix. Roast for 30 minutes until tender and beginning to char. Reduce the oven to 200C / 180Cfan / gas mark 6 or switch it off if not baking the pie yet.
2
Bring the stock to the boil. Add the potatoes, cover and simmer for 8 – 10 minutes until just cooked. Drain any excess stock and then dry the potatoes on kitchen paper. Scatter over the lemon zest.
3
Brush a deep 20cm loose bottomed cake tin with a little of the oil. Keeping your filo pastry covered whilst you work, brush the sheets with oil and use to line the tin, carefully pushing it down to sit against the sides and base. You will need to overlap them and leave overhang at the top to cover the pie. Reserve 1 sheet of filo/ Sprinkle the semolina or polenta over the base, then begin layering your vegetables, pushing down each layer gently to make it level and ease out any air gaps. Season with a little salt and pepper as you go. Finish with the basil and mint leaves. Fold the overhanging filo sheets on top, ensuring the pie is covered, and brush with oil. You can cover and the chill the pie overnight at this point.
4
When ready to bake, gently ease the pie from the tin and placed on a lined baking tray. Brush the remaining filo sheets with oil, gently scrunch and place on top of the pie. Sprinkle with a little sumac (if using), and bake 30 – 40 minutes until golden. You may need to cover the top if it gets too brown.
5
Whilst the pie cooks, combine the ingredients for the salsa verde. Taste and add salt, pepper and extra lemon juice as required. Serve the pie with a few green leaves and the salsa verde.
Lara Balsam