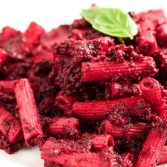 Beet Pesto
 Recipe courtesy of
International Year of Pulses
. In December 2013, the United Nations General Assembly (UN) voted unanimously to declare 2016 the International Year of Pulses (IYP). Since 1959, the UN has dedicated special years and observances to promote international awareness and action on various topics. Throughout 2016 the Global Pulse Confederation (GPC) will celebrate, raise awareness and promote consumption of pulses at events around the globe.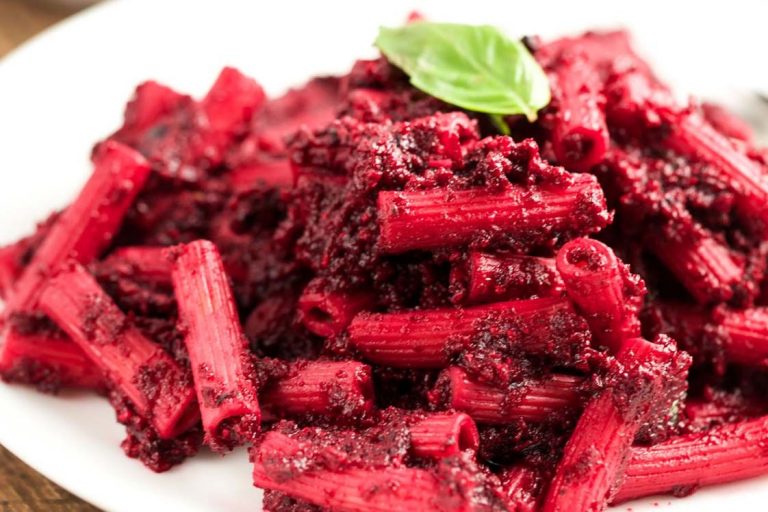 Ingredients
1 box Banza Penne
4 red beets, trimmed and cut into 1 and ½ inch chunks (about 1½ cups)
1 tsp extra virgin olive oil
3 garlic cloves, minced
⅓ cup pine nuts
1 tbsp fresh lemon juice
⅓ cup water
1 cup fresh basil leaves
1 tsp chopped fresh tarragon
½ tsp ground sea salt
¼ tsp freshly ground black pepper
Instructions
1
Cook 8 ounces of pasta according to package directions. Drain and set aside. Preheat oven to 425 degrees.
2
Wash and scrub beets and trim stems. On a large baking sheet, add a layer of aluminum foil.
3
Place the beets on a single layer and drizzle with olive oil. Toss to coat the beets with the oil. Place another layer of foil over the beets and tightly wrap the beets with foil. Roast in the oven at 425 degrees for 1 hour and 15 minutes or until tender (check after 1 hour). Remove from oven.
4
When beets have cooled, remove the skin using your hands. Be careful as beets will stain your hands red. After beets are peeled, cut into thirds and place the beets in a food processor.
5
Next add the olive oil, garlic, pine nuts, lemon juice, water, basil, tarragon, sea salt, and black pepper. Process until smooth. Add to pasta and stir to combine. Serve.
jvs