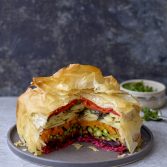 Rainbow Pie
A beautiful showpiece dish from Jersey Royal Potatoes.
Top tip: Vary the layering in this pie with different vegetables according to what is seasonal. Try: 500 g steamed and chopped spinach, squeezed of excess liquid and seasoned with a little nutmeg. Or 500 g cooked and roughly crushed peas.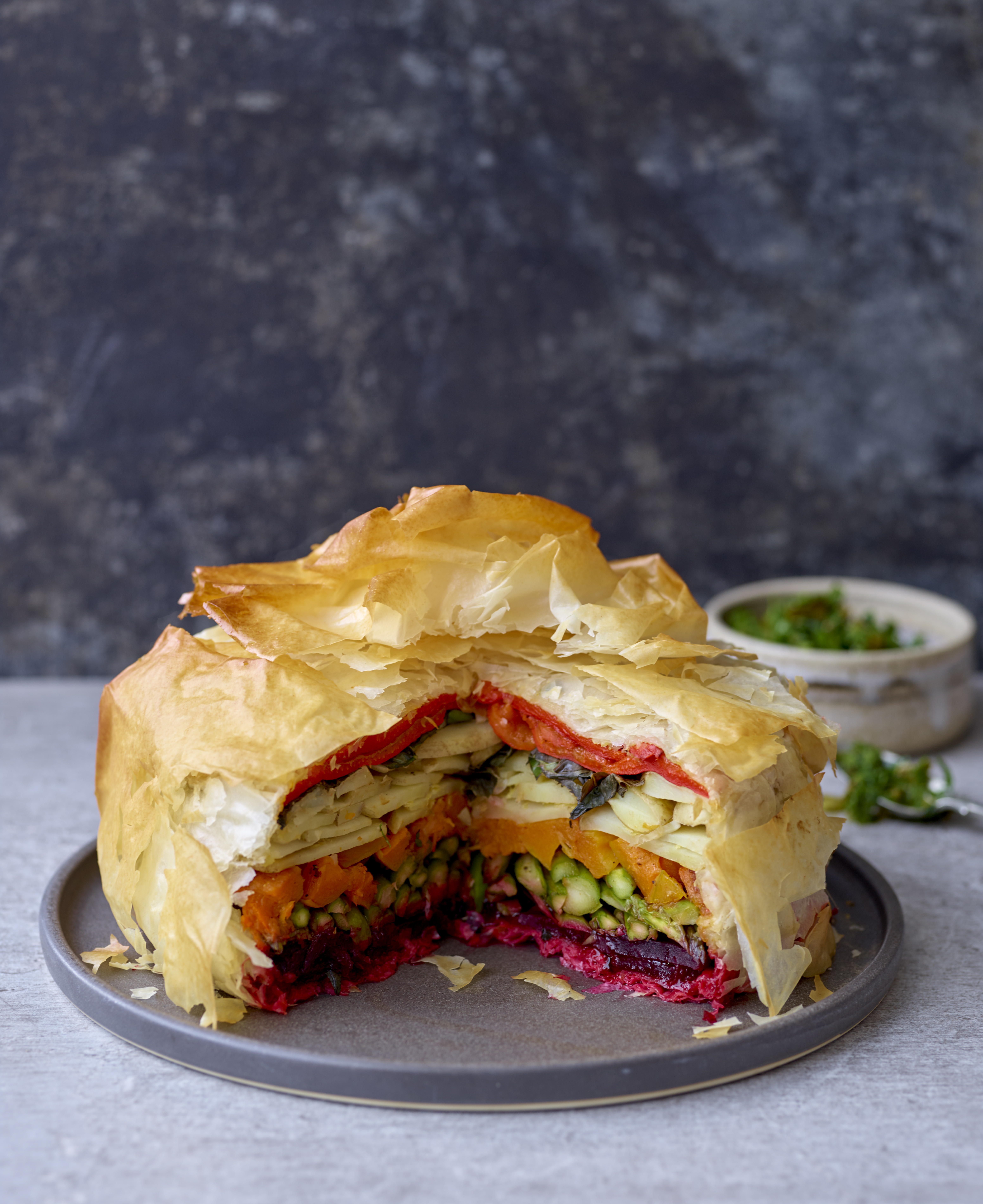 Ingredients
500 g butternut squash, peeled and chopped into 2 cm cubes
4 tbsp olive oil
pinch chilli flakes
300 ml vegan stock
500 g Jersey Royal potatoes, sliced to thickness of £1 coin
finely grated zest 1 lemon
250 g filo pastry, defrosted if frozen
1 tbsp dry semolina or polenta
225 g ready cooked beetroot (not in vinegar), sliced to thickness of £1 coin
400 g asparagus, sliced lengthways
300 g roasted peppers from a jar, drained
20 basil leaves
20 mint leaves
1/2 tsp sumac (optional)
salt and pepper
For the salsa verde: 25 g flat leaf parsley, chopped
15 g chives, snipped
1 tbsp capers, roughly chopped
1 gherkin, diced
1 clove garlic, finely chopped
Juice 1 lemon
6 tbsp olive oil
Salad leaves to serve
Instructions
1
Preheat the oven to 220C/fan oven 200C/gas mark 7. Line a baking tray, add the butternut squash and 1 tbsp olive oil. Sprinkle with chilli flakes, some salt and pepper and toss to mix. Roast for 30 minutes until tender and beginning to char. Reduce the oven to 200C/180C fan/gas mark 6 or switch off if not baking the pie yet.
2
Bring the stock to the boil. Add the potatoes, cover and simmer for 8 – 10 minutes until just cooked. Drain any excess stock and then dry the potatoes on kitchen paper. Scatter over the lemon zest.
3
Brush a deep 20cm loose bottomed cake tin with a little of the oil. Keeping your filo pastry covered whilst you work, brush the sheets with oil and use to line the tin, carefully pushing it down to sit against the sides and base. You will need to overlap them and leave overhang at the top to cover the pie. Reserve 1 sheet of filo. Sprinkle the semolina or polenta over the base then begin layering your vegetables, pushing down each layer gently to make it level and ease out any air gaps. Season with a little salt and pepper as you go. Finish with the basil and mint leaves. Fold the overhanging filo sheets on top ensuring the pie is covered and brush with oil. You can cover and chill the pie at this point overnight.
4
When ready to bake, gently ease the pie from the tin and place on a lined baking tray. Brush the remaining filo sheet with oil, gently scrunch and place on top of the pie. Sprinkle with a little sumac (if using) and bake for 30-40 minutes until golden. You may need to cover the top if it gets too brown.
5
Whilst the pie cooks, combine the ingredients for the salsa verde. Taste and add salt, pepper and extra lemon juice as required. Serve the pie with a few green leaves and the salsa verde.
Lara Balsam