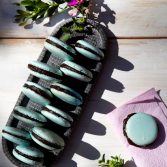 Choco blue macarons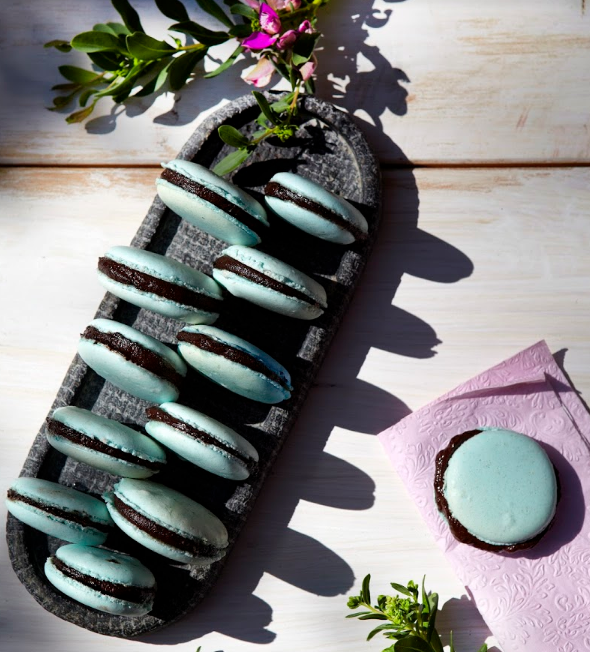 Ingredients
For the macarons
100g aquafaba (keep in fridge overnight)
125g granulated sugar
125g almonds or coconut flakes
125g icing sugar
Pinch of salt
1 tbsp blue food colouring (or another colour, if you prefer)
For the choco filling
1 pack Violife Creamy Original
2 medium ripe avocados
4-5 tbsp agave nectar
1 tbsp coconut oil
½ tbsp vanilla paste
4 tbsp unsweetened cocoa powder
Instructions
1
Beat almonds or coconut flakes in a blender along with the icing sugar on low speed, until extra fine. Then, pass through a sieve into a bowl.
2
In a separate bowl add the aquafaba with a pinch of salt. Beat with a hand mixer and slowly add the sugar. When soft peaks begin to form, add the blue food colouring, or any other colour that you'd prefer, whilst folding with the spatula.
3
Add the fine along and coconut mix to the aquafaba mix and blend, until mixture becomes silky and shiny.
4
Place mixture in a piping bag and pipe out small circles on a lined baking tray.
5
Preheat the oven to 120°C and bake for 20-25 minutes. Leave them to cool down completely before carefully lifting off the baking paper.
6
For the filling blend Violife Creamy Original with the rest of the choco filling ingredients until smooth.
7
Place in a piping bag and fill half of the macarons, placing the other half on top of the filled ones like a sandwich.
Yael Tischler