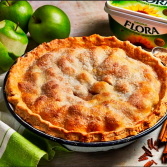 Salted caramel apple pie
This take on a classic is a guaranteed crowd pleaser and will be the perfect dessert to share with friends and family once we are allowed to entertain again. The Salted Caramel Apple Pie recipe combines rich apple filling with the salty and sweet flavours of salted caramel and is best when served warm with vegan vanilla ice-cream!
This recipe from Flora makes the most delicious dessert every time, and is made using Flora Original which is made from 100% natural ingredients, and:
Certified vegan, dairy-free and gluten-free
Delicious for spreading, baking and cooking
Certified vegan, dairy-free and gluten-free
Naturally rich in Omega 3 and contains Omega 6
Contains vitamins A & D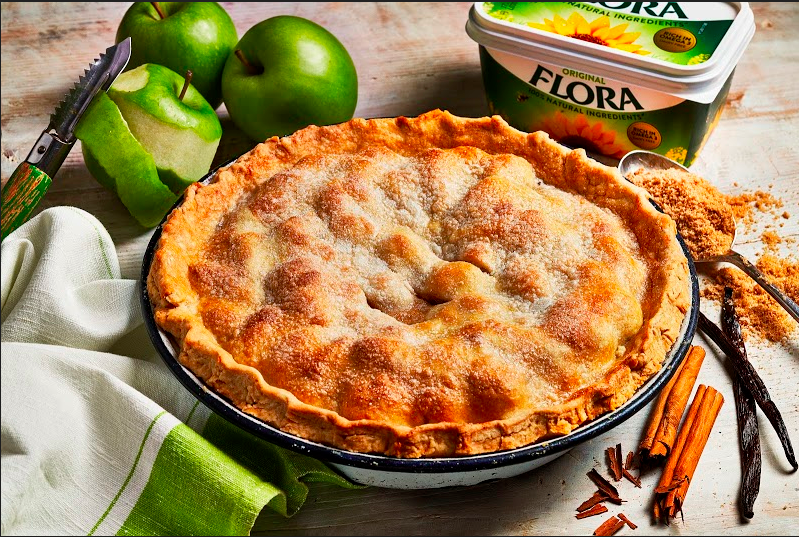 Ingredients
For the pastry:
400 g plain flour plus 2 tbsp
200 g Flora Original
¼ tsp salt
4-5 tbsp cold water
For the salted caramel sauce:
1 can full fat coconut milk
100 g brown sugar
½ tsp salt
For the apple pie filling:
40 g granulated sugar plus 1 tbsp
40g brown sugar
1 tsp ground cinnamon
¼ tsp salt
1 kg Granny Smith apples – peeled, cored and chopped
1 tbsp unsweetened almond or oat milk
Instructions
1
Add the water, a little at a time, mixing with a fork, then knead gently until dough forms.
2
Cut into two pieces, one slightly larger than the other and form into disc shapes.
3
Wrap in cling film and chill in fridge for at least 30 minutes.
4
Next, make the salted caramel sauce: Combine the coconut milk, brown sugar and salt in a saucepan over a medium heat.
5
Simmer for 25 – 30 minutes stirring frequently until the sauce becomes dark and thick. Leave to cool.
6
Roll out the larger disc of pastry to form a 33 cm circle. Use to line a 23 cm pie plate and set aside.
7
Heat oven to 220 C/200 C fan.
8
Combine 40 g granulated sugar, 40 g brown sugar and remaining 2 tbsp flour, cinnamon, and salt in a large bowl. Add the apple pieces and toss until well coated.
9
Pile the apples onto the pie crust and drizzle with half of the salted caramel sauce.
10
Roll out the remaining pastry disc to form a 25 cm circle.
11
Brush the pastry edge in the pie plate with water and top with the other pastry.
12
Seal the pastry edges and brush with the milk alternative and sprinkle with remaining tbsp granulated sugar.
13
Bake for 10 minutes then reduce temperature to 210 C/ 190 C fan and cook until juices are bubbling (this should take approximately an hour). Cover with foil if top gets too brown.
14
Remove from oven when cooked. Allow to cool and serve with salted caramel sauce.
Lara Balsam