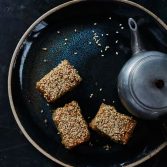 Tahini and olive oil oat bars (gluten free)
We return here to one of our favourite baking combinations, tahini and olive oil. We sometimes throw in a small handful of goji berries or anything else we want to try out. If you're anything like us, you won't be able to resist buying new ingredients you come across. The sweetness comes from the deep, rich flavour of maple syrup. And the quinoa, ground almonds and sesame seeds enhance the nuttiness.
Tahini is a great nutrient powerhouse for vegans as it contains calcium, zinc and iron, which are all nutrients that can be hard to get hold of in a vegan diet.
Equipment: 26 x 20 cm brownie tray.
Recipe from'Modern Baker: A New Way To Bake' by Melissa Sharp with Lindsay Stark is out now (Ebury Press, RRP £26) and Modern Baker's range of healthy baked goods are available in Selfridges (London, Birmingham, Manchester Trafford and Manchester Exchange), Planet Organic and their Oxford based cafe-bakery at 214 Banbury Road, OX2 7BY.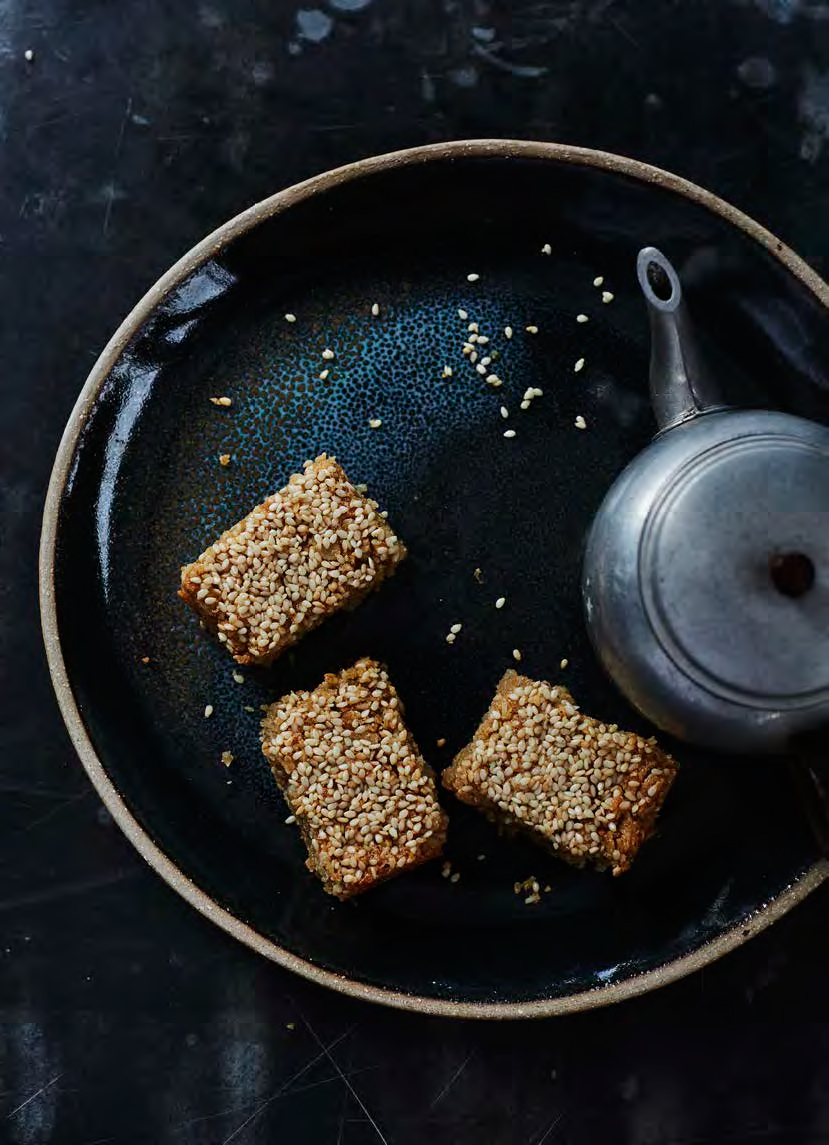 Ingredients
150 g light tahini
150 ml olive oil
100 g maple syrup
1 tsp vanilla extract
100 g cooked quinoa
165 g oats (makes sure these are gluten free oats if serving a coeliac)
50 g ground almonds
50 g sesame seeds, plus extra for topping
pinch of salt
Instructions
1
Preheat the oven to 200°C / fan 180°C / gas mark 6 and line a 26 * 20 cm brownie tray with baking parchment.
2
In a bowl mix together the tahini, olive oil, maple syrup and vanilla extract.
3
In another bowl combine the cooked quinoa, oats, ground almonds, sesame seeds and salt.
4
Add the tahini mix to the oat mix and thoroughly combine.
5
Pour the mixture into the tin, pack it down really well and sprinkle with sesame seeds.
6
Bake for 30 minutes until an even golden brown all over. Allow to cool in the tin and once completely cool, turn out onto a chopping board and cut into eight bars.
jvs