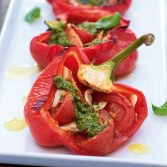 Piemontese peppers with pesto
A beautiful recipe from Sacla. Established in 1939, Sacla' is still a family owned and run business based in Piedmont, north-west Italy.  Sacla' are the original Pesto Pioneers, with a huge number of Italian recipes all made in Italy by Italians, for Italians. As well as an award winning range of Pesto and pasta sauces, Sacla' also produce a range of Italian ingredients and antipasti. The core Sacla' range is on sale in Asda, Co-op, Morrisons, Ocado, Sainsbury's, Tesco and Waitrose as well as online and through independents and cash and carry stores.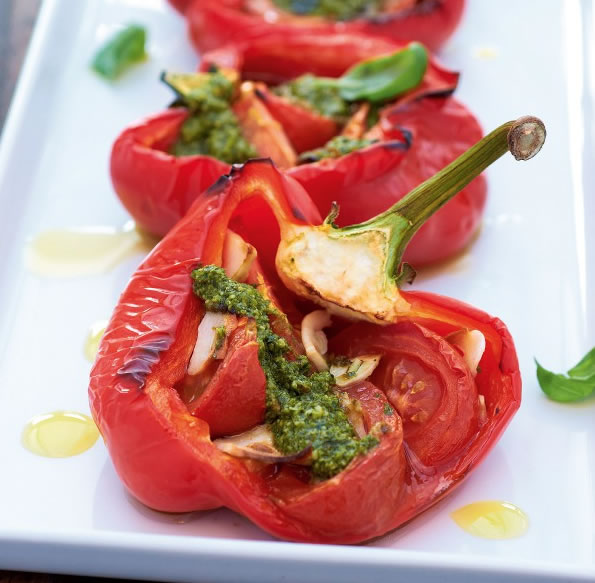 Ingredients
4 large red peppers, halved and seeded
4 tomatoes, cut into quarters
3 garlic cloves, finely sliced
4 tbsp Sacla' Free From Basil Pesto
5 tbsp olive oil
Salt
Black pepper
1 small handful leaves of basil, to garnish
Instructions
1
Preheat oven to 180°C/350°F/Gas mark 4
2
Arrange the peppers cut-side up in a baking dish
3
Put the tomatoes and garlic inside the cavities of the peppers
4
Spoon in the Sacla' Pesto and drizzle with oil
5
Season and roast for 45 minutes, until peppers are soft and tender and slightly golden
6
Spoon over juices and scatter with basil before serving.
jvs