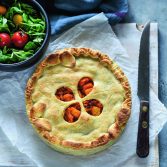 Vegetable pie
Recipe from the newly released
Storecupboard Vegan by Laura Veganpower and Sébastien Kardinal. 
Here are 300 easy, fast and inexpensive recipes that use ready-made vegan preparations
, such as tofu sausages, smoked tofu, seitan, tempeh, soy steaks, vegan cheeses, and dairy-free yogurt as well as regular storecupboard staples like tins  of chick peas or beans, lentils, pasta, rice, quinoa, couscous, gnocchi, miso and frozen vegetables. The authors of the highly acclaimed and widely reviewed Aquafaba, are back, and this time, it is the time-poor who will benefit from their culinary creativity.
*Each recipe from the book is designed to feed two people.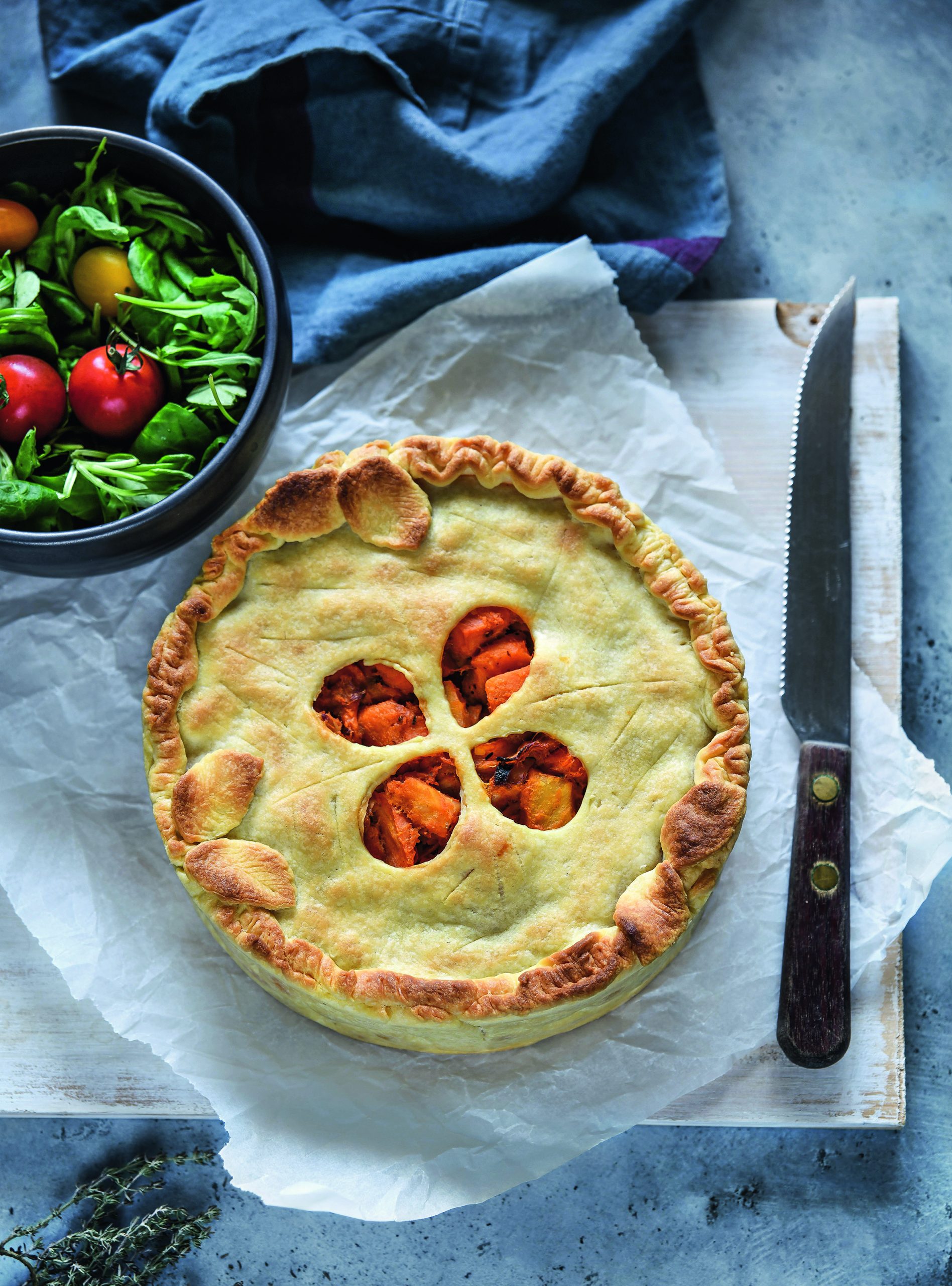 Ingredients
200 g frozen carrots
200 g frozen parsnips
600 g frozen sweet potatoes
2 tbsp olive oil
150 g TVP (textured vegetable protein) aka soy protein
2 tbsp fried onions
1 tsp frozen thyme
1⁄2 tsp salt
60 g tomato coulis
1 tbsp malted yeast
2 ready-rolled vegan shortcrust pastry sheets
Coconut margarine / other margarine
Instructions
1
Preheat the oven to 180°C (gas mark 4).
2
In a large pot, sweat all the vegetables over a high heat for 10 minutes. Once the sweet potato is soft, add the olive oil and mix well.
3
Add the TVP, fried onions, thyme and season with salt. Mix everything together and leave to stew for 5 minutes.
4
Off the heat, add the tomato coulis and malted yeast.
5
Line a deep pie dish with a sheet of pastry, prick it with a fork and add the filling.
6
Cover with the second pastry sheet and pinch the edges together to make a thick rim around the edge.
7
Remove any excess pastry if it is larger that the pie dish. Brush the top of the pastry with melted margarine.
8
Bake for 45 minutes. Remove from the pie dish, cut into slices and serve.
Lara Balsam