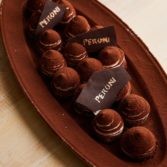 Amaretto tiramisu
We are excited to share this series of five vegan Michelin star quality dishes that you can recreate at home. Recipes by Francesco Mazzei – prepared for Peroni Nastro Azzurro: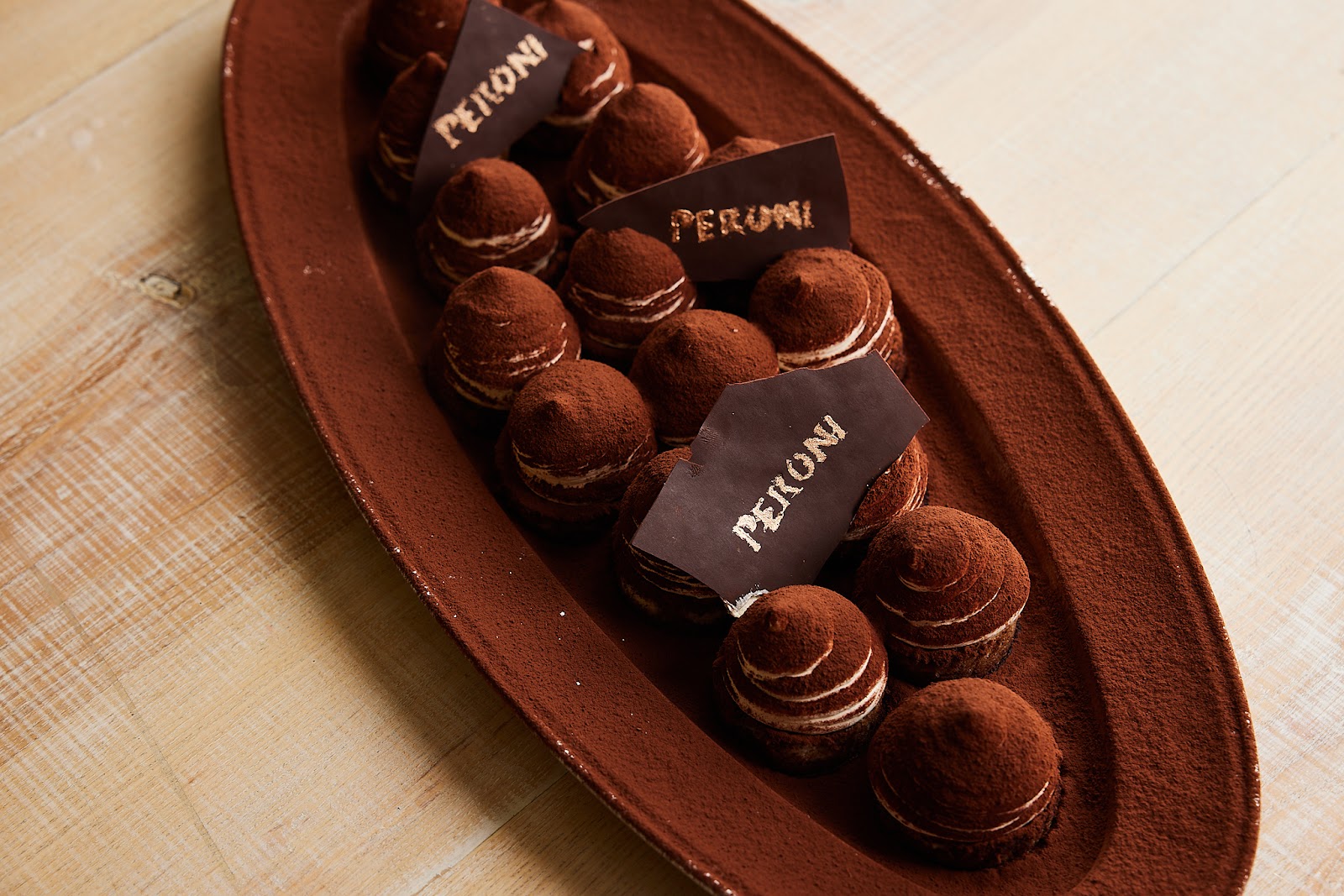 Ingredients
For the sponge fingers:
185 g 00 flour
10 g corn flour
4 g baking powder
1 pinch of salt
100 ml maple syrup
60 ml aquafaba
60 ml soy milk
120 g unsalted butter
For the cream:
350 g vegan cream cheese
50 ml sugar
150 ml double cream
½ vanilla pod
Skin of lemon and orange
Cinnamon powder
Clove powder
For the coffee:
100 ml espresso coffee
50 ml Amaretto di Saronno
Instructions
1
For the sponge fingers:
Preheat the oven at 180°C.
2
In a stand mixer add the maple syrup and the butter, which should be room temperature. Whip until soft and well combined. Pour in the aquafaba and mix. Add all the dry ingredients and mix until smooth then pour in the soy milk. Keep mixing for a couple of minutes.
3
Transfer the mix into a piping bag. Then, on a baking tray lined with parchment paper form discs of about 2cm in diameter.
4
Bake for about 15 minutes then leave to cool down completely.
5
In a mixing bowl, whip the cream cheese with the maple syrup until foamy, add a pinch of cinnamon, half pinch of clove powder and the zest of lemon and orange. Separately whip the cream with the vanilla pod, then combine with the soft cheese.
6
Soak the biscuits with the coffee flavoured with the Amaretto for about 10 seconds and lay the first one at the bottom of a glass or cup. Cover with a generous layer of the cream and repeat the steps to the top of the glass.
7
Chill for couple of hours and serve sprinkling the top with cocoa powder.
Lara Balsam