Beetroot Carrot Cake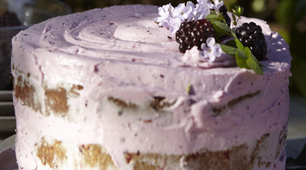 Ingredients
For the cake
200g mixed beetroot and carrot, grated
½ orange zest
95g coconut flour
70g buckwheat flour
100g dehydrated coconut
75g coconut sugar
1 tsp baking powder
1 tsp bicarbonate of soda
1 tsp cinnamon
½ tsp cardamom
Pinch of sea salt
2 tbsp ground flaxseed
6 tbsp water
50ml olive oil
60ml almond milk
60ml orange juice
2 tsp apple cider vinegar
For the frosting
2 packs Violife Creamy Original
800ml coconut milk
100g icing sugar
Handful of blueberries
Zest from 1 lemon
For the topping
Blackberries
Fresh thyme springs
Instructions
1
Preheat the oven to 180°C.
2
Grease and line three 21cm round cake tins.
3
Peel and roughly grate the beetroot and carrots, stir in the orange zest and set aside.
4
In a large bowl whisk together the coconut and buckwheat flour, dehydrated coconut, sugar, baking powder, bicarbonate of soda, cinnamon, cardamom and salt and set aside.
5
In a small bowl whisk together the olive oil, almond milk, orange juice and apple cider vinegar and set aside.
6
Add all the mixtures together in a large bowl until combined.
7
Evenly divide the mixture between the cake pans and bake for 30 minutes. Set aside to cool.
8
For the frosting, add the coconut milk and Violife Creamy Original in a bowl and whisk until smooth.
9
Add the icing sugar and stir. Blitz the blueberries in a blender and fold into the frosting mixture.
10
Once the cakes have cooled, spread the frosting between the layers and sandwich one on top of the other. Decorate with blackberries and thyme.
Yael Tischler