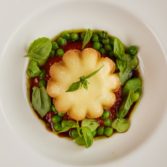 Roasted vegetable tartlet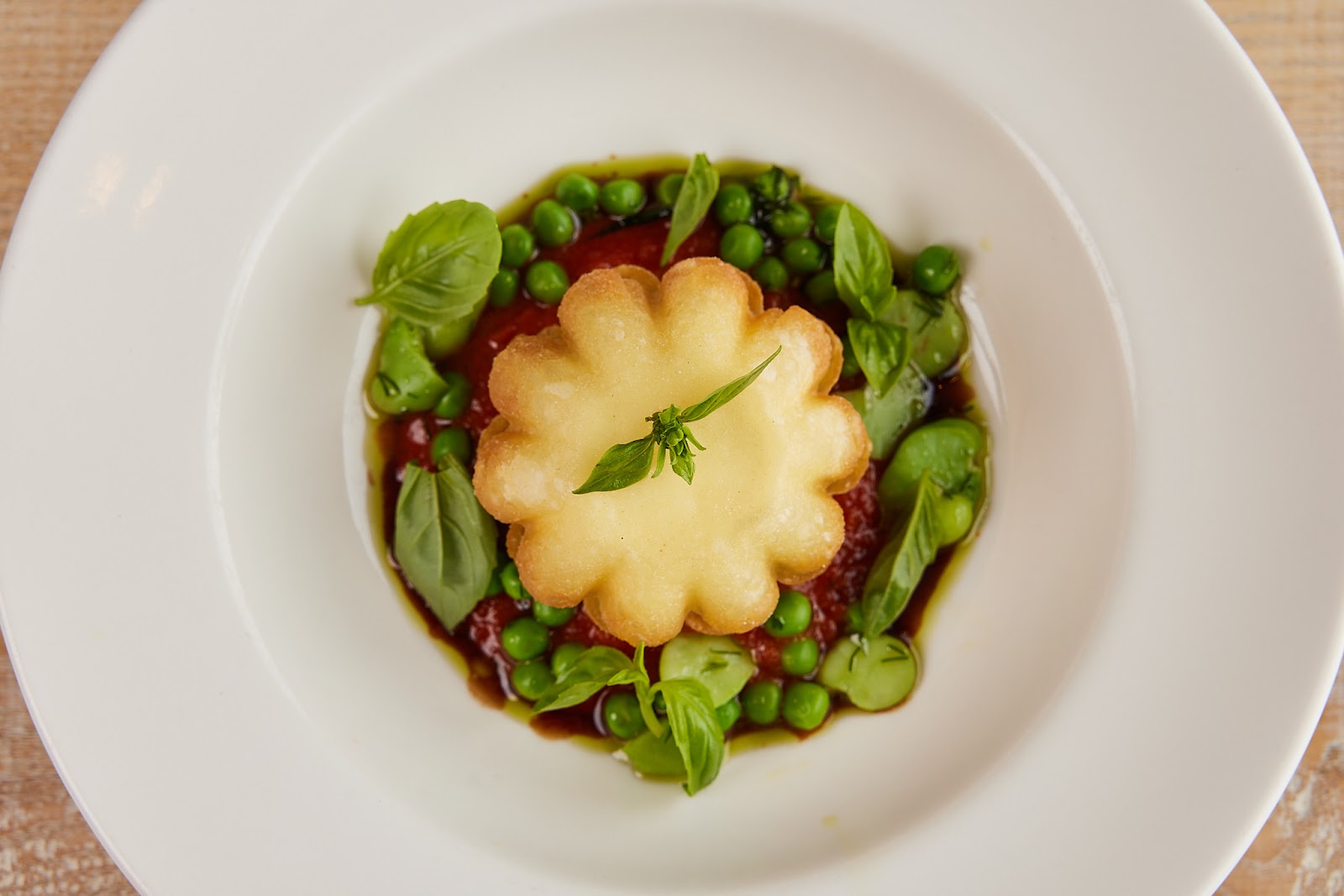 Ingredients
For the tartlet:
200 g semolina rimacinata
80 ml warm water
0.12 g saffron
Frying oil
For the tomato:
400 g peeled tomatoes
1 clove of garlic
12 g fine salt
6 leaves of basil
50 ml extra virgin olive oil
1 g dried oregano
For the filling:
150 g vegan cream cheese
Salt and pepper
3 g fresh chives
For the vegetables:
200 g courgette
200 g aubergine
300 g mixed peppers
50 g flour
Salt and pepper
30 ml extra virgin olive oil
5 g fresh marjoram
Instructions
1
For the tartlet:
Dissolve the saffron in the warm water and pour into the flour. Start mixing and when combined knead by hand until smooth. Wrap with cling film and leave to rest in the fridge for about 30 minutes.
2
Once rested, flatten it down with a rolling pin to about 2 mm. Cut discs of about 10cm in diameter, transfer into individual brioche moulds and cover each of them with a second mould.
3
Preheat the frying oil in a deep pot and fry for 3 to 4 minutes, then remove the moulds and keep frying until golden brown. Transfer onto a tray with kitchen paper to absorb the oil in excess.
4
For the tomato: In a container mix all the ingredients and leave to marinate overnight. When needed, slightly warm up the tomato and give it a blitz with a stick blender.
5
To make the filling:   Season the vegan cream cheese with salt and pepper and chopped chives. Transfer into a piping bag.
6
To make the vegetables:
Dice the aubergine into 1cm pieces, dust with flour and deep fry until a golden colour. Transfer onto kitchen paper to absorb the oil. Season with salt.
7
Preheat the oven to 220°C.
8
Slice the courgette at around 1.5cm thick, season with salt and pepper. Place on a baking tray and roast in the oven.
9
Grill the peppers, over charcoal if possible, until the skin is quite burnt, transfer into a container, cover and leave to cool down. Once cold, peel the peppers and remove the seeds.
10
Dice the peppers and courgette and mix with the aubergine, add chopped marjoram and adjust with salt and pepper.
11
Place two spoons of the tomato mixture into a serving dish. Fill one tartlet with the vegetables and place at the centre of the tomato, fill another tartlet with the spread and place it upside down on top of the first. Finish with a drizzle of olive oil.
Lara Balsam