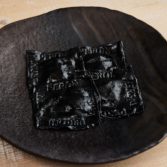 Black ravioli
We are excited to share this series of five vegan Michelin star quality dishes that you can recreate at home. Recipes by Francesco Mazzei – prepared for Peroni Nastro Azzurro: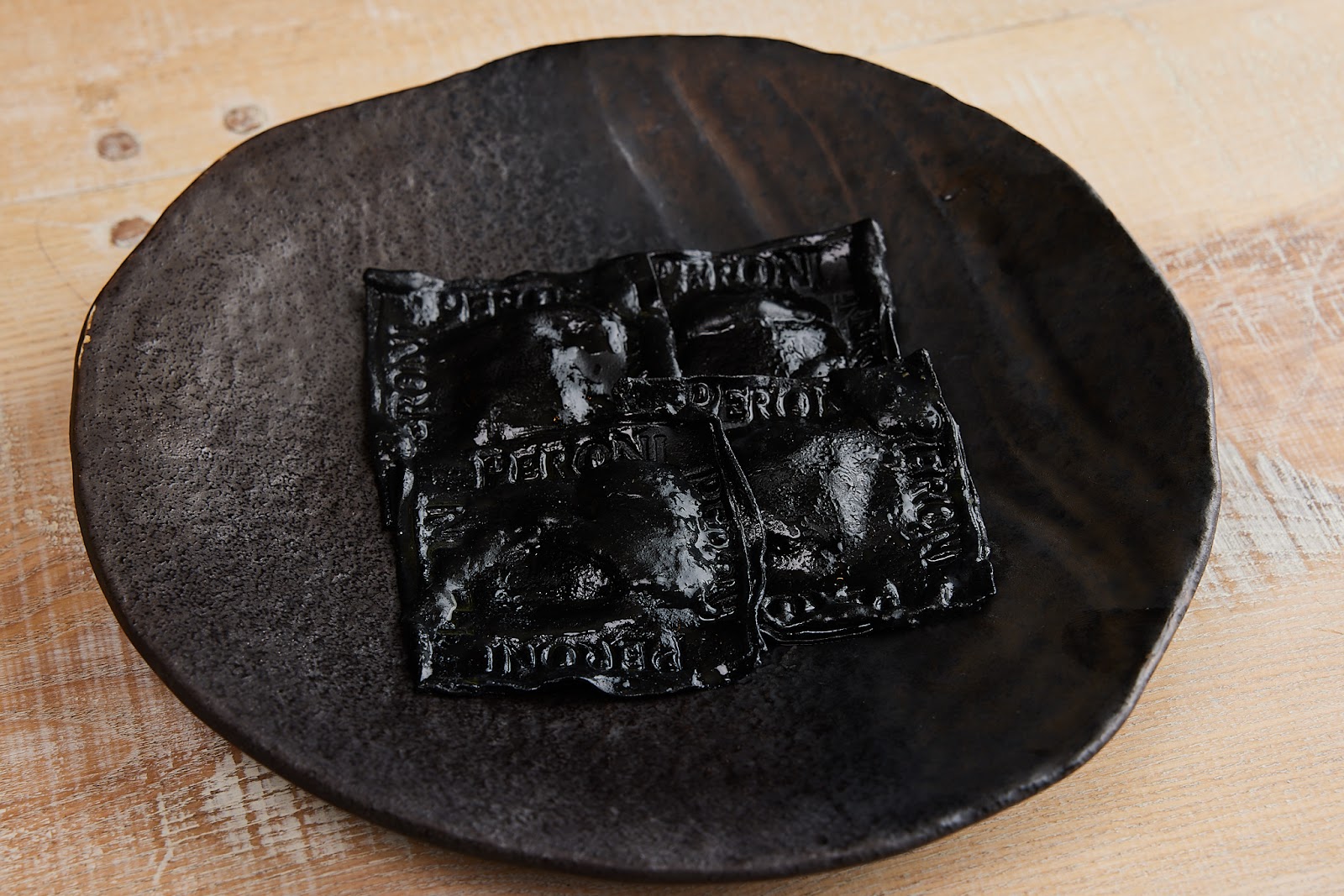 Ingredients
For the pasta:
250 g semolina rimacinata flour
110 ml warm water
40 g activated charcoal powder
For the filling:
500 g mixed mushrooms
60 g vegan grated cheese
250 g vegan cream cheese
8g marjoram
20 g activated charcoal powder
Salt and pepper
2 cloves of garlic
20 ml extra virgin olive oil
2 sprigs of thyme
10 g dry mushrooms
For the sauce:
2 corn on the cob
60 g plant-based butter
30 g activated charcoal powder
40 g shallots
Instructions
1
For the pasta: Mix the flour with the charcoal powder in a bowl, add in the warm water and mix well. When combined, transfer onto a table and knead by hand until smooth. Cover with cling film and leave to rest in the fridge for about an hour.
2
For the filling:
Soak the dry mushrooms in lukewarm water. Roughly chop the fresh mushrooms.
3
In a pan, heat the oil with the clove of garlic and the thyme. Add in the chopped mushrooms, season with salt and pepper and stir fry until soft.
4
Add the dry mushrooms (drained from the water and chopped) and the charcoal, let it dissolve. Remove from the heat and let cool down.
5
Once cold, mix with the rest of the ingredients and transfer into a piping bag.
6
For the sauce:
Place the corn into a pot and cover with water, bring to boil and then simmer until the corn is soft. Let the corn cool down in its own water then drain. With a knife cut alongside the corn on the cob to remove the corn.
7
In a sauté pan, sweat the chopped shallots with the plant-based butter, add in the corn and charcoal powder, some of the corn cooking water or vegetable stock and cook for about 10 minutes. Transfer into a blender and blitz until smooth. Adjust with salt and set aside.
8
To cook the pasta:
With the aid of a rolling pin or pasta machine flatten down the pasta dough to 2 mm thickness, then cut into squares of about 8cm. Place a dollop of filling in the middle of a square of pasta, cover with a second square and seal the edges well.
9
Bring a pot of salted water to boil, cook the ravioli for about a minute then drain and transfer into a serving dish. Complete with a spoonful of the warm sauce.
Lara Balsam