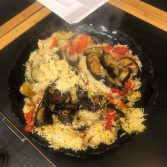 Maqlouba
Maqlouba (meaning 'upside down') is an Arabic dish, popular in Mizrachi Jewish homes, especially those from Iraq.  Traditionally the recipe includes chicken, but here is a vegan version!  It's called 'upside down' because it's layered and cooked in a pot, which is then turned upside down for serving.
This recipe is slightly adapted from Yasmin Kahn's wonderful 'Zaitoun' recipe book.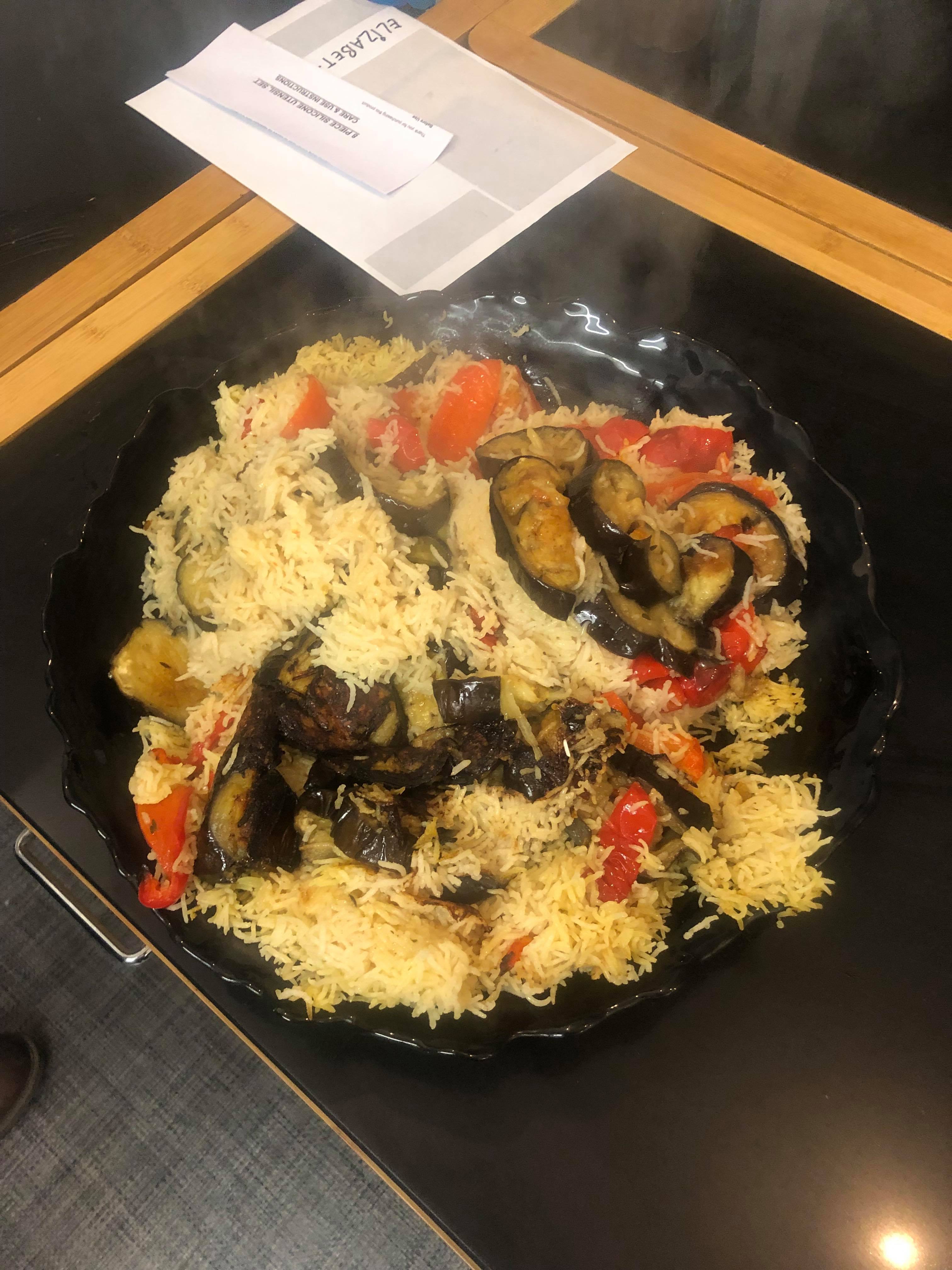 Ingredients
2 medium aubergines, sliced 2cm thick
2 red peppers, trimmed & sliced
Olive oil
Salt
1 garlic bulb, separated into cloves, leave skins on
2 medium/large tomatoes, thickly sliced
300 g basmati rice
1 tsp cumin seeds
1 tsp coriander seeds
1/4 tsp ground cinnamon
1/4 tsp ground allspice
1 tsp ground tumeric
500 ml vegetable stock
1 mild red chilli
Handful of coriander, chopped
Fresh thyme
Instructions
1
Pre-heat oven to 200C / gas mark 6
2
Place the aubergines and peppers on two separate baking trays. Drizzle them with olive oil so they're well covered, add a seasoning of salt and thyme leaves. Dot the tray of peppers with the unpeeled garlic cloves.
Place both trays in the oven for 30 mins. After 15 mins add the tomatoes to the peppers.
3
Whilst the vegetables are roasting, rince the rice in cold water until it becomes clear. Leave the rice to soak for a further 15 mins. Drain and put aside for later.
4
Once the veggies are cooked, leave them to cool. Once cooled, pop the garlic cloves out of their skins.
5
Toast the cumin and coriander seeds in a dry saucepan for a couple of minutes until they start releasing an aroma. Then grind in a pestle and mortar.
Place the cumin and coriander in a measuring bowl, and mix in the remaining spices.
Add 500 ml of vegetable stock to the spice mix, and make sure it's mixed well.
6
In a large saucepan heat some olive oil on a medium heat.
Arrange the aubergines so they cover the base of the saucepan as fully as possible.
Layer in the tomatoes, garlic and peppers.
Spoon the in the rice, ensuring it's well distrubuted and pour in the hot stock.
Bring to a boil, then cover the pan and reduce heat to simmer, replacing the cover with a dampened tea towel (take a clean tea towel, soak in water and wring it out – to ensure it does not catch fire). Simmer for 20 minutes. Switch off the heat and leave for 5 minutes, replacing the tea towel with the lid.
7
Chop the chilli finely and lightly fry in olive oil.
Take the cooked pot and turn it upside down onto a large serving plate (this takes some practice!)
Sprinkle the chilli and coriander on top, and you're ready to serve!
Dan Jacobs