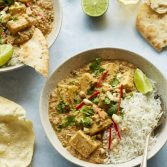 Roasted peanut tofu
Curries love tofu, especially when the tofu is soft and springy – it can take on new flavours more quickly and easily, adding a creamy subtle sweetness to the dish. This toasted peanut recipe is really quick to pull together and a great base for adding other vegetables and proteins too. *For more recipes from Miso tasty – visit Miso Tasty.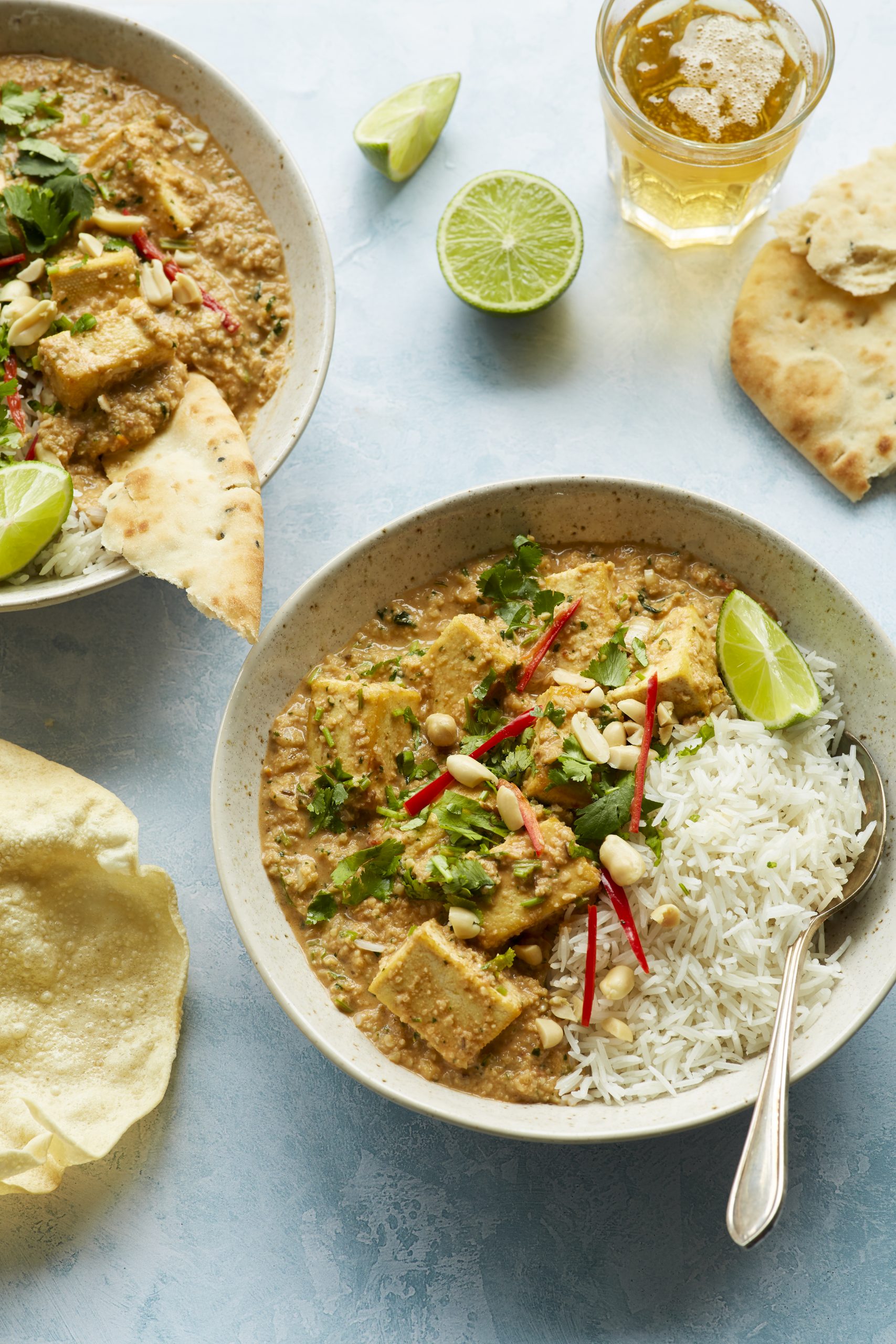 Ingredients
150 g peanuts
25 g soft brown sugar
1 tbsp ground coriander
1 tbsp ground cumin
1.5 tsp cumin seeds
2 tsp chilli powder
1 large tomato, roughly chopped
1 small onion, finely chopped
2 garlic cloves, finely chopped or grated
150 ml vegetable or sunflower oil, plus 1 tbsp
2 handfuls of coriander, finely chopped, plus extra, to serve 500 g soft tofu, drained for 20 minutes
200 ml water
To serve:
Rice or naan bread
Instructions
1
Toast the peanuts in a pan for 3–4 minutes, then blend into a fine powder. Tip into a large bowl.
2
Mix in the sugar, spices, tomato, onion and garlic, then pour over the oil, stirring to make a curry sauce. Finally, mix in the chopped coriander.
3
Chop the tofu into chunks. Heat the 1 tbsp of oil in a large frying pan and fry the tofu, turning, until golden brown on all sides.
4
Slowly heat the curry sauce in a saucepan, adding the measured water.
5
Add the tofu to the curry sauce and simmer for a further 10 minutes. Serve with a final scattering of coriander and a generous helping of rice or naan bread.
Lara Balsam