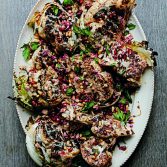 Levant-spiced barbecued cauliflower
This dish has lots of components and so takes a little time to prepare, it is full of flavour, spiked with a typical Middle Eastern blend of spices.
Recipe from 'Mildred's Vegan Cookbook' by Dan Acevedo and Sarah Wasserman, published by Mitchell, photography by Matt Russell. Ingredients
1 cauliflower (about 700 g/ 1lb 9oz), some inner leaves retained, cut into 4 wedges
For the Levant spice mix:
2 tbsp light olive oil
1 large garlic clove, crushed
1 tsp sumac
Seeds from 3 green cardamom pods, ground
½ tsp ground cumin
¼ tsp ground cinnamon
¼ tsp ground allspice
1/8 tsp ground nutmeg
30 g (1 oz) vegan margarine
¼ tsp salt
juice of ½ lemon
For the tahini sauce:
2 tbsp tahini
juice of 1 lemon
¼ tsp salt
½ garlic clove, crushed
100 ml (3½fl oz) warm water
To garnish:
30 g (1 oz) pine nuts, toasted
1 tbsp dried rose petals
seeds from ¼ pomegranate
10 g (¼oz) flat leaf parsley, chopped
pinch of sea salt flakes
2 tbsp olive oil
1 tbsp pomegranate molasses
Instructions
1
Bring a large saucepan of water to the boil, add the cauliflower wedges and cook for about 3 – 4 minutes until about 75% cooked but still firm and holding their shape. Drain and leave to cool under cold running water.
Drain and pat dry, then cut into 8 smaller wedges. Put in a bowl and set aside.
2
To make the spice mix, heat the oil in a small saucepan, add the garlic and spices and cook gently for a couple of minutes, stirring,
until the spices release their aroma. Add the margarine with the salt and melt over a low heat, then remove from the heat and stir
in the lemon juice.
3
Pour the spice mix over the cauliflower and use your hands to rub the mixture into the cauliflower wedges, coating them evenly.
4
Cover and leave to marinate in the fridge preferably overnight or for at least a few hours. To make the tahini sauce, put all the ingredients in a bowl and whisk together with a balloon whisk until smooth. Leave to cool – as it does so, the tahini will set and the sauce will thicken slightly. If the sauce thickens too much, whisk in another splash of water to thin it out until it has a pouring consistency.
5
To finish the cauliflower, cook on a hot barbecue or griddle pan on the hob for a few minutes on each side until the wedges are nicely chargrill marked. Serve scattered with the pine nuts, rose petals, pomegranate seeds, parsley and sea salt, and drizzled with the oil, tahini sauce and pomegranate molasses.
Lara Balsam