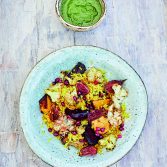 Winter pilau with beetroot, cauliflower and coriander chutney
Every Indian auntie has a special pilau recipe that finds its way on to the table at celebrations, and it is often the subject of hushed-toned debate and competitiveness in kitchens and Hindu temples alike. 'I think Asha uses MSG in hers,' I once heard one auntie whisper. Now, pilau might sound humdrum, but with a little elaboration it becomes an unbridled joy: each grain of rice plump and flavourful; morsels of burnished vegetables lying ready to be unearthed; and bright bursts of pomegranate and tongue-searing chillies slicing through the comfort blanket. I am now an auntie myself, and this is my special recipe. I'd be thrilled if it became the topic of conversation in someone else's kitchen.
Note – this was originally called 'Festive Pilau' in the Guardian. You'll need a blender for this recipe.
Recipe from 'East: 120 Vegan and Vegetarian Recipes from Bangalore to Beijing' by Meera Sodha (Fig Tree, £20).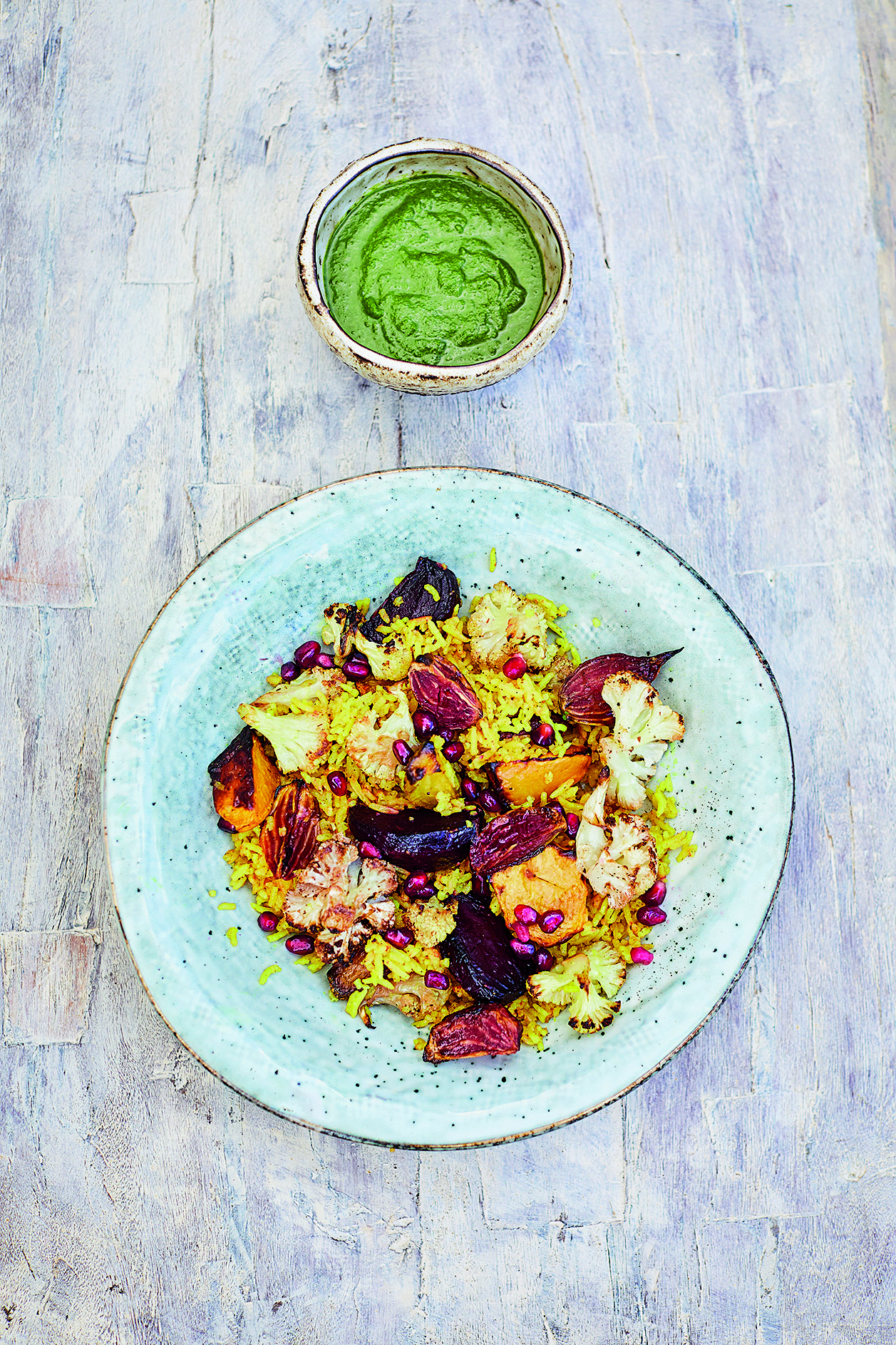 Ingredients
300 g basmati rice
600 g cauliflower (a big one), broken into bite-size florets
400 g raw beetroot, peeled and cut into wedges
300 g swede (a small one), peeled and cut into 1cm x 3cm slices
2 tsp garam masala
rapeseed oil
salt
1 x 400 ml tin of coconut milk
6 cloves of garlic, roughly chopped
2 cm ginger, peeled
2 green finger chillies
1 tsp ground turmeric
1 large onion, finely sliced
100 g fresh coriander
1 tbsp lemon juice
1 tsp caster sugar
2 handfuls of pomegranate seeds, to top
Instructions
1
Preheat the oven to 200°C fan/220°C/425°F/gas 7. Wash the rice in a few changes of cold water until the water runs clear, then leave to soak in cold water.
2
Put the cauliflower on a baking tray in a single layer and put the beetroot and swede on another baking sheet in a single layer. In a small bowl, mix the garam masala, 5 tablespoons of rapeseed oil and 3/4 teaspoon of salt, then drizzle over the veg on both trays and toss to coat. Roast for 25 to 30 minutes ,until tender and caramelized in places (the swede and beetroot may need a little longer).
3
While the vegetables are cooking, make the sauce for the rice. Put 300 ml of the coconut milk into a blender with the garlic, ginger, 1 chilli, the turmeric and 3/4 teaspoon of salt, then blitz smooth.
4
In a large frying pan with a tight-fitting lid, heat 2 tablespoons of oil on a medium heat. Fry the onion for 10 minutes and then add the coconut sauce and cook for 8 minutes, stirring frequently. Add the drained rice with 400 ml of freshly boiled water, and bring to the boil. Put on the lid, turn the heat down to a whisper and leave to cook for 20 minutes, until the rice is cooked through. Take off the heat, fold through the roasted vegetables, pop the lid back on and leave to steam for 10 minutes.
5
While the rice is steaming, make the chutney. Add the remaining 100 ml of coconut milk, the coriander, the chilli, lemon juice, sugar and ½ teaspoon of salt. Blend smooth, then scrape into a serving bowl. Transfer the rice to a platter, sprinkle with the pomegranate seeds and serve with the bowl of chutney alongside.
Lara Balsam