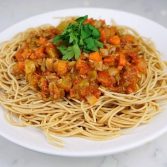 Vegetable bolognaise
A healthy, delicious vegan version of the classic favourite, spaghetti bolognaise. Recipe from The Food Effect, written by Dr Michelle Braude.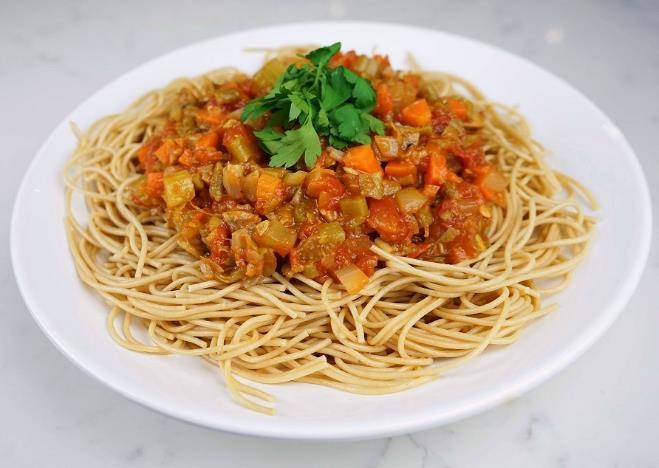 Ingredients
300 g (uncooked weight) whole-wheat or brown rice spaghetti
1 tbsp olive oil
1 onion, peeled and chopped
2 carrots, peeled and finely chopped
2 sticks of celery, sliced
300 g tin cut green beans in water, drained and chopped
400 g tin chopped tomatoes
2 tbsp tomato puree
125 g mushrooms, chopped
¼ – ½ tsp cayenne pepper
Salt and pepper
10 g fresh parsley, chopped
Instructions
1
Bring a large pot of water to the boil. Add a generous pinch of salt and stir. Add the spaghetti and cook according to the packet instructions.
2
In the meantime, heat the olive oil in a saucepan. Add the chopped onion and fry over a low heat for 3–5 minutes, until softened and translucent but not browned.
3
Add the carrots, celery and green beans. Stir in the chopped tomatoes, tomato puree, mushrooms and cayenne pepper. Add a generous pinch of salt and pepper to taste. Allow to simmer for 10 minutes. Stir through the fresh parsley.
4
Drain the spaghetti when cooked, and divide between serving plates. Top each serving with a quarter of the bolognaise sauce. Top with some freshly ground black pepper. Serve hot.
Lara Balsam