Tu B'shvat: Mushroom barley soup
The secret to the thickness of this soup is the lima beans (aka butter beans). They are peeled and therefore disintegrate into the stock when fully cooked. Don't panic—they peel very easily when properly soaked and children love to pop them out of their skins.
Recipe By Tina Wasserman 
@

TinaWasserman
 from
 reformjudaism.org and from 
the Cookbook 'Entree to Judaism for Families –  Jewish Cooking and Kitchen Conversations With Children'.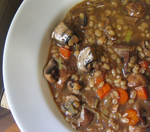 Ingredients
1¼ cups dried large lima beans (butter beans)
1 ounce (¾ cup loosely packed) dried imported mushrooms, preferably porcini
2 quarts water or packaged vegetable or mushroom broth
1 mushroom bouillon cube (optional)
2 tablespoons extra virgin olive oil or vegetable oil
1 onion, finely diced
1 stalk celery, finely diced
8 ounces white mushrooms, diced
Salt and pepper to taste
1 carrot, diced
½ cup medium pearl barley
Instructions
1
Cover the lima beans (butter beans) in a 2-quart glass bowl with 1 inch of water. Microwave on high for 3 minutes, and then let them soak for 1 or more hours or until the skins easily slide off.
2
Place dried mushrooms in a 1-quart glass bowl and cover with water. Microwave for 2 minutes, and let them sit in the water while you peel the lima beans.
3
Meanwhile, remove the skins from the lima beans by gently squeezing on one end; the bean will just slide out. Place beans in a 4-quart pot.
4
Carefully lift the mushrooms out of the water, and gently squeeze them over the bowl. Save the juices. Chop the soaked mushrooms and set aside.
Add the water or broth and the chopped,soaked mushrooms to the lima beans in the pot. Strain the mushroom liquid into the pot as well.
5
Heat a 10-inch frying pan for 20 seconds. Add the oil and heat for 10 seconds. Add the diced onion and sauté for 2 minutes.
6
Add the celery and fresh mushrooms to the pan and cook until wilted and translucent. Add this mixture to the soup pot along with the diced carrot, and salt and pepper to taste.
7
Cook, covered, over medium heat for 1 hour, stirring occasionally so that the beans do not stick to the pot.
8
Add the barley and cook for ½ hour to 1 hour longer or until the barley is tender and the lima beans disappear. Check the seasoning. Add more broth if the soup is too thick (it will thicken even more when cool).
jvs