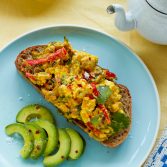 Chilli turmeric tofu scramble
This tofu scramble is, we must say, even better than actual scrambled eggs! Creamy, soft tofu pieces are lifted up by the brighter turmeric tones, the tofu stays moist and quick to take on the aromatic spices. This is a super easy dish that you will repeat again and again, great for a quick but impressive brunch or breakfast. Great served on toasted pitta or sourdough bread. *
For more recipes from Miso tasty – visit 
Miso Tasty
.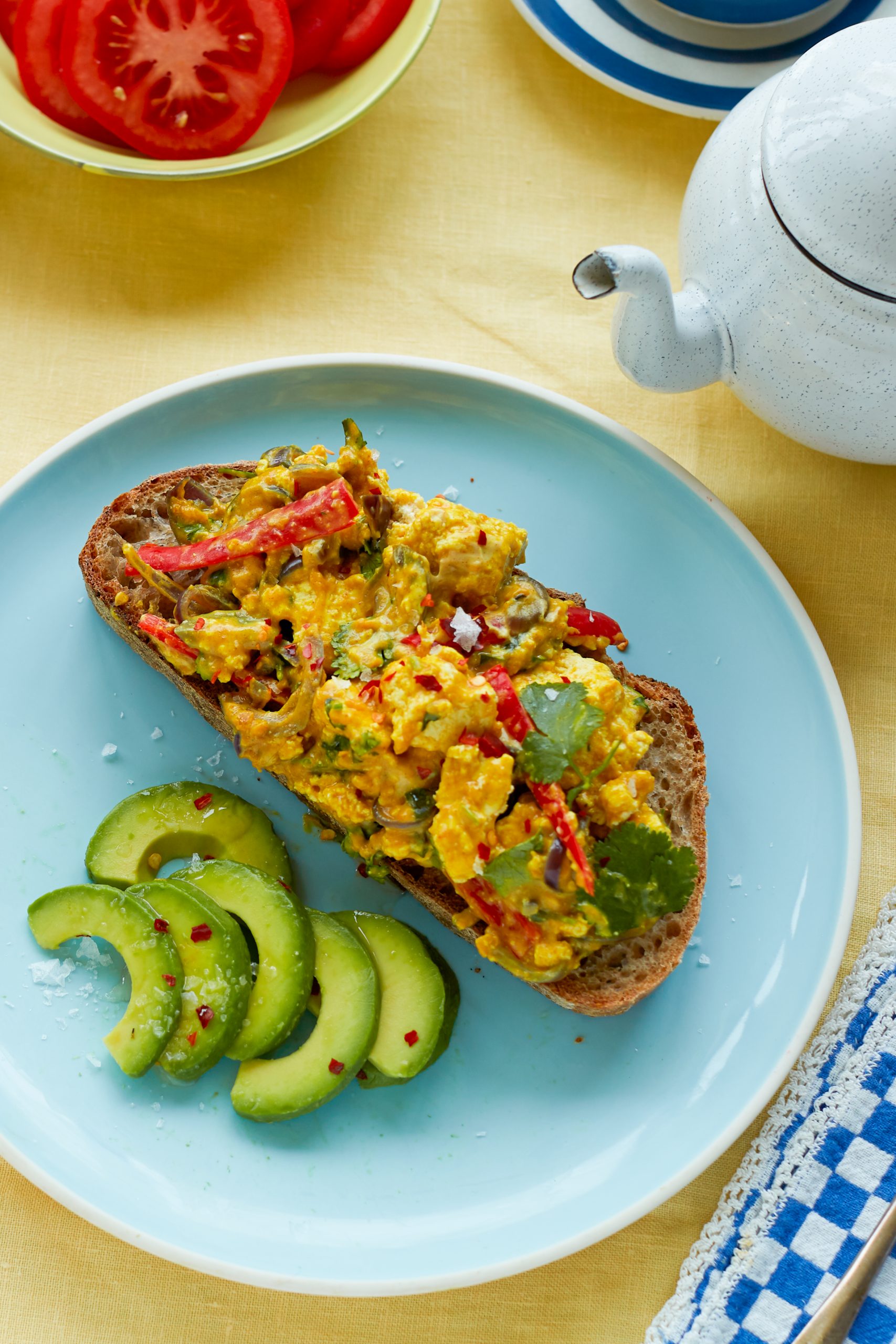 Ingredients
300 g Miso Tasty soft tofu, drained for 20 mins
3 tbsp olive oil
1 large red onion, finely sliced
2 garlic cloves, finely chopped
2 tbsp unsalted butter coconut butter or olive oil spread
1 tsp Dijon mustard
1 tbsp nutritional yeast flakes
1.5 tsp ground turmeric
1.5 tsp smoked paprika
35 g of plain flour
1 tsp sea salt flakes
250 ml soy milk
1 – 2 tsp chilli flakes
1 handful chopped coriander
1 tbsp chopped jalapenos (optional)
Instructions
1
Heat the oil in a large saucepan and fry the onions and garlic for 3–4 minutes until softened, then add the olive oil spread (/margarine) and mustard and stir together.
2
Crumble the tofu in gently, allowing some pieces to stay chunky.
3
In a small bowl, mix together the yeast, turmeric, paprika, flour and salt. Then in a small saucepan, warm up the soy milk until bubbling. Using a wooden spoon, stir in the dry ingredients until smooth and creamy.
4
Pour the sauce over the tofu, a little at a time and stirring it gently in, making sure the flavours are well mixed together. Add the chilli flakes and stir again.
5
Turn off the heat and stir in the chopped coriander and jalapenos before serving on bread.
Lara Balsam