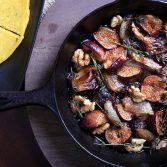 Tu B'shvat: Balsamic roasted figs & shallots with herbed socca
A very special dish, which make figs the star of the show – and don't miss the other recipes on our website, each using of the seven species.
When I lived in South Carolina several years ago, I had a friend who lived in a house with a couple of fig trees in the backyard. She had grown up in that house, and fresh figs had always been available to her for as long as she could remember. Because of this, the figs weren't that much of a novelty to her, but I found this endless supply of supple and expensive fruit growing just a few feet away from her home an amazing concept. Those beautifully fresh and vibrant figs tasted much better than what I could find in the supermarket, and they were free. Because of this, I always grumble a bit at having to pay a few dollars for a handful of them at the supermarket, so I rarely buy them. However, this morning, I saw some really pretty black mission figs at Whole Foods that I couldn't resist, so I picked them up and decided to pair them with shallots and walnuts for a sweet and savoury roasted dish. Served with a side of simple herbed socca, this makes a perfect appetizer or light dinner. Both components are very easy to prepare and look really beautiful together fresh from the oven.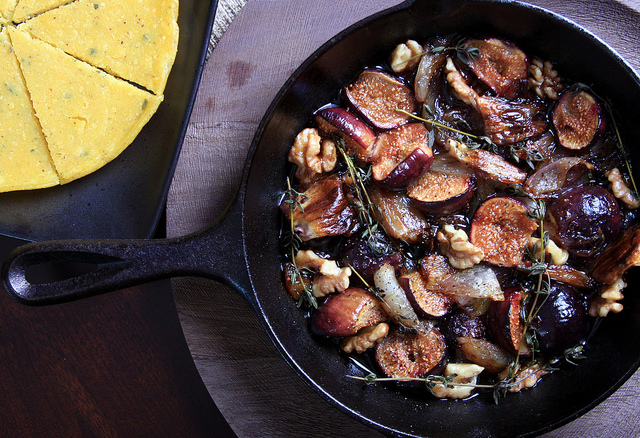 Ingredients
For the socca:
1/2 cup chickpea flour
3/4 cup water
a few dashes of salt and pepper
1 tsp fresh thyme, finely chopped
2 tbsp olive oil
For the skillet:
1 tbsp olive oil
4-5 shallots, skinned and halved
8-10 fresh figs, halved
a handful of walnut halves
1-2 tbsp balsamic vinegar
salt and pepper
a few sprigs of fresh thyme
Instructions
1
To make the socca, whisk together all of the socca ingredients and one tablespoon of olive oil in a small bowl. Preheat your oven to 450 degrees. Place a small cast-iron skillet in the oven during the preheating time.
2
Remove it, and place the remaining tablespoon of olive oil into the pan. Tilt the skillet to ensure coverage, then pour the batter into the skillet. Tilt it to ensure the batter is evenly coated in the pan. Bake for 10 minutes. Remove the socca by flipping it onto a plate. Set aside.
3
Place one tablespoon of olive oil back into the skillet. Throw in the halved shallots and roast for 20 minutes. Remove from the oven, then flip them over and roast for an additional 10 minutes. Reduce the oven temperature to 400 degrees. Now place the halved figs and walnuts into the skillet, and drizzle the balsamic vinegar over the top. Stir gently to combine. Sprinkle with salt and pepper and roast for an additional 10-15 minutes.
4
During the last 3 minutes of roast time, throw in a few sprigs of fresh thyme of top. Serve straight out of the skillet with the herbed socca.
jvs