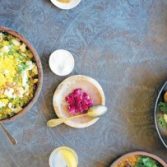 Yellow Cous Cous with Saffron, Turmeric & Almonds
At its finest, couscous should be a tender, fluffy, delicate affair – light grains of rolled wheat steamed and seasoned with whatever you fancy. This version is hand-rubbed with saffron and turmeric, studded with almonds and sultanas and feathered with spring onions.
Author: From 'Near & Far: Recipes inspired by home and travel' by Heidi Swanson [Hardie Grant, £20.00]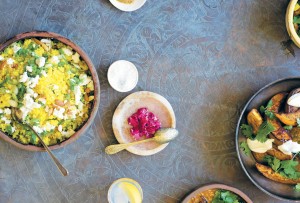 Ingredients
125g dried cous cous
Pinch of saffron [30 threads]
½ tsp ground turmeric
1 tsp fine grain sea salt
1 tbsp extra virgin olive oil, plus extra for serving
60g sultanas
115 g coarsely chopped toasted almonds
60 g spring onions
20 g fresh dill
85 g vegan cheese / yoghurt
Instructions
1
Place the couscous in a large bowl and rinse in cold water. Strain and rinse a second time. The time allow the couscous to sit, covered with water for 5 – 10 minutes.
2
Drain, shake off any excess water and sprinkle the saffron, turmeric, salt, olive oil and sultanas across the top of the couscous. Mix the ingredients together with your fingertips, breaking up any lumps along the way.
3
Gently spoon the couscous mixture in to a steamer.
4
It is possible to fashion one by using a strainer over a large pot: the strainer just needs to be fine enough to prevent the couscous from falling through; alternately, you can line the strainer with muslin.
5
Because you want the resulting couscous to be light and fluffy, avoid packing it down in any way. Fill the bottom third of your pot with water and bring to the boil over a high heat.
6
Once it's boiling, dial the heat back to a simmer, place the couscous-filled steamer on top, cover and cook for 10 minutes.
7
Uncover, and use a fork to fluff – continue to cook, covered, for another 10 minutes, or until the couscous is tender and cooked through. Turn the couscous out onto a platter and fluff again. Sprinkle with the almonds, spring onions and dill, then finish with the vegan cheese / yoghurt of your choice and a generous drizzle of olive oil.
jvs