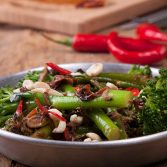 Tenderstem broccoli sauteed with ginger, lime and tahini
I recently went to a lovely cookery demonstration at JW3 by Lara Smallman. One of my favourite dishes was spring greens with tahini and lime. I particularly loved the idea of using tahini paste. This recipe is inspired by hers, replacing the spring greens with tenderstem broccoli. It's a delicious explosion of flavours. Feel free to experiment and try different blanched vegetables, such as kale, cavolo nero or green beans. Thank you Lara!
Recipe by Silvia Nacamulli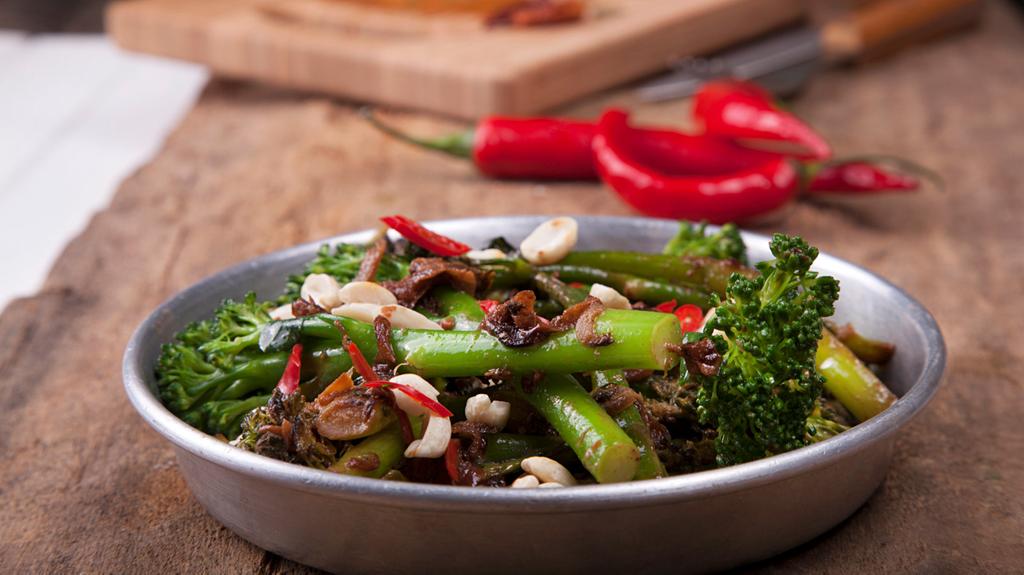 Ingredients
600g tenderstem broccoli
1 tsp rock salt
3 tbsp extra virgin olive oil
1 red onion, finely sliced
2 garlic cloves, crushed
1 tbsp fresh ginger, grated or finely chopped
½ fresh chilli, partially deseeded and finely sliced
2 tbsp tahini paste
3 tbsp soya sauce
1 lime, grated zest and juice
2 tbs toasted sesame oil
Handful of peanuts, halved and toasted to garnish (optional)
Sea salt and black pepper to taste
Instructions
1
Bring a pan of water to the boil. Meanwhile, wash the broccoli, and trim 1cm off the stem. Once boiling, add a teaspoon of rock salt and the tenderstem broccoli. Cover, bring it back to the boil, then uncover and boil for 2-3 minutes. Drain and rinse it under cold water. Set aside.
2
Warm the olive oil in a large non-stick frying pan over a low heat, then cook the onion for 5 minutes until it softens. Add the garlic, ginger, a pinch of salt and pepper and half the seeds from the chilli. Keep the flesh for later. Cook gently for another 3-4 minutes.
3
Add the blanched broccoli and stir well to coat it in the oil mixture. Increase the heat to medium-high and sauté for 8-10 minutes. Add the tahini, soy sauce, lime zest and juice and stir well while cooking for 3-4 minutes. Don't worry if the broccoli wilts a little, the flavour will be deliciously intense.
4
Add the fresh chilli and toasted sesame oil, stir to make sure everything is combined and serve the broccoli scattered with toasted peanuts.
Lara Balsam