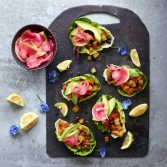 Black bean & Jersey Royal tacos
Spring welcomes back the much-loved
Jersey Royal
new potato, a culinary staple and a must-have on every kitchen table.  The perfect all-rounder and essential ingredient is available each year from April to July.
With Britain's newfound passion for home cooking and experimenting with recipes, Jersey Royals are set to feature on every kitchen table this spring. It has never been more important to find comfort in quick, easy and delicious recipes at home and with households eating together more than ever, the versatile Jersey Royals are the perfect springtime ingredient. Whether it is roast potatoes for the Easter lunch, served 'simply minted' as a side, mixed into a spring salad or even used to make delicious gooey chocolate brownies, Jersey Royals complete any seasonal dish.
Unmistakable in their creamy texture, nutty flavour and flaky skin, the Jersey Royal's uniqueness is due to their exclusive origin, soil and sea air and the skilled practices of generations of Jersey farmers since the first harvests in 1879. They are hand-planted at the start of each year and warmed by temperate sea winds on the steep côtils and with the benefit of vraic (Jersey seaweed, used as a natural fertiliser) giving them a truly distinctive and renowned flavour. Jersey Royals are packed with vitamins, fibre and as a complex carbohydrate, are perfect as part of a balanced diet.
Jersey Royals will be available in spring 2021 across the UK in all major supermarkets, independent grocers, food markets and restaurants (see stockists here).
The Jersey Royal originated when the farmer Hugh de la Haye planted two potatoes in Jersey in 1878. When he harvested them the following spring, the majority of the crop were round but one was kidney-shaped which was nicknamed the Jersey Royal Fluke. This potato later became known as the Jersey Royal, and has retained the characteristic kidney bean shape.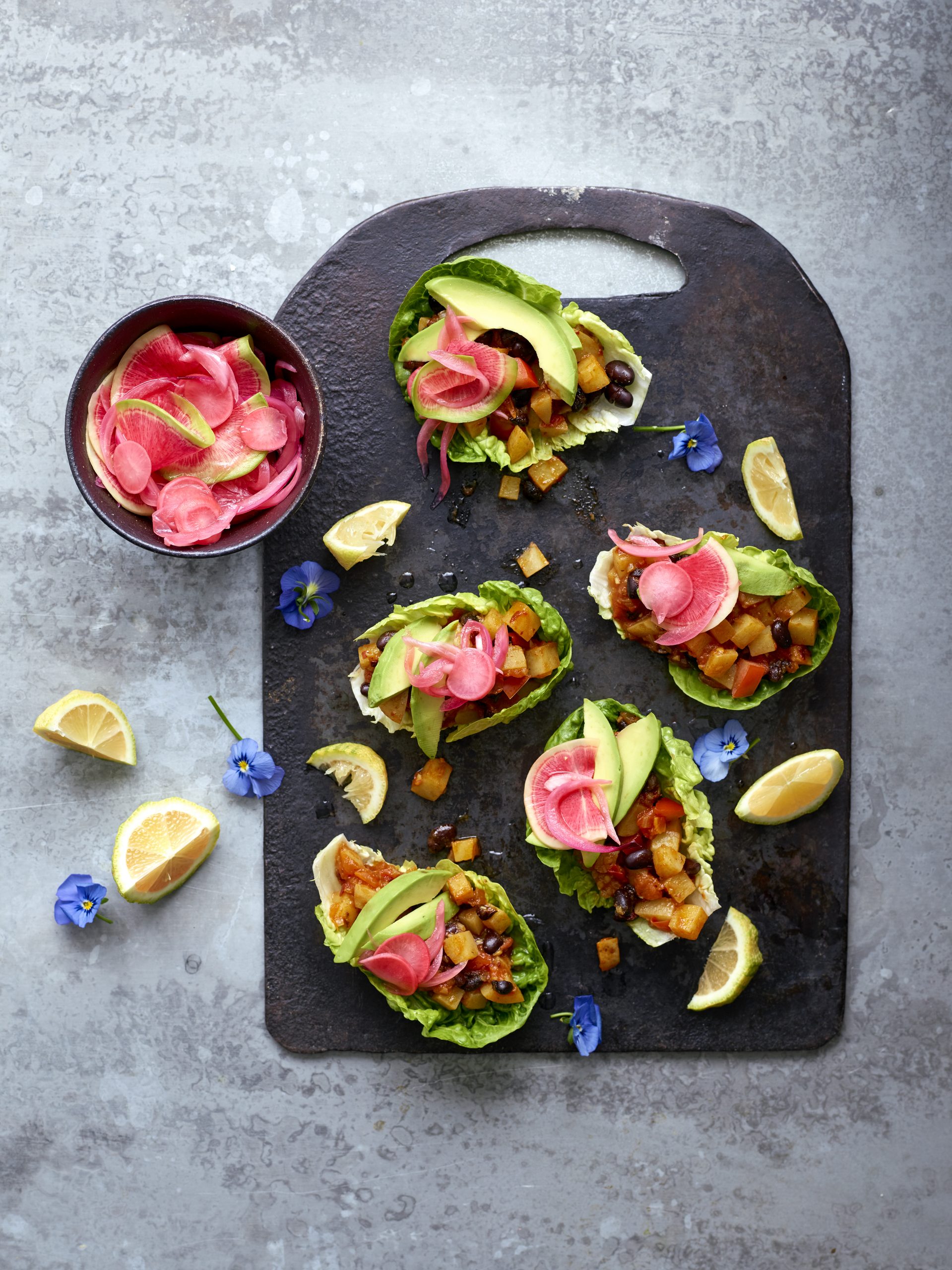 Ingredients
For the filling:
1 tbsp olive oil
2 shallots, diced
1 clove garlic, chopped
300 g Jersey Royal potatoes, diced
300 g tomatoes, roughly chopped
1 tsp chipotle paste, add more to taste
120 g black beans, drained and rinsed
To serve:
Little gem lettuce leaves
2 avocadoes, peeled and sliced
Edible flowers, we used violas
Lemons to serve
For the pickles
75 ml red wine vinegar
1 tbsp sugar
Pinch of salt
1 large red onion, thinly sliced
6 radishes, thinly sliced
Instructions
1
Warm the vinegar with the sugar and salt and stir until dissolved. Bring up to the boil and then pour over the onions and radishes. Leave to steep and cool for at least 15 minutes.
2
To make the filling, heat the oil in a pan, add the shallot and cook gently for 5 minutes until completely softened. Stir in the garlic and cook for another minute, then add the Jersey Royal potatoes, tomatoes and chipotle paste with 100 ml water. Bring to the boil, cover and simmer gently for 15 minutes until the potatoes are tender. Stir in the beans and cook uncovered for another 15 minutes. Cool slightly.
3
To serve: Spoon the potato mixture into the lettuce leaves, top with avocado slices, a few pickles and a lemon wedge for squeezing over. Garnish with edible flowers and extra lemon wedges.
Lara Balsam