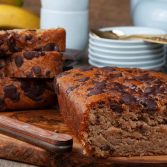 Spelt banana bread loaf
A deliciously indulgent loaf cake that everyone can eat, recipe by
Silvia Nacamulli
My good Israeli friend Einav turned vegan and mentioned that she had changed my recipe for  a pear and chocolate loaf into vegan banana bread. I was wary when she mentioned the recipe, but I must admit that it's delicious. I tweaked it slightly and all the people I made it for could not believe had no eggs in it. The key is to whisk it thoroughly.  Spelt flour gives it a nutty flavour but you could use regular flour instead if you prefer.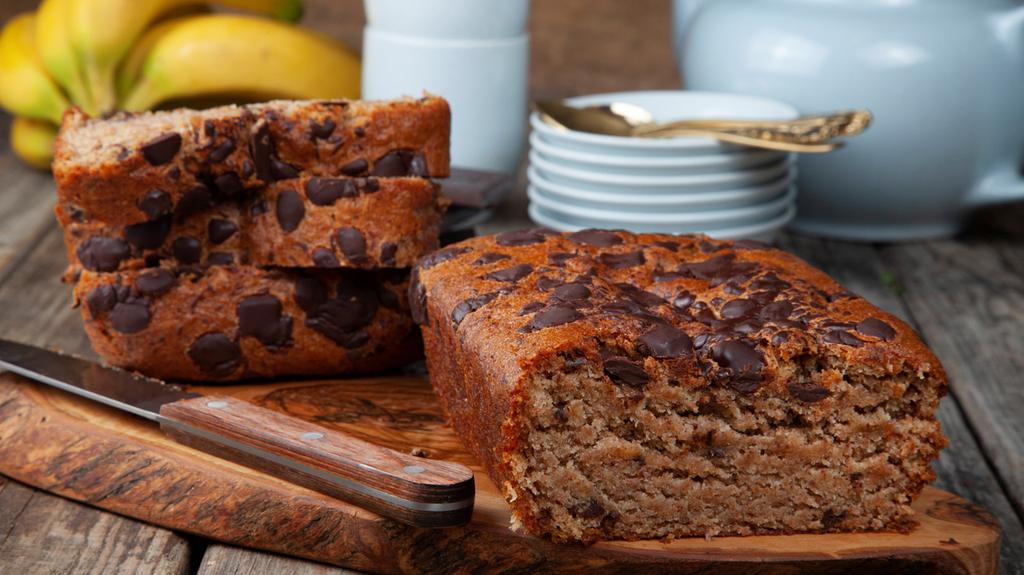 Ingredients
300 g ripe bananas (approx. 3)
180 ml light olive oil
180 g demerara sugar
180 g spelt flour
1 tbsp baking powder
70 g dark chocolate, chopped
Pinch of salt
Instructions
1
Preheat the oven to 180C fan.
2
Mash the peeled bananas with a fork, add the oil and mix well with an electric mixer or hand whisk until smooth. Add the sugar and whisk again for about a minute.
3
Sieve in the spelt flour and baking powder. Gently fold them together, making sure there are no lumps. Add a pinch of salt and stir again.
4
Fold in most of the chopped chocolate keeping a handful aside.
5
Transfer the mixture into a lined loaf tin. Scatter the remaining chocolate over the top.
6
Bake for about 40 minutes until a cocktail stick comes out dry. If still wet bake for longer.
7
Cool on a wire rack and either serve warm or at room temperature.
Lara Balsam