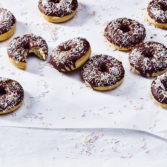 Chocolate glazed doughnuts – by Isa Chandra Moskowitz
Are baked doughnuts really doughnuts? Well, not exactly. But this recipe aims to replicate that fried goodness with crispy exterior and moist interior. And what is it about nutmeg that transforms everything into a doughnut? Who knows, who cares. Just be grateful that you can have these adorable doughnuts without breaking out the deep fryer. You will need two doughnut pans, though, so get thee to the internet and get them before starting this recipe. Grease the pans with actual oil, not cooking spray. It will make the doughnuts crispier on the outside! Use a tablespoon to fill the pans. Don't try to fill each doughnut slot in one shot. And be patient, let the doughnuts cool in the pans for at least 10 minutes.
Recipes from the recently released I Can Cook Vegan by Isa Chandra Moskowitz (Abrams, £22.99). Photographs © Isa Chandra Moskowitz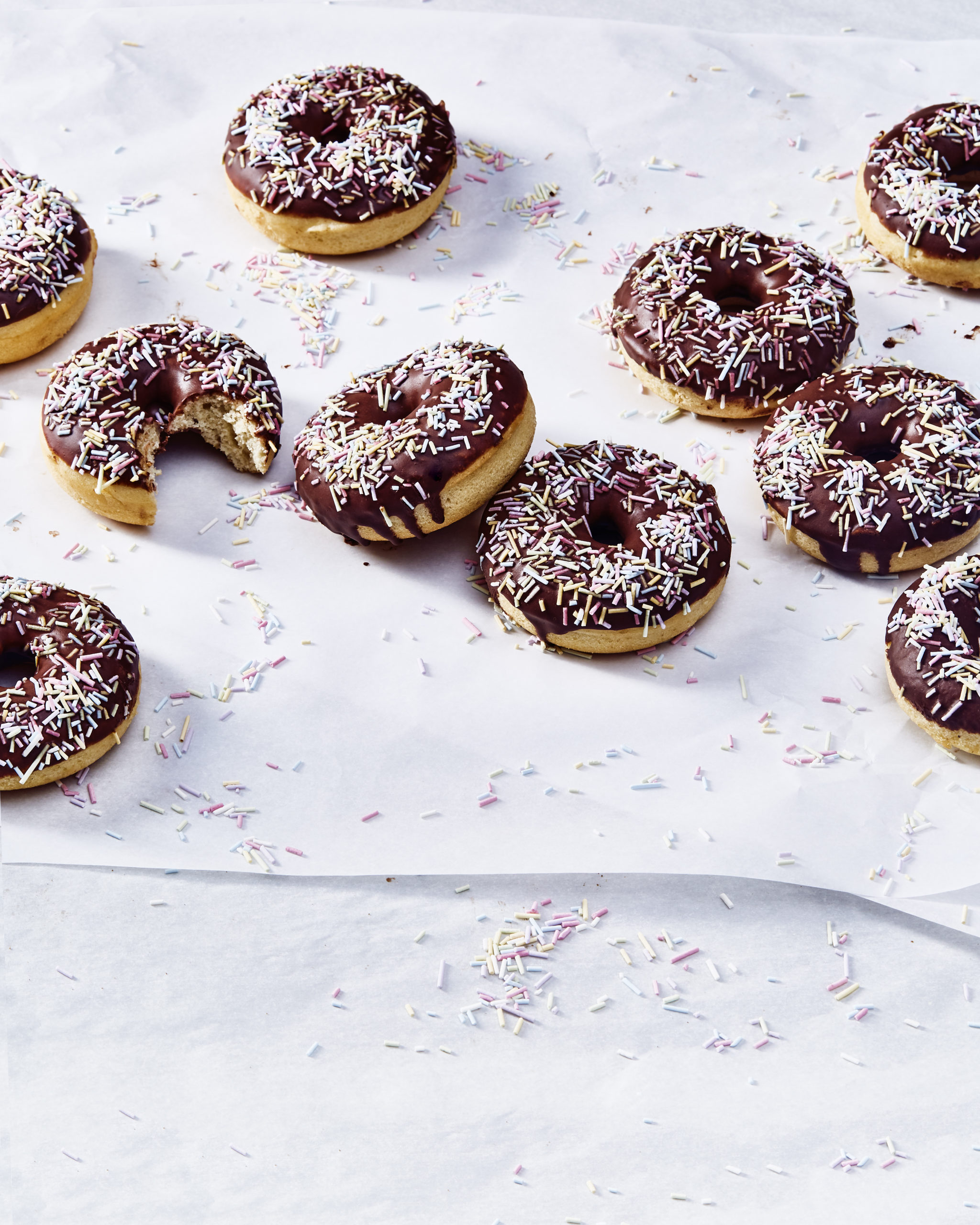 Ingredients
For the doughnuts
250g all-purpose flour
240g sugar
2 tsp cornstarch
2 tsp baking powder
½ tsp ground nutmeg
½ tsp salt
For the chocolate glaze
240ml non-dairy milk
130g semisweet chocolate chips
1 tablespoon agave
Sprinkles, for decorating
Instructions
1
Preheat the oven to 175°C. Grease two doughnut pans with refined coconut oil.
2
In a large mixing bowl, sift together the flour, sugar, cornstarch, baking powder, nutmeg, and salt. Make a well in the centre and add the milk, coconut oil, and vanilla.
3
Spoon the batter into the baking pans, filling each compartment about three-quarters full. Bake for 18 minutes, until lightly brown and puffy. Let cool in the baking pans and, once you can handle them, invert the doughnuts onto a cooling rack to cool completely.
4
Make the glaze: Bring the milk to a boil in a small pot. Turn off the heat and add the chocolate chips and agave. Stir with a rubber spatula until melted and smooth.
5
Dip each doughnut into the warm chocolate, then return them to the cooling rack and decorate with sprinkles. Place in a cool spot to let the chocolate set.
Lara Balsam